Wells Fargo & Company (NYSE:WFC) stock has surged strongly this year. In fact, its relative strength index (RSI) technical indicator is indicating overbought conditions. Since the beginning of the year WFC stock has gained 14.2% while the S&P 500 index has increased 5.5%, and the Nasdaq Composite Index has risen 3.5%. Moreover, since the start of 2013 WFC stock has gained 52.1% while the S&P 500 index has increased 36.7%, and the Nasdaq Composite Index has risen 43.1%. Nevertheless, considering its compelling valuation metrics and its strong earnings growth prospects, Wells Fargo stock is not expensive, and in my opinion, it still has plenty of room to move up. Furthermore, the rich growing dividend represents a gratifying income.
The Company
Wells Fargo & Company is a diversified financial services company with operations around the world. The company provides retail, commercial, and corporate banking services to individuals, businesses, and institutions. The Company was founded in 1852 and is headquartered in San Francisco, California.
Valuation Metrics
The table below presents the valuation metrics of WFC, the data were taken from Yahoo Finance and finviz.com.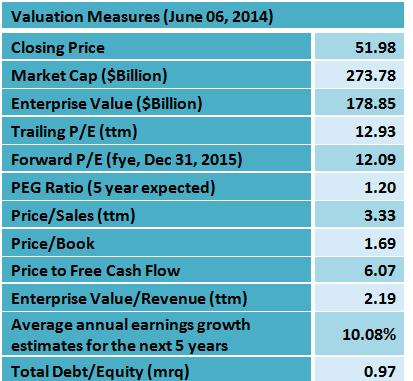 Wells Fargo's valuation metrics are very good; the trailing P/E is low at 12.93, and the forward P/E is also low at 12.09. The price-to-free-cash-flow is very low at 6.07, and the PEG ratio is at 1.20.
Latest Quarter Results
On April 11, Wells Fargo reported its first-quarter 2014 financial results, which beat EPS expectations by $0.08 (8.20%) and was in line on revenues. The company reported record net income of $5.9 billion, or $1.05 per diluted common share, for first quarter 2014, up from $5.2 billion, or $0.92 per share, for first quarter 2013, and up from $5.6 billion, or $1.00 per share, for fourth quarter 2013. Revenue was $20.6 billion, compared with $20.7 billion in fourth quarter 2013, as higher noninterest income was more than offset by the expected decline in net interest income due to two fewer days in the quarter.
In the report, Chairman and CEO John Stumpf said:
Our solid first quarter results again demonstrated the ability of our diversified business model to perform for shareholders. Our 265,000 team members remained focused on achieving our vision of serving the financial needs of our customers as we grew loans, deposits and increased cross-sell. First quarter 2014 earnings were another record for our Company and capital levels continued to strengthen. Returning more capital to our shareholders has remained a priority for Wells Fargo and we were pleased to have received a non-objection to our 2014 CCAR submission, which included a proposed 17 percent common stock dividend increase to $0.35 per share in the second quarter of this year and higher planned share repurchases compared with 2013 repurchase activity. As we move forward in 2014, I am optimistic about the opportunities ahead and believe that we are well positioned for growth.
Dividend and Share Repurchase
Wells Fargo had decreased its dividend payment in the years 2009, 2010, as a result, of the 2008-2009 global financial crisis, but had started to increase its dividend payment in 2011. The forward annual dividend yield is at 2.69%, and the payout ratio is only 29.40%. The annual rate of dividend growth over the past three years was very high at 79.2%, but over the past five years it was negative at -2.4%.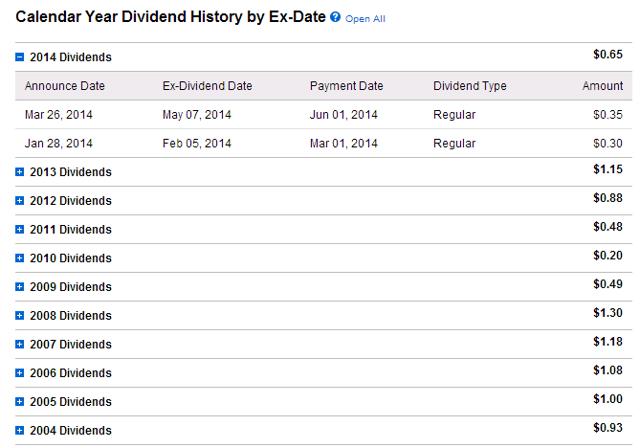 Source: Charles Schwab
In the first quarter, Wells Fargo's Board approved an additional 350 million shares in the Company's authority to repurchase its common stock, and set plans to raise its quarterly dividend to 35 cents from 30 cents.
Competitors
A comparison of key fundamental data between Wells Fargo and its main competitors is shown in the table below.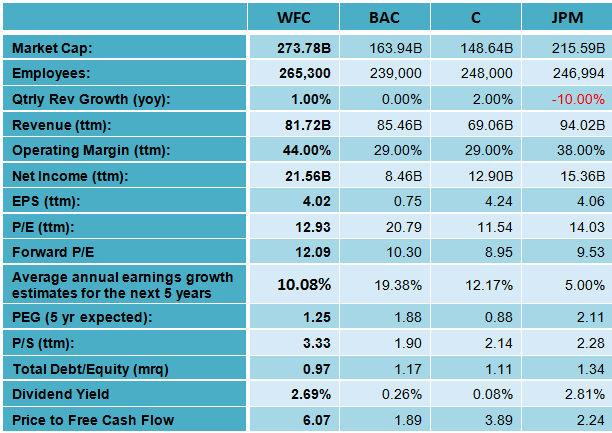 Wells Fargo has the lowest debt-to-equity ratio among the stocks in the group. It has also the second lowest PEG ratio, and the second highest dividend yield.
Ranking
According to Portfolio123's "All-Stars: Graham" powerful ranking system WFC's stock is ranked second among all S&P 500 stocks that pay a dividend with more than 1% yield, only JPMorgan Chase & Co. (NYSE:JPM) has a higher ranking. The "All-Stars: Graham" ranking system is based on investing principles of the well-known investor Ben Graham. Back-testing over fifteen years has proved that this ranking system is very useful.
Wells Fargo is also ranked third among all S&P 500 stocks according to another Portfolio123's very successful ranking system "All-Stars: Piotroski" that is based on investing principles of the well-known investor Joseph Piotroski. Only Apache Corp. (NYSE:APA) and Legg Mason Inc. (NYSE:LM) have a higher ranking.
Technical Analysis
The charts below give some technical analysis information.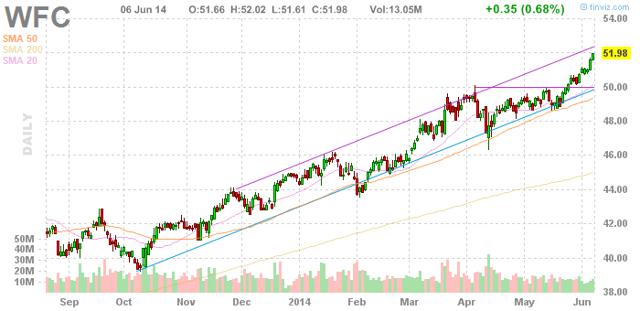 Chart: finviz.com
The WFC stock price is 3.90% above its 20-day simple moving average, 5.44% above its 50-day simple moving average and 15.55% above its 200-day simple moving average. That indicates a strong uptrend.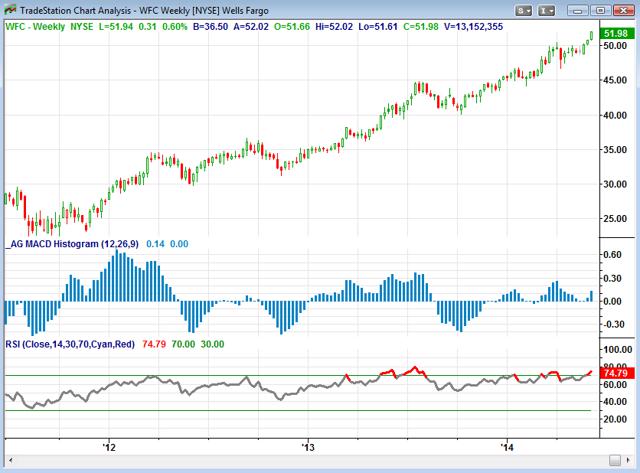 Chart: TradeStation Group, Inc.
The weekly MACD histogram, a particularly valuable indicator by technicians, is at 0.14 and ascending, which is a bullish signal (a rising MACD histogram that is crossing the zero line from below is considered an extremely bullish signal). The RSI oscillator is at 74.79 which indicate overbought conditions.
Analyst Opinion
Many Analysts are covering the stock, but their opinion is extremely divided. Among the thirty-three analysts, seven rate it as a strong buy, eight rate it as a buy, seventeen rate it as a hold, and one analyst rates it as a sell.
TipRanks is a website that ranks experts (analysts and bloggers) according to their performance. According to TipRanks, among the analysts covering WFC stock, there are only seven analysts who have the four or five star rating, six of them recommend the stock.
On May 14, Nomura Holdings' analyst Bill Carcache, who has 4-Star rating from TipRanks, initiated Wells Fargo with a Buy rating and named it his top pick for that day. Carcache explained why owning Wells is a win-win opportunity:
If the economic recovery remains muted and loan growth modest, we would expect outperformance to come from a combination of fee income and expense control, supplemented by capital return. If the recovery accelerates and loan growth improves, WFC's spread income should gap out as yields rise and margins expand on its large, low-cost, sticky deposit base.
Major Developments
Despite the low interest rate environment, WFC has reported 17 consecutive quarters of EPS growth. Net interest margin in 1Q14 was 3.20 percent, down 7 basis points from the fourth quarter of 2013. In my opinion, since interest rise is imminent, WFC will benefit from even higher interest margin. Another positive point is the continuing improvement in its credit quality trend, as shown in the chart below. In 1Q14 net charge-offs were $825 million, down $594 million from first quarter 2013, net charge-off rate was 0.41 percent (annualized), down from 0.72 percent, and nonperforming assets were down $4.1 billion, or 18 percent.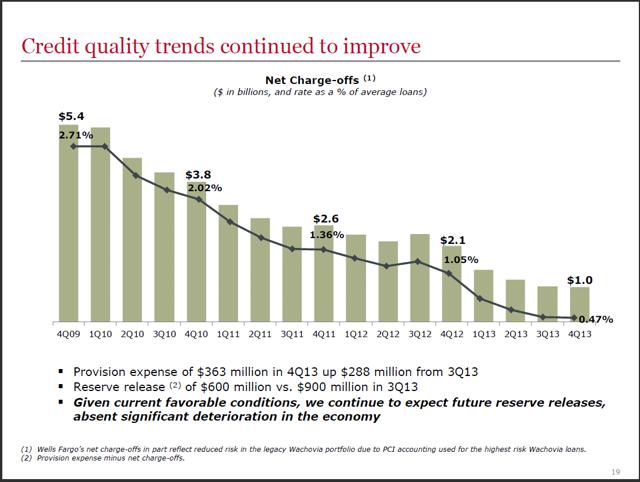 Source: Credit Suisse 15th Annual Financial Services Forum
Wells Fargo has done very well also with its extended share repurchase program, which has brought it a big gain. According to research by Nomura Holdings, since 1999 WFC paid $39.9 billion in repurchasing its common shares. The value of those shares now is $69.5 billion, an increase of $29.6 billion.
Conclusion
Wells Fargo was the most profitable U.S. bank in 2013, and it will continue to benefit from the improvement in the economy. Wells Fargo has compelling valuation metrics and strong earnings growth prospects; its forward P/E is low at 12.09, and its PEG ratio is also low at 1.20. Wells Fargo is generating much cash, and its ttm price to free cash flow of 6.07 is very low, and it returns value to its shareholders by stock buyback and by increasing dividend payments. Moreover, WFC is ranked second among all S&P 500 stocks that pay a dividend with more than 1% yield, according to "All-Stars: Graham" powerful ranking system, and it is also ranked third among all S&P 500 stocks according to "All-Stars: Piotroski" ranking system. All these factors bring me to the conclusion that WFC stock is a smart long-term investment. Furthermore, the rich growing dividend represents a gratifying income.
Disclosure: I have no positions in any stocks mentioned, but may initiate a long position in WFC over the next 72 hours. I wrote this article myself, and it expresses my own opinions. I am not receiving compensation for it (other than from Seeking Alpha). I have no business relationship with any company whose stock is mentioned in this article.