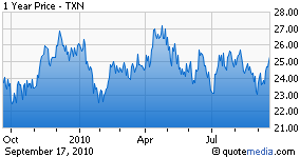 Texas Instruments (NYSE:TXN) shares were up some 4% after hours Thursday because of an announcement to increase the existing buyback by $7.5B and increase the dividend by 8%.
This is another example of why Net Payout Yield stocks provide very compelling investments. A company with an expensive stock or one that has very little cash flow could never provide this much money back to shareholders. Also, it's very compelling to own a stock that increases the dividend by 8% a year, which alone is much better then Treasury yields, as the 10-year is below 3%.
Over the last 12 months, TXN had a Net Payout Yield of 7.7% with roughly 5.7% coming from buybacks. Lately, investors have been lashing back at buybacks, but it is much more efficient then paying taxes on those dividends. It's also worth noting that the yield exceeds 12% when considering the buyback run rate in Q2.
Considering this announcement, it wouldn't surprise Stone Fox if TXN isn't keeping up with that pace of $700M in buybacks. Many companies reduced purchases during the Great Recession but TXN appears to be back in full force. TXN has reduced the shares outstanding by 31% since 2004. This company might be private before you know it if shares stay this low.
Below are the details from the press release:
TI plans to repurchase an additional

$7.5 billion

of its common stock. This is in addition to the

$1.3 billion

in repurchase authorizations remaining at the end of

June 2010

.
TI plans to repurchase shares at times and prices considered appropriate by the company. Including today's announcement, the Board has authorized the repurchase of

$27.5 billion

of stock since

September 2004

. The company has reduced the number of its shares outstanding by 533 million shares, or 31 percent, from

September 2004

through

June 2010

.
Additionally, the company plans to raise its quarterly cash dividend

$0.01

per common share. TI's new quarterly dividend will be

$0.13

per share of common stock, resulting in annual dividend payments of

$0.52

per common share.
The new quarterly cash dividend will be payable

November 22, 2010

, to stockholders of record on

November 1, 2010

, contingent upon formal declaration by the Board of Directors at its regular meeting in October.
This marks the seventh consecutive year TI has increased its dividend. The company has paid dividends to its shareholders on an uninterrupted basis since

June 1, 1962

.
Disclosure: Author long TXN