Thesis
Take-Two Interactive Software (TTWO) is trading right around fair value. Due to strong fundamentals and numerous catalysts, a dip to at least $17.50 would make this stock a buy.
Company Overview
Operating under the Rockstar and 2K labels, Take-Two Interactive produces some of the most well known video game titles in the world, such as the 2K sports franchise and Grand Theft Auto. It creates games for numerous systems including Xbox, PlayStation, Wii, smartphones, tablets, PC, and more. Founded in 1993 and headquartered in New York City, it is arguably one of the most well known video game companies of all time.
Bright Future
Take-Two Interactive has built up a reputation as one of the best companies in its industry, and I believe that there is reason to believe the company will continue to achieve even greater success. First of all, there is no doubt that it is in a profitable and growing business right now. Video games will continue to evolve and improve with time, becoming an even greater source of entertainment as society continues to make technological advances. And already they are a huge part of our society, even to the point where some people are starting to consider video game addiction a serious problem. According to a report from the Entertainment Software Association, 58% of Americans play video games. One of the reasons for this is that they are simply so easy to access. On average, each US household owns at least one game console, PC, or smartphone, with 51% of households owning at least one game console. Among these, the average number of consoles is two. Another interesting statistic is that 43% of gamers believe that video games are a better use of their money than DVDs, music, or movies. Simply put, the level of interaction involved in gaming makes it one of the most popular forms of entertainment in the world, and this isn't changing anytime soon. Additionally, the industry is evolving as people become more and more immersed in gaming. Now, people don't just spend hours upon hours playing video games, they watch them too. Last year, 2.4 billion hours were spent watching video games through services such as Twitch, a streaming platform that was actually backed, in part, by Take-Two. Also, Gartner estimated that the global video game market will total $111 billion by 2015. Clearly, there is no stopping the growth of this industry.
But does the company's growth strategy line up with the industry's? For a number of reasons, I believe that it does. For example, the types of titles that Take-Two has been releasing ensures continued growth. 2K has such strong brand loyalty from its customers as they continue to buy MLB and NBA games year after year. No matter if a few new game modes are added, or if the only thing that has changed are the rosters, people always come crawling back to these well known titles when they are released each year. And Rockstar has strong recurrent revenue streams as well. With each Grand Theft Auto that is released, they continue to impress gamers around the world, including myself. The sheer size of the maps and choices of what to do in the game make these titles more exciting every time they are released. Grand Theft Auto V, for example, set multiple records in terms of sales. With the game taking places in the beautiful yet virtual city of Los Santos and having dozens of missions, side missions, cars, and guns to choose from, this didn't come as much of a surprise to most gamers, such as myself. I, personally, had been waiting for the game's release for well over a year and I know many other people were on the same boat. Technological innovation is unrivaled when it comes to Rockstar and its world class role-playing games, or RPGs. As advances in technology and computing capacity continue to be made, Rockstar will profit as it expands the already massive content in its games. Also, Rockstar created an additional stream of revenue through GTA Online, allowing players to purchase in game currency.
Take-Two has been able to achieve this success through an organic growth strategy illustrated by the pyramid shown below (Source: Investor Presentation).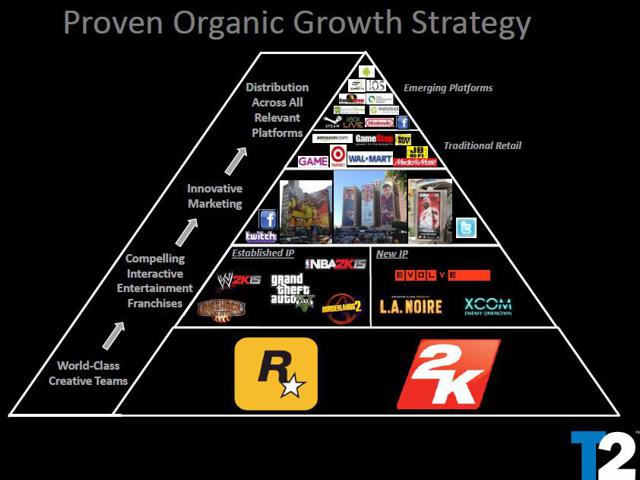 It all starts with Rockstar and 2K, companies with unrivaled talent. The people there are able to produce high quality, exciting, and innovative video games and franchises which are then marketed aggressively. In fiscal 2014, the company spent over $240 million on selling and marketing. Then the games are taken to traditional retailers and eventually expanded to less conventional platforms, creating additional streams of revenue. As long as the employees at each part of this chain are able to continue to do their job at a high level, Take-Two will have continued success. Let's look at this in terms of GTA V:
Rockstar employees spend an unimaginable amount of time planning, designing, and building the game.
Marketing teams get the word out there about GTA V and all of its wonderful new features.
By the time the game is released in September 2013, anticipation is seemingly unbearable for the loyal fans and this results in the explosive first week sales we saw.
After this, there are plenty of apps and places to play GTA other than on a conventional console.
It is the world class employees at Rockstar and 2K that give Take-Two its largest competitive advantage. The quality of games that Take-Two consistently produces is simply unrivaled. Year after year, title after title, the company continues to satisfy gamers around the globe. Take-Two has achieved phenomenal success with high quality games, as shown by the chart below. Games like BioShock, Grand Theft Auto, Red Dead Redemption, and more continue to keep Take-Two among the top performers in its industry.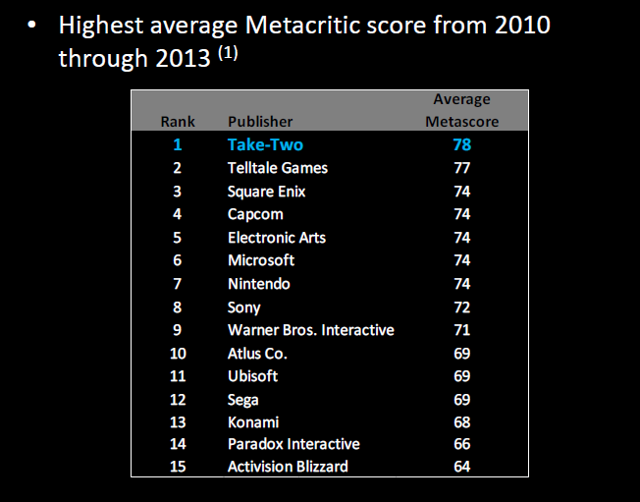 Yes, Grand Theft Auto has been around for a while. But no, the company doesn't have to lean on it for its success (although it is undoubtedly a huge driver of it). Since 2007, the company has released multiple new franchises including BioShock, Borderlands, WWE 2K, and LA Noire. These titles have had a significant impact in the world of gaming and can be sources of serious growth in the future. Its repeated sports franchises have also found great success. Take the NBA2K series, for example. The last four releases each sold more than 5 million units, showing that the customers aren't getting tired of it. Even more telling is the fact that NBA 2K14 sold 6.5 million units, a record for Take-Two sports titles. This, again, shows that this franchise isn't dying. Critics claim that these titles are too similar from year to year to have sustainable success, but these recent trends show just the opposite. Also, Take-Two has found additional revenue streams from this franchise with NBA 2K Everywhere and online games targeted at Asian fans.
Also, the company is financially healthy:
Debt to equity ratio of 0.57.
$935 million in cash
Levered free cash flow for the trailing twelve months is $678 million.
Catalysts
There is no argument as to whether or not Take-Two achieved fantastic success in the past few years. But as investors, we are more concerned about where the company is going from here. Looking just slightly into the future reveals numerous catalysts that can drive the stock price higher along with revenue and earnings. To start, there are a few highly anticipated releases coming soon. I believe that Take-Two will be happy with the sales on these highly anticipated games:
NBA 2K15 (October 7, 2014)
Evolve (October 21,2014)
WWE 2K15 (October 28, 2014)
Borderlands: The Pre-Sequel (Q3/Q4 2014)
These titles actually lead me to the next catalyst, which is the fact that Take-Two is adjusting to the changing industry. It is ready to profit from the next-gen consoles. NBA 2K14 is already available for Xbox One and PS4. Also, each of the above titles except for Borderlands is ready to be released on these consoles as well. Take-Two recently announced that Rockstar was working on a next-gen project due for release this fiscal year. If it turns out that this project is GTA V, this could be a significant driver of extra revenue for the company. Regardless, it is good to see the company embracing the new technology. Another change that the company is taking advantage of is the world's further movement into a digital age. Digital distribution is going to be a huge part of the gaming industry within a few years, and Take-Two has recognized this and taken action accordingly. As a result, it will continue to reap the benefits of the digital world for years to come. The chart below, again from the investor presentation, illustrates that Take-Two is continually relying more and more on digital sources of revenue.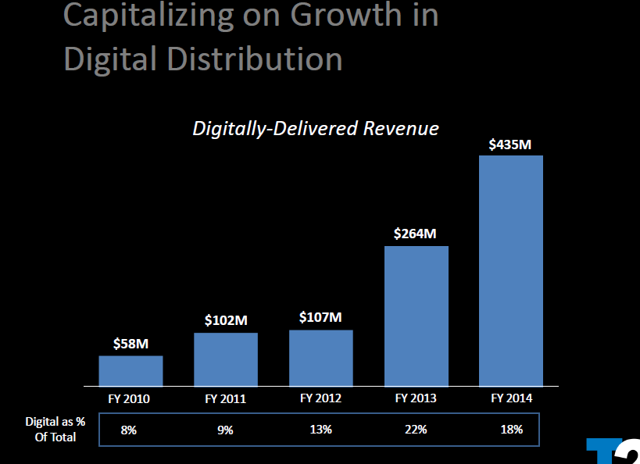 Next, Take-Two is finding ways to generate revenue from recurring sources. Virtual currency in online games such as GTA V is one revenue stream, but there are others as well. Downloadable content has always been a source of income for the company, as it continues to add onto and further improve existing games. For serious gamers, season passes also are available to expand the overall experience in games such as Borderlands 2, LA Noire, Max Payne, and BioShock. All of these revenue streams are built off of previously developed products and are likely to be driven by the brand loyalty and enthusiasm of customers, culminating in recurring revenues. Additionally, these games are also being built upon with offering for tablets and smartphones. As the world continues to embrace these technologies, which are unarguably growing at a ridiculous pace, Take-Two will capture profits. Grand Theft Auto, NBA 2K, Max Payne, and more all have titles available on smaller screens such as smartphones and/or tablets. This drastically increases Take-Two's addressable market. This is because, as I stated before, 51% of US households own at least one game console, but the average household owns at least one smartphone, PC, tablet, console, etc. Yet another example is NBA 2K Everywhere, which allows users to play on numerous technologies, and integrates the core consoles and mobile apps.
Risks
There are a few risks involved in Take-Two's business. First of all, the company has struggled at times with profitability. The chart below shows net income for the past five years.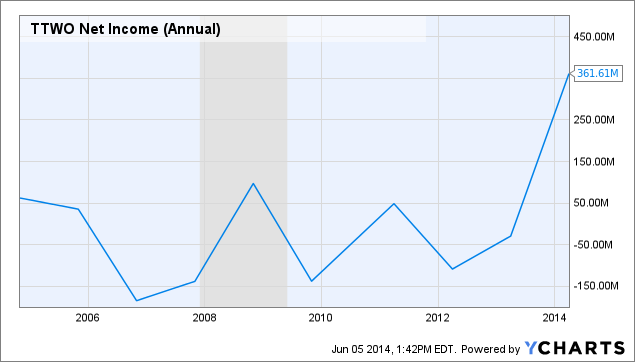 TTWO Net Income (Annual) data by YCharts
As you can see, the company has struggled to remain profitable. Although the catalysts that I reviewed indicate that the company will be able to perform well in the near future, you never know where the costs of developing these games will happen to fall. The world class talent and technologies that create these games are not cheap, as indicated by the large expenses the company deals with. Cost of goods sold in 2014 was $1.414 billion and total operating expenses was $520 million. The company must ensure that it doesn't spend more than it can afford to on any one title. Unfortunately, this doesn't always work out when delays and issues arise that increase the costs of producing a certain game. These occurrences must be the exception rather than the rule.
The chart above also illustrates our next risk to address, which is macroeconomic issues. Surprisingly, Take-Two did pretty well for at least half of the recession (shown by the shaded region). Nevertheless, it was still operating at a net loss by the end of it. Because of the nature of video games, Take-Two is significantly sensitive to macroeconomic problems. The entertainment industry is hit very hard whenever the global economy tanks. A shortage of disposable income would mean that it many households around the world, there isn't much money left over for video games after the bills are paid.
Finally, there is no doubt that Take-Two relies heavily on Grand Theft Auto. Would the company still be very successful and have a strong business model without it? Yes, certainly. But nevertheless, this is not the case and from a valuation standpoint, the company can't afford to have issues with this franchise. Grand Theft Auto made up nearly 70% of the company's revenue in 2013. Simply put, the stock would crash if the company had serious problems with Grand Theft Auto. Luckily, though, management understands this and they continue to pour resources into continually building and marketing what the gamers want to see in Grand Theft Auto.
Valuation
Take-Two is currently trading at $19.59. In fiscal 2015, the company predicts EPS to be somewhere between $0.80 and $1.05, so I will use $0.93 for this analysis. Here is a sensitivity table that shows the effect on the fair value, determined by changing the growth rate for the next five years and/or the terminal growth rate:
Growth Rate- Next Five Years
10%
12%
14%
16%
18%
Terminal Growth Rate
2.00%
$14.44
$15.63
$16.90
$18.26
$19.70
2.50%
$15.08
$16.33
$17.66
$19.09
$20.61
3.00%
$15.80
$17.11
$18.52
$20.02
$21.63
3.50%
$16.61
$18.00
$19.49
$21.09
$22.78
4.00%
$17.54
$19.02
$20.60
$22.30
$24.10
Overall, I would say that at this price, Take-Two is already right around fair value, if not a bit above it. It has significant catalysts to drive it higher and as a result might be attractive for short-term investors, but I believe that value investors should wait for a dip to at least $17.50.
Disclosure: I have no positions in any stocks mentioned, and no plans to initiate any positions within the next 72 hours. I wrote this article myself, and it expresses my own opinions. I am not receiving compensation for it (other than from Seeking Alpha). I have no business relationship with any company whose stock is mentioned in this article.