Ship Finance International Limited (SFL) is a major vessel-owning company with 73 vessels. The company operates primarily in the ownership and operation of marine vessels and other offshore-related assets. Particularly, the company deals in the charter, purchase, and sale of such assets. As of March 27, the company operated 61 vessels and offshore assets and has another 12 expected for delivery over the next two years.
One attribute that has often attracted investors to this company is the relatively high dividend yield now offered. Ship Finance International now offers a $0.41/share quarterly dividend rate. Based on the closing price of $19.19 as of June 6, this results in an annual yield of 8.55%. The current dividend yield of the S&P 500 is 1.86% according to the website found here. The company has maintained a relatively steady dividend and recently raised the rate over the last two quarters.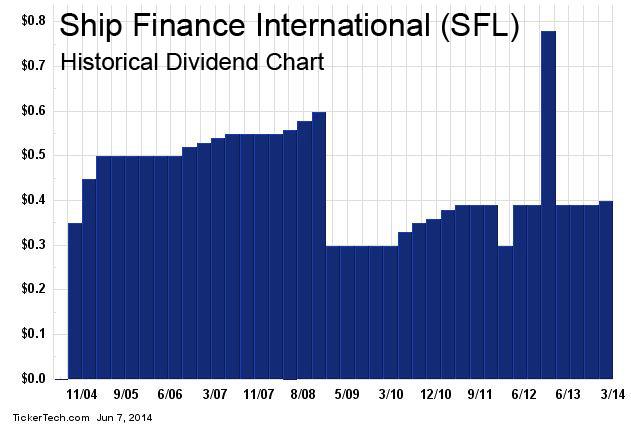 The following are three key things to like about Ship Finance International right now:
Long-Term Charters. The company is largely engaged in the establishment of medium to long-term fixed rate charters. This provides investors with the stability of more secure cash flows in the future. Typically, the company's customers will utilize long-term charters for strategic purposes such as manning established trade routes. These charters often come with a limit to upside potential for the company, but they aid in the long-term assurance of greater predictability.
Fleet Diversification. Ship Finance International operates a variety of vessel types thereby providing further protection found in the diversification away from specific market risks. The company hosts a variety of container vessels, offshore drillers, tankers, and liner vessels. As of March 27, the company's fleet consisted of 22 oil tankers, 12 dry bulk carriers, 12 container vessels, 2 car carriers, 2 jack-up drilling rigs, 3 ultra-deepwater drilling units, 6 offshore supply vessels, and 2 chemical tankers. A breakdown of the company's revenue can be seen below.
Improving Financials. Over the last three years, Ship Finance International has done well in improving the stability of the company's balance sheet. The company's total assets have increased from $2.90 billion in 2011 to $3.05 billion in 2013. At the same time, the total liabilities have decreased from $2.04 billion in 2011 to $1.85 billion in 2013. The company's debt is largely staggered over the coming years with a bulk of the liabilities due in 2018 and beyond. This can be seen in the graphic below. As a result of this improvement, shareholder equity has steadily increased year-over-year. The company carried total shareholder equity of $857.1 million, $994.8 million, and $1.19 billion for the years 2011, 2012, and 2013 respectively.
A Look At The Company Now
As of June 7, Ship Finance International now trades with a market capitalization of $1.79 billion. The company carries a trailing price-to-earnings ratio of 18 and a forward price-to-earnings ratio of 12.38 based on consensus analyst estimates of $1.55 for 2015. The company also trades with a fair price-to-book ratio of 1.49. Over the last five years, the company's revenue and income have been rather stagnant as seen in the chart below. However, both have improved over the last year. The near-term introduction of additional assets to the company's fleet should help to improve this picture going forward.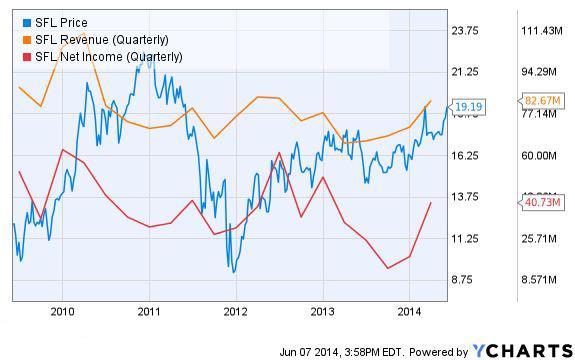 Final Thoughts
The world of high-yielding dividend companies is largely scattered between a few key sectors such as utilities, real estate investment trusts, and master limited partnerships. Ship Finance International offers a high-yield dividend play in a niche sector that is often prone to volatility. To date, the company's strategy of long-term charters and relative diversification has proven successful in offering investors a fair degree of stability. Steps made over the years to improve the company's financial position places Ship Finance International as an ideal play in almost any high-yield dividend portfolio.
Disclosure: I am long SFL. I wrote this article myself, and it expresses my own opinions. I am not receiving compensation for it (other than from Seeking Alpha). I have no business relationship with any company whose stock is mentioned in this article.