It's official...the long awaited 7-1 stock split for Apple Inc. (NASDAQ:AAPL) took effect last Friday (June 6). Based on Friday's pre-split close of $645.57, investors now own 7 shares for every 1 share they owned on Friday, at a split adjusted price of $92.22.
Fundamentally, The Stock Split Means Nothing
All investors are irrational at times. In fact, there is an entire field of finance that studies the irrational emotional biases of investors (behavioral finance). A stock split is a perfect example of an irrational bias. Even though a stock split does not change the fundamental value of the company, investors have a bias to want to buy stocks with lower nominal prices (all else being equal). In addition, investors prefer to own more shares than less (again, all else being equal).
Tim Cook and the Apple board of directors are aware of these biases and it certainly factored into their decision to split the stock. In fact, Mr. Cook was quoted as saying that the split would make shares "more affordable" for individual investors. But in reality, we all know that $1000 worth of stock is $1000 worth of stock...no matter what price it is trading at.
Bottom line is that emotional biases are real and they certainly affect investors' decision making.
So What's Next For Apple Shares?
Since announcing the 7-for-1 split in late April, AAPL shares are up over 20% (see split-adjusted chart below).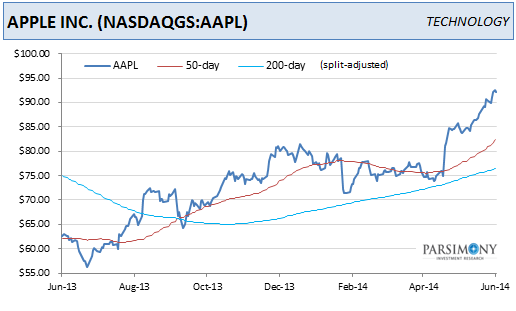 Fundamentally, the stock is probably a little ahead of itself as it is currently trading at almost 15.0x FY 2014 earnings and shares are up over 60% from its 52-week low.
That said, we think there is more near-term upside left and we believe that AAPL will trade above $100 (split-adjusted) sooner rather than later (possibly by the end of this week).
Our reasoning is simple...and it has nothing to do with fundamentals. Apple will trade above $100 in the near-term because investors will make it a self-fulfilling prophecy.
The logic is deeply rooted in another emotional bias of behavioral finance. Investors love big round numbers (like $100!) and these thresholds tend to act like magnets, pulling the price closer until it sticks.
In his book, How to Trade in Stocks, the great Jesse Livermore talked about these major "pivotal points". Mr. Livermore was more of a technical trader and the emotional bias that attracts investors to big round numbers is as relevant today as it was back in the 1940s when he wrote his classic book.
Conclusion
You can agree to disagree with the logic, but emotional biases are real and they do affect stock prices. Fundamentals will definitely win in the long-run, but Apple's surge to $100 in the near term will be all about emotions...
Disclosure: I am long AAPL. I wrote this article myself, and it expresses my own opinions. I am not receiving compensation for it (other than from Seeking Alpha). I have no business relationship with any company whose stock is mentioned in this article.