The advances in gold prices have dominated the financial news. On Thursday (9/16/10) the price of an ounce of gold hit a nominal all time high of $1,271.90.
A Pantywaist Investment: While gold is typically considered a source of investor refuge in periods of political and economic turmoil, it represents a pantywaist investment for "real men". If financial turmoil slips into global chaos the "basics" become: food, potable water, breathable air, energy, guns and ammunition.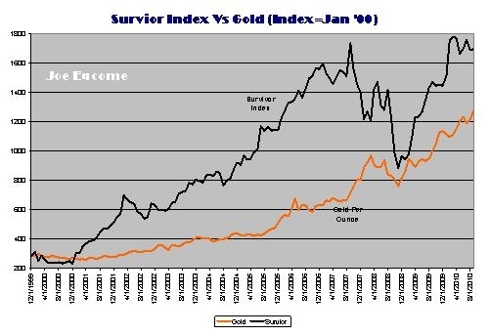 Survivor Index: The adjacent chart compares the price of an ounce of gold to a composite of the average stock price change of 7 public companies that are involve in the manufacturing and sale of survival products, indexed to the price of gold at Jan '00. It's called the Survivor Index.
In terms of the survival "food groups":
1. Canned Food: Ball Corp. (NYSE:BLL) metal cans; Hormel Food (NYSE:HRL) Spam

2. Filtered Water: Dr Pepper (NYSE:DPS-OLD), owner of Déjà Blue Purified for drinking water
3. Breathable Air: Airgas (ARG) gas masks
4. Energy: Cummins (NYSE:CMI) electrical generators
5. Guns: Smith & Wesson (SWHC)
6. Ammunition: Allied Defense Group (ADG)
As the chart demonstrates, since the index year of 2000, the Survivor Index has soundly trounced gold's price performance. Currently, an investor who purchased the stocks in the Survivor Index in early 2000 would be almost 33% ahead of those that purchased gold at the same time.
Financial Chaos vs. Anarchy: The chart also demonstrates a significant spread since January of 2000. Maybe investors should interpret this difference as representing the difference between financial chaos and the fear of global societal disorder.
Truth in Jest: While some of the foregoing is "tongue-in-cheek", if you really want something to worry about it is a killer pandemic. The odds of such a pandemic like the Black Death occurring are one in two (50%) in the next 30 years. It is much higher than the odds of a nuclear war, which is placed at one in thirty (3%) in the next 10 years.
In that case, biotech pharma companies would be a place to sock away some money. An ETF such as iShares NASDAQ Biotechnology Index Fund (NASDAQ:IBB) would be an object of investor interest in the earlier stages of the panic. In the later stage of the panic one might favor the Survivor Index and the products they manufacture.
Caveats: Further advance in the components of the Survivor Index and gold are likely to be the last 10% you leave for a new investor to buy it away from you.
---
This article was inspired by an article in the WSJ by Jonathan Cheng, called "Investors Head Bunkers, Driving Up 'Shelter Shares'" (August 28, 2010) which explained the goods to be found in any respectable fallout shelter. I have narrowed his list of 18 stocks and added to the list to develop a list that focuses more on pure survival goods.

Disclosure: None