International Business Machines Corp (NYSE:IBM) posted solid first-quarter results even as hardware sales slumped and the firm continues to restructure operations. Also, emerging markets have seen capital inflows during the past few months, which should act as a tailwind for second quarter results of operations.
But I lowered my revenues estimate for the full year, as the divestiture of the Retail Store Solutions and the System x businesses are expected to close during this fiscal year. Additionally, I decreased my estimate for diluted shares. The massive capital return through share repurchases augments diluted EPS. Consequently, the estimated valuation for next year is 7% higher than the current estimated intrinsic value.
For investors who accumulated shares of IBM at $180 and below, it is probably better to stay long the shares, as the valuation going into next year is an estimated $192.50 per share. Said differently, shares of IBM aren't overvalued; they are fairly valued by the market. Accumulating shares on a dip remains a solid course of action, in my opinion.
Recent Developments
Nefelus, a provider of integrated circuit design tools, selected Aspera, an IBM company, to speed the transfer of extremely large design files to, from, and through the cloud.
While businesses begin adopting Bluemix, IBM's platform-as-a-service, the offering will move from beta to production during June. A key selling point, Bluemix provides developers access to IBM's software for integration, security, transaction and other key functions.
IBM expanded its global partnership with SAP to deliver HANA, HANA ONE, and other SAP applications on the cloud platform from SoftLayer.
In Hong Kong, IBM opened the first of 15 new data centers.
As part of its on commitment to cloud computing, IBM announced plans to deliver 20 new cloud-based business solutions.
SoftLayer will enable Mankind Pharma to significantly improve the performance of its business-critical applications and scale the use of these applications across multiple locations.
Preliminary study findings of 750 global organizations reveals that less than 10 percent are fully prepared to address the proliferation of cloud computing, analytics, mobile devices, and social media.
IBM refreshed at least part of its storage systems portfolio and is rolling out the IBM Flex System x880 and System x3100 M5 during June.
Analyst's Note
International Business Machines Corp is an information technology company. It creates business value for clients and solves business problems through integrated solutions that leverage information technology and knowledge of business processes.
After going through the incremental disclosures from the first quarter, I reduced my revenues forecast for 2015 to $91.18 billion. As it stood, 2014's revenues forecast was calling for $97 billion of revenues, but I took that down to $95 billion. That comes as we move closer towards the closing of the deal to divest the server business to Lenovo. Also, the impact of the sale of the Retail Store Solutions ("RSS") business to Toshiba will adversely impact revenues in the coming quarters. This is part of the "shift" to higher value services and products. The near-term impact is declining revenues, but longer term I expect to see improved profitability. The updated forecast is provided below.
| | | |
| --- | --- | --- |
| For the year ending (in millions of dollars except per share data): | 2013-12 | 2014-12E |
| Revenue | 99751 | 95000 |
| Gross profit | 48505 | 46500 |
| Operating income | 18777 | 18050 |
| Net income | 16483 | 17120 |
| Diluted EPS | $14.94 | $16.95 |
The full-year forecast includes estimates of the closing of the sales of the server business as well as the RSS business. Readers who follow IBM may realize that my forecast for diluted EPS is $16.95 while management is forecasting $17 of diluted EPS. The difference may be attributable to differences in assumptions about share repurchases. But I think the difference is attributable to slumping hardware sales.
Also noteworthy, from reading through some of the announced use cases for IBM's solutions, and while I am unsure that these initiatives are part of the Smarter Planet strategy, it appears as though the Smarter Planet strategy is gaining traction and winning business for IBM.
Drilling down to the segment level, Global Business Services is expected to post slightly down to flat revenues Y/Y. Software is forecasted to grow 3.5% Y/Y, which means that IBM is losing share in software. Revenues from Systems and Technology are expected to decline 35% Y/Y; the forecast includes the closing of the sales of the server business to Lenovo. On a brighter note, System z has cloud-based applications that are driving demand for the systems. Lastly, Global Financing revenues are expected to be flat to slightly up Y/Y.
Overall, IBM's revenues are expected to be adversely impacted by divestitures, currency headwinds, and weak demand in emerging markets during fiscal 2014. Looking forward, after the runoff of the divestitures, there could be some revenues growth in fiscal 2015. But management continues to hint at additional divestiture and restructuring aimed at improving the consolidated profitability profile. Additionally, there is scope for the market to be less bearish on emerging markets.
Portfolio & Valuation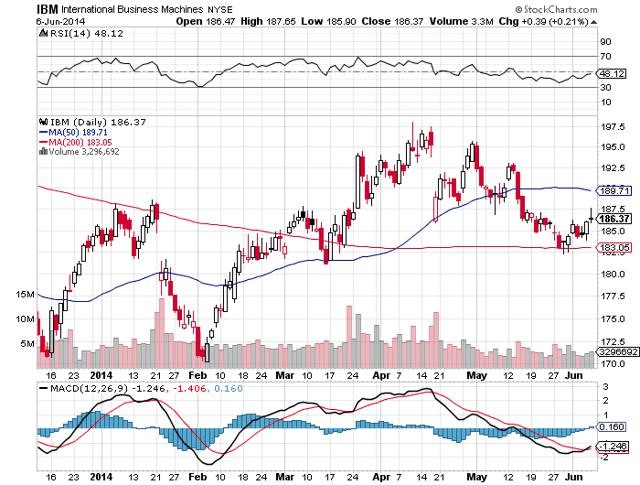 Simply stated, this is a dip-to-buy with the profit objective in $200-220 range. As additional color, there are early signs of a reversal of the primary trend from bearish to bullish.
| | | | |
| --- | --- | --- | --- |
| Monthly expected return | Quarterly expected return | Quarterly standard deviation of returns | Sharpe ratio |
| 1.36% | 4.09% | 7.59% | 0.44 |
| | | |
| --- | --- | --- |
| | Intrinsic value estimates | Forward multiplier valuations based on base case intrinsic value |
| Optimistic | $215 | P/E: 10.60 |
| Base case | $180 | P/S: 1.97 |
| Pessimistic | $145.50 | P/BV: 8.33 |
| | | P/CFO: 10.35 |
The valuation based on the fundamentals of the underlying business suggests that shares of IBM are 3.5% overvalued by the market. The reader should note that based on my 2014 year-end estimates, IBM would be valued at $192.50 per share. The inputs for the second model changed the year-end estimates for book value per share while the model used in the base case used the "technically correct" year-end 2013 book value per share. Both estimates utilized forward-looking estimates for the return generating ability of the underlying business. Lastly 10 times earnings is inexpensive, but the business is growing below the rate of nominal GDP.
General Risks
The share price is likely to remain volatile, and investors could lose a portion or all of their investment.
Investors should judge the suitability of an investment in IBM in light of their own unique circumstances.
A decline in the global economic growth rate and/or a decline in the pace of economic growth in the United States could adversely impact the results of operations and the share price.
The technology industry is characterized by rapid technological change, which could materially adversely impact the results of operations.
Competition in product development and pricing could adversely impact performance.
Incorrect forecasts of customer demand could adversely impact the results of operations.
Higher interest rates may reduce demand for IBM's offerings and negatively impact the results of operations and the share price.
This section does not discuss all risks related to an investment in IBM.
Disclosure: I have no positions in any stocks mentioned, and no plans to initiate any positions within the next 72 hours. I wrote this article myself, and it expresses my own opinions. I am not receiving compensation for it (other than from Seeking Alpha). I have no business relationship with any company whose stock is mentioned in this article.