Introduction.
Seadrill Limited (NYSE:SDRL) and Transocean Limited (NYSE:RIG) are two top-tier offshore drilling companies that are very popular among investors. There are a few others, and we should mention also Noble (NYSE:NE), Ensco (NYSE:ESV), Diamond (NYSE:DO), Atwood (NYSE:ATW), which own a sizable fleet, spread between the floaters and the jackups.
This study will be focusing primarily on the nature and size of the fleet they own now. It is a comparison that I will try to conduct most objectively. Of course, this exercise is difficult because it necessitates special technical skills and knowledge to be able to compare the rig's specifications correctly.
I have been writing many articles about this Industry and covered most of the well-known offshore drilling companies, large and small, that can be traded in the US markets.
This article does not pretend to cover the entire aspects of the valuation process; however, it is a well-documented article that will give an honest look at the company's fleet to a potential new investor. Often, "finance guys" overlook this side which is not really understood, and they rely on financial metrics only, easier to manipulate. It can be very misleading without a wide understanding of each technical part of the offshore drilling Industry.
It is important to look at these two top-tier companies, which are comparable in size, revenues and even strategy to understand the nature of their business model, which is both complicated (financing, associated companies...) and simple at the same time (basically a contracting provider to the big-oil companies.)
Classification.
This subject is important because it will set the day rate and future contracting potential.
Rigzone is given a general classification based on eight main rig types:
Drill barges (48/25.) ESV owns a few of them, however RIG and SDRL are not involved in this type of rig.
Drillships (174/93.)
Inland barges (70/12.) Bay Water drilling LLC owns few, but RIG and SDRL are not involved.
Jackups (654/394.)
Platform rigs (249/136.)
Semi-submersibles (248/171.)
Submersibles (2/0.) Noble Corp. Owns the two rigs and are both cold stacked.
Tender (48/22.) SDRL owns two tenders and one semi-tenders through its 8.2% stake in SanuraKapura.
It is a total of 1,493 rigs in which 853 are actually contracted (57.13%), and the others are either cold stacked, ready stacked, under inspection, undergoing a work over, en route to a new destination or under-construction.
Here is what the two companies own, based on these basic types:
Company

Drilling

RIG

RIG

Cold-Ready Stacked/Insp. /Workover/En route

Under Const.

Drilling

SDRL

SDRL
Cold-Ready Stacked/Insp. /Workover/En route
Under Const.
Drillships
22
31
0
9
6
18
2
10
Semi-subs
30
50
20
0
15
19
1
3
Jackups
11
17
1
5
21
29
0
8
Tenders
0
0
0
0
3
3
0
0
TOTAL
63
98
18
14
45
69
2
13
Note 1: Rigzone is indicating more rigs than the Transocean website due to several cold stacked rigs. Particularly the C kirk Rhein Jr, Falcon 100, Sedco 703, Sedco 709 and Sedneth 701 in semi-submersibles.
Note 2: SDRL has two Drillships, the West Tellus, which is ready stacked (West Africa) and the West Neptune enroute to GOM.
Note 3: SDRL semi-sub, the West Alpha from NADL is currently under Inspection.
According to Rigzone, Transocean Limited and Seadrill Limited's combined fleet contracted represents a total of over 15%, if we add the rigs under-construction already contracted for 2015 to 2017.
Seadrill Associated companies:
Seadrill Partners, LLC (NYSE:SDLP): SDRL owns 39,635,400 shares or 53.2% (Majority holder.) Which represents a gross value of $1.33 billion as of June 4, 2014.
North Atlantic Drilling (NYSE:NADL): SDRL owns 169,663,723 shares or 70.36% (Majority holder.) Which represents a gross value of $1.83 billion as of June 3, 2014.
Archer Ltd. Listed on the Oslo exchange (ARCHER.OS): SDRL owns 231,053,239 shares or about 40% of the company. On February 21, 2014, Archer announced an impairment charge of $430 million, which impaired subsequently SDRL fourth-quarter revenues. SDRL stake in the company represents $385 million as of June 4, 2014.
Sevan Drilling ASA listed on the Oslo exchange (SEVDR.OS): SDRL owns 50.11% of the total company representing a gross value of $162 million as of June 4, 2014. (Trades at 3.25NOK or $0.541)
SapuraKencana Petroleum BHD listed on the Malaysian exchange: SDRL owns 490 million shares of the company representing about 8.2%, which is a gross value of $621 million as of June 4, 2014. ($=3.235 MYR and Sapura trades at 4.10 Myr or $1.267.)
Fintech and SDRL formed the "Seamex" joint venture in February 2014, to acquire, operate and manage jackups drilling rigs and enter long-term charter agreements with Petroleos Mexicanos ("PEMEX".) It involves five jackups in the GOM for six years. I will not include this joint venture in my table.
Associated Co.
SDLP
NADL
Archer Ltd.
Sevan Drilling

Sapura

Kencana

The shares owned by SDRL

Million

39.64
169.66
231.05
113
490
% owned
53.2
70.36
39.9
50.11
*8.2
Gross value $ Billion
1.33
1.83
0.385
0.162
0.621
* After selling $300 million in shares this quarter.
Total value of SDRL associated companies is $4.33 billion as June 4, 2014. Seamex JV is not included.
Transocean Limited future company spin-off.
The carrying amounts associated with RIG consolidated variable interest entities is $1.178 billion.
Angola Deepwater Drilling Company Limited (ADDCL), a consolidated Cayman Islands company, and Transocean Drilling Services Offshore Inc. (TDSOI), a consolidated British Virgin Islands company, are variable interest entities for which RIG is the primary beneficiary.
RIG intends to create a new entity this quarter:
Caledonia Offshore Drilling Company -During the second half of the year ending December 31, 2014, we intend to pursue the creation of a new entity, to be named Caledonia Offshore Drilling Company ("Caledonia"), comprising eight of our U.K. North Sea Midwater Floaters.
Fleet analysis: Details and comparison of the three main segments.
Note: If you click on the Rig name, you will have The Rigzone specification of the rig picked.
1 - Drillships.
2 - Semi-submersibles.
HS= High Specification. HE= Harsh Environment.
3 - Jackups and other rigs.
* The tenders T15 and T16 and the semi-tender Vencedor are owned by Sapura Kencana (SDRL owns 8.2%.)
Analyse per segment:
The Drillships.
Both SDRL and RIG have an excellent, modern and efficient fleet. Only two drillships could be a concern for Transocean: the Deepwater Navigator and Deepwater Seven Seas, which are around 40 years old, and will be probably retired after their respective contract expires.
RIG has nine drillships under-construction, now, and will be the base of an excellent revenue after 2015. The situation is even better for SDRL, with its 10 drillships under-construction, and an overall outstanding ultra-modern fleet. Recently, the West Jupiter secured a contract for six years, at a day rate around $600k, and we are still waiting for the news related to the West Saturn.
Both companies enjoy a day rate averaging nearly $600k.
The semi-submersibles.
This sector is obviously different for RIG, which owns a much older fleet than SDRL's State-of-the-Art fleet. Over 20 rigs are not actually contracted, and many have been cold stacked (12). In this segment, the day rate bifurcation between older rigs and the new 5th, 6th and 7th rig generation is an important consideration for a meaningful comparison.
| | | | | | | | |
| --- | --- | --- | --- | --- | --- | --- | --- |
| Rig Generation | Total Rig | 2 | 3 | 4 | 5 | 6 | Harsh Environment |
| RIG | 50 | 11 | 20 | 10 | 4 | 5 | 5(4),(2)6 |
| SDRL | 19 | 0 | 0 | 1 | 3 | 15 | 1(4),7(6) |
* RIG has 11 rigs cold-stacked, 6 ready-stacked, 3 under-inspection and one "en route."
This segment is definitely a weakness for RIG compared to SDRL which owns an ultra-modern fleet. Recently RIG began to change its fleet strategy and mimic more closely SDRL's strategy, by ordering rigs without already an actual contract signed.
Commentary on recent news.
Transocean's new entity, Caledonia Offshore Drilling Co. representing eight of the Transocean's U.K. North Sea Midwater Floaters, is an interesting development for both RIG and perhaps SDRL.
According to Offshore Energytoday.com
The offshore drilling assets currently contemplated for transfer to Caledonia include the following rigs: Sedco 704, Sedco 711, Sedco 712, Sedco 714, Transocean John Shaw, Transocean Prospect, GSF Arctic III and J.W. McLean.
The Caledonia Offshore drilling will control eight older rigs, with two 2nd rig generation and six 3rd rig generation. The age average for these eight rigs is 34 years, which is very old.
SDRL, through its subsidiary NADL, could be interested in the creation of a joint venture, with Caledonia Offshore Drilling. It may allow SDRL/NADL to allocate those older rigs to Rosneft needs soon, while the company can order and receive new rigs safely. The Rosneft deal represents nine offshore rigs for a total of 35 rig years, due to last until 2022.
Rosneft will take a large stake in NADL (up to 49.99%), however, SDRL will keep a majority stake in NADL. Rosneft may involve NADL in onshore drilling inside Russia as well. SDRL/Archer limited may prevent this hypothesis from happening. However, it was worth mentioning here, as a win-win situation for both SDRL and RIG.
Note: North Atlantic is set to drill two wells in 2014 and 2015, in the Arctic Kara Sea for Rosneft's joint venture with Exxon Mobil Corp. (NYSE:XOM).
The Jackups.
Again, SDRL owns a very modern fleet; however, RIG is not far behind in quality metrics, with five new ultra-modern jackups under construction, now, and only one old jackup cold-stacked; the Trident VI.
It is important to add that RIG's fleet size is still notably smaller than SDRL's fleet, despite the new jackups under construction. I believe the company should focus on expanding more because this market sector is not as weak as the floaters' business.
RIG's decision to build five new High Specification jackups and increase its jackups fleet will offer good potential for future growth.
Conclusion:
RIG and SDRL are definitely among the best in the offshore drilling industry. SDRL's fleet is very modern and ideally adapted to today's market model. However, this clear competitiveness has been only possible by contracting a high-level, long-term debt that RIG does not have.
RIG's fleet lags behind, as we can see above, especially in the semi-submersible rig sector. However, RIG's debt level is lower than SDRL and will allow the company to invest more in modern rigs, while retiring a cumbersome aging fleet. Despite the ongoing financial effect of the Macondo incident, still difficult to interpret adequately, I believe RIG presents a good opportunity for the long run, especially at this stock price level, between 41 to 43.
To illustrate this situation between debt level and fleet modernity, we can analyze and compare the ratio EV/EBITDA of both companies. SDRL's debt level related to its modern fleet is one of the highest in the industry and could be misinterpreted as a negative for growth because real EBITDA will lag behind compared to the future potential EBITDA related to the new rigs, not yet contracted and used.
RIG has a ratio EV/EBITDA 2014 around 7, while SDRL has been just above 9 (Using future 2014 EBITDA forecasted by the company, around $10 million per day,) and even 12+, based on the Q1 2014 alone for SDRL.
YTD chart: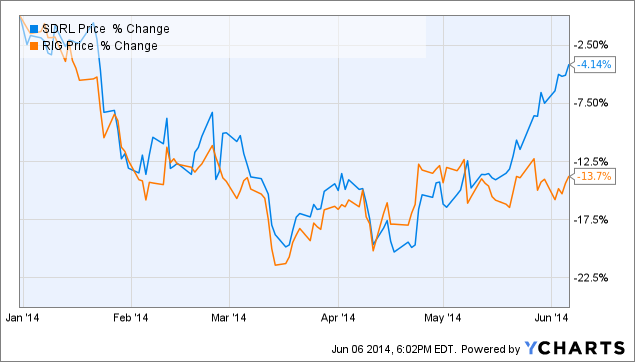 RIG offers a better value, especially after the huge upside that SDRL experienced these recent weeks. However, both companies should be accumulated for the long-term. RIG and SDRL are a BUY for a long investor's perspective.
Disclosure: The author is long RIG, SDRL. The author wrote this article themselves, and it expresses their own opinions. The author is not receiving compensation for it (other than from Seeking Alpha). The author has no business relationship with any company whose stock is mentioned in this article.