Bankers continue to see weakness in the rural economy, driven by weak home sales, hiring, and retail sales. Despite the weak economic data, banker confidence is improving due to strong agriculture conditions and improving banking indicators.
The overall Rural Mainstreet Index (NASDAQ:RMI) increased slightly to 47.6 this month from August's 46.0, according to the September survey of bank CEOs in a 10-state region. The RMI is well below readings earlier this year and is the third consecutive month below growth neutral 50.0.

"While the farm sector is experiencing healthy growth, Rural Mainstreet businesses continue to report waning economic fortunes," said economist Ernie Goss, co-author of the report.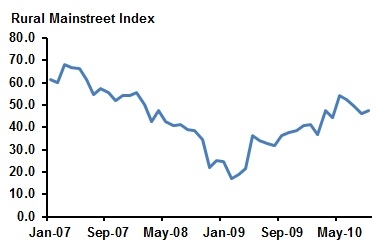 Agriculture

Agriculture continues to be the bright spot in the economy as the farmland price index rocketed to 57.7 in September from 55.3 August. This is the eighth straight month the index has been above growth neutral. Goss noted, "Farm indicators remain very strong, including farmland prices."

The farmland price index rose in all 10 states surveyed, with strong gains in Iowa, Minnesota, Nebraska, and the Dakotas.

"The general economy is still struggling, but the crop and livestock producers are looking at an exceptional year. Growing conditions are the best in decades, yields are up and prices are good," commented Kathy Thuman, President of Farmers State Bank. Thuman noted she is concerned, though, about rising farm input costs.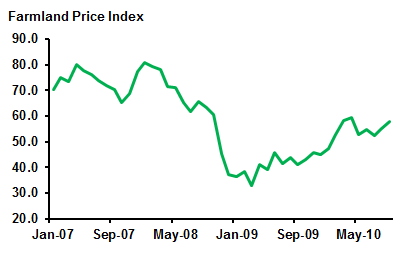 Farm equipment-sales index also improved to 56.2 from 52.7 in August as higher grain prices have encouraged farmers to invest in new equipment. "As the outlook for the farm sector has improved significantly, farmers have likewise expanded their purchases of capital equipment. I see this very positive trend continuing for the rest of 2010," commented Goss.

Banking

Banking indicators continue to perform well as all indicators were above growth neutral for the seventh straight month. Loan volumes increased to 57.4 from 54.2 in August, checking deposits improved to 65.6 from 59.1 in August, and certificate of deposits inched higher to 55.0 from August's 54.2

In the September survey, bankers were asked when they expect the Federal Reserve to begin raising short-term interest rates. Roughly 25% expect a rate hike in the first half of 2011 and 55% expect a rate increase in the second half of 2010. No bankers responded that they expect a rate increase in 2010.

Outlook

Bankers' responses continue to be consistent with the overall economic outlook. Unemployment, housing, and retail sales continue to weigh on the economy. Although the market has moved past the double-dip recession, expectations for growth in the short-term are minimal.

The one bright spot in the economy continues to be agriculture. Strong exports, continued ethanol demand, and low inventory levels have propelled grain prices to multi-year highs.

The focus continues to be on supply disruptions in Eastern Europe, Canada, and China and the risk of lower U.S. yields than expected, but we are focusing on the long-term demand for grains. We believe we are at the beginning of an agriculture boom and with more good news to come.

Disclosure: No positions