by Michele Leung
China has recently announced some potential changes in its municipal bond market, which will allow the local governments to sell bond on their own credits, as opposed to the majority of local government bonds that are currently issued by the Ministry of Finance. The coverage is targeted to expand to Beijing, Jiangxi, Ningxie and Qingdao, in addition to the six local governments that were approved in the last three years.
As highlighted by the author in the article, China Needs Municipal Bond Rethink, raising transparency is definitely the objective to this disclosure-based system. The author also expected more participation from the retail investors in the municipal bond market following the change.
This suggested development in the municipal bond market is perceived as a positive sign, which encourages further growth in the China onshore bond market. It would also help the local governments to meet the financing needs while also to strengthen their debt profile. Echoing an important point raised by the NPC Law Committee member, the local government's debt raising should be further regulated so that the process can become more legalized and transparent.
The S&P China Provincial Bond Index measures the performance of the China provincial and municipal bonds; its total return rose 6.84% since is first value date of Nov 20, 2011. The market value tracked by the index is around CNY 118 billion, which is relatively small if you compare with the total China government bond market size of CNY 15.5 trillion, as tracked by the S&P China Government Bond Index.
Note from the historical yield performance in the chart below, the S&P China Provincial Bond Index traded tighter than S&P China Sovereign Bond Index prior to August 2012, which may imply the yields were artificially compressed as to minimize the financing cost for the municipals. Since then, the S&P China Provincial Bond Index has been trading at an average spread of 25 bps wider than the S&P China Sovereign Bond Index.
Historical Yield Performance (%)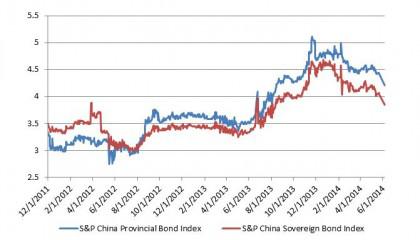 Source: S&P Dow Jones Indices. Data as of Jun 6, 2014. Charts are provided for illustrative purposes. This chart may reflect hypothetical historical performance. Please see the Performance Disclosures at the end of this document for more information regarding the inherent limitations associated with back-tested performance. Past performance is no guarantee of future results.
© S&P Dow Jones Indices LLC 2013. Indexology® is a trademark of S&P Dow Jones Indices LLC (SPDJI). S&P® is a trademark of Standard & Poor's Financial Services LLC and Dow Jones® is a trademark of Dow Jones Trademark Holdings LLC, and those marks have been licensed to S&P DJI. This material is reproduced with the prior written consent of S&P DJI. For more information on S&P DJI and to see our full disclaimer, visit www.spdji.com/terms-of-use.
Disclosure: None