The share price of Frontier Communications (NYSE:FTR) has gone up by almost 22% year to date, outperforming a gain of just 6% for S&P 500 Index. Based on current annualized dividend of $0.40 per share and 10% cost of equity, the Gordon Growth Dividend Discount Model suggests that the current share price of $5.68 has priced in a dividend growth rate in between 2.5% and 3.0% (see chart below). In this article, I will elaborate on my analysis to provide readers some perspectives on whether the company can achieve that dividend growth expectation.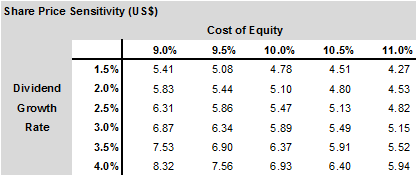 I have performed free cash flow projections from 2014 to 2016 to gauge Frontier's capacity for future dividend growth. My analysis started with consensus EBITDA estimates which predict only a 2% increase in the next 2 years. It is noted that Frontier's EBITDA to operating cash flow conversion ratio trended within a tight range from 65% to 68% in the past 5 years. I assumed a flat ratio of 65% through 2016, which is slightly below the 5-year historical average of 66%. For capital expenditure, management provided a guidance range from $575M to $625M for 2014. An additional capex of $85M to $105M is also expected in 2014 due to integration of the Connecticut transaction. As such, I assumed the company to incur $730M total capex in 2014 (which is at the higher end of the total capex guidance) and that the figure will stay flat through 2016. Based on these assumptions, I projected free cash flow to grow from $658M in 2014 to $703M in 2016 (see chart below).

Assuming no increase in dividend spending, free cash flow dividend payout ratio will increase from 46.4% in 2013 to 59.0% in 2014 and the ratio will only drop slightly to 56.8% in 2016. In this scenario, Frontier would have an average of $300M excess free cash flow in each year which will likely be spent on paying down debt according to management's capital deployment plan (see chart above).
As the company is unlikely to repurchase any shares in the next few years due to the deleveraging plan, I modeled the same share count from 2014 to 2016. Hence, the same dividend spending from 2014 to 2016 would mean a flat dividend per share of $0.40 going forward. Given the consensus EPS estimates, earnings dividend payout ratio will decrease considerably from 364% in 2013 to 199% in 2014. However, given the consensus estimates predict the EPS to grow by just 7.4% CAGR in the next 2 years, the payout ratio will remain elevated at 172% by 2016 (see chart below).

As Frontier would generate sufficient free cash flow to cover its current dividend commitment in the next few years, I believe the risk for a dividend cut to be minimal. However, a dividend hike scenario will hinge on Frontier's ability to drive future EPS growth. Based on Frontier's current consensus long-term EPS growth estimate of 9.4% and a flat dividend of $0.40 per share, I estimated that it will take 7-8 years for the earnings dividend payout ratio to drop below 100%. As the payout ratio will likely remain elevated in the next few years, I believe a dividend hike to be very unlikely in medium term.
In conclusion, unless Frontier can provide a positive surprise on the current market expectations, I believe the dividend growth assumption priced in the current valuation to be optimistic. Investors should be cautious at this valuation level.
All charts are created by the author, and data used in the article and the charts is sourced from S&P Capital IQ, unless otherwise specified.
Disclosure: I am long FTR. I wrote this article myself, and it expresses my own opinions. I am not receiving compensation for it (other than from Seeking Alpha). I have no business relationship with any company whose stock is mentioned in this article.