Peabody (NYSE:BTU) has received positive reviews by analysts from both The Jefferies Group on Wednesday and again on Thursday by Paul Forward at Stifel Nicolaus. Despite the EPA's recent proposal designed to limit the use of coal in energy creation, the analyst opinions had caused a temporary increase in Peabody stock. The stock itself has struggled during most of 2014 along with the other major players such as Alpha Natural Resources (ANR), Arch Coal (ACI), Walter Energy (NYSE:WLT), and Cloud Peak Energy (NYSE:CLD), the last of which also managed to release additional positive information for the market to digest on Thursday with respect to a new deal for additional exploratory drilling to expand their coal operation.
There was a recent flurry of activity by analysts to combat the sudden decline in coal stocks due to the EPA announcement on Monday. That is, until Goldman Sachs released their report, which was rather negative with respect to the coal industry and most particularly with respect to Peabody Energy:
We downgrade Peabody Energy from Buy to Neutral as we now see 1% upside to our new target price of $16 versus 7% average return for the sector. We lower our EV/EBITDA-based target from $21 to $16 driven by (1) a reduced international coal (Newcastle) price outlook, consistent with our Commodities Research colleagues, (2) higher differentials versus spot met coal prices and (3) a lower met coal price view used in our valuation from $165/MT to $160/MT.
In the case of coal companies such as Peabody Energy, they have had a bad year, but not as a result of general analyst dislike. Other than the above shown assessment from Goldman Sachs, Peabody Energy has generally been well liked by analysts on Wall Street. In the case of Peabody, analysts have held to a higher price target for the company with a consensus price target of over $22.00 per share since 2014 started. The actual realized price of BTU trends low against the analyst price targets.
On Wednesday, The Jefferies Group lowered their price target slightly to $20.00 per share for Peabody. They retained their previously stated buy rating for the stock despite the marginal decrease in their price target. The Jefferies Group continued with a buy rating for BTU while reiterating holds for Alpha Natural Resources and Arch Coal Inc. The chief reason cited for preferring Peabody more, was its greater exposure to Powder River Basin coal and its international reach.
This was then followed up on Thursday June 5th, with a positive report from Stifel Nicolaus's Paul Forward who appears to believe that coal will begin to do better despite the decline in the usage of thermal coal as a source of energy.
The CO2 policy proposal represents the continuation of a long struggle for U.S. power market share between natural gas (+ renewables) and coal, a conflict that has intensified during a period of flat U.S. power demand from 2005 to 2013. During that time, coal's power market share fell from 49.6% to 39.1%, while the natural gas share rose from 18.8% to 27.4%.
Despite the issue of a decline in the share of power generation, Paul Forward appears to believe (and he is certainly not alone among the analyst community) that there will eventually be an overall increase in energy creation, and coal will step in as the lower cost option. However, if the new EPA rules come into effect, the necessity to enhance coal powered plants with carbon capture and sequestration technology will force the price of energy generated through coal upwards. It is worth noting that this isn't the first time that Paul Forward has been bullish on the prospects of coal as can be seen in this article here, where he advocated Peabody and coal at the start of the year. In addition to that article, you can check on his record with respect to Peabody here at TipRanks.com.
The Jefferies Group and Stifel Nicolaus aren't the only two firms to endorse the coal companies. Earlier, on May 12th, Peabody was upgraded by Morgan Stanley from their original price target of $20.00 to $30.00.
While challenges from gas and regulations remain, the very significant inventory cycle that has faced the thermal coal market since 2012 is ending. Met coal cuts may also be sowing the seeds for a bottom in that market as well.
You would initially think that this reasoning might also apply to many other companies such as ANR, WLT, or ACI, but according to Morgan Stanley BTU is uniquely situated due to the following five reasons:
We think BTU is the best way to play this modest recovery, for five reasons:

1) The company has large exposure to the PRB and ILB markets, our favored basins.

2) We think little value is assigned to the company's met portfolio, which could change as prices tick higher.

3) We see less downside risk relative to peers due to a more manageable debt load and a consistently low-cost portfolio.

4) BTU pays the highest dividend yield in our coverage, with room for eventual increased capital return.

5) The stock has recently lagged other PRB majors like and ACI.
So should we follow the general consensus of analysts and buy BTU? Or should we consider the most recent analysis from Goldman Sachs and not buy. Here is a quick look at a few of the points from Morgan Stanley (as most of the bullish analysts have similar considerations).
Metallurgical Coal:
Metallurgical coal consists of roughly 6%-7% of total tonnage sold by Peabody according to their most recently issued annual report (please note that this is not measured per revenue). Met Coal consisted of 15.9 tons in 2013 against a total number of roughly 251 tons of total coal sales. However, virtually all of this coking coal was from the Australian mining operation and consequently Peabody is left dealing with the China issue more directly than other coal operations.
China's steel production is increasing at a decreasing rate. During 2013 the steel production increased 7%; however, during 2014 this is going to be cut in half down to 3%. Iron ore mining companies such as Rio Tinto (NYSE:RIO), BHP Billiton (NYSE:BHP), Cliffs Natural Resources (NYSE:CLF), and Vale SA (NYSE:VALE) have already been hit badly by this issue.
Why does the production of steel in China matter? Because they produce roughly half of the world wide steel output. According to the most recently released World Steel Association report for 2013 (released in April) we can easily see this from their chart shown below.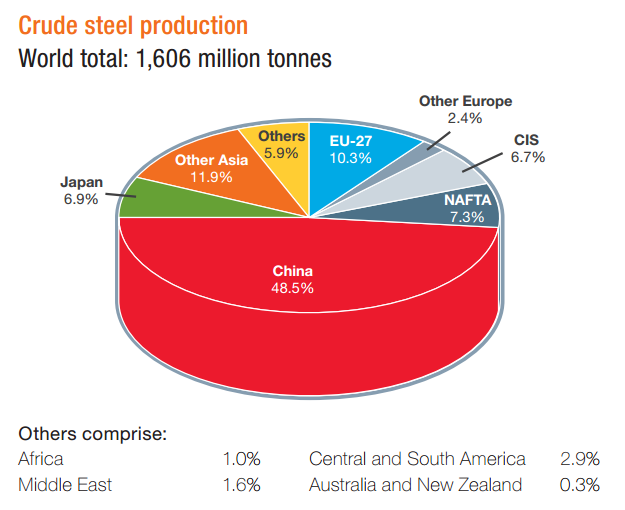 With the decline of steel production in China, Peabody is looking at a serious decline in revenue from metallurgical coal which is only mitigated by the low level of exposure that Peabody has with respect to this revenue source. It is therefore difficult to understand why the analysts feel that any increase could be expected in the future to come out of the steel sector. It therefore seems likely that the Goldman Sachs position with respect to met coal would be justified.
Thermal Coal:
Roughly 90% of the tonnage that Peabody sells is generated from thermal coal. But as we already touched on to some extent, thermal coal has its own problems.
Last week the EPA released their guidance on the future rules governing the production of energy through the use of coal. According to the Capital Economics Group there is a strong possibility that coal burning power plants will be reduced by 15% by 2016.
Higher gas prices in the US over the last year have encouraged power plants to burn more coal and less gas, supporting coal prices. These regulations are likely to remove that support, even with higher gas prices, as clean burning gas is seen as the only feasible way to meet the new standards.
The Capital Economics Group estimates lower spot prices for coal by the year's end.
Quick Review of The Metrics:
The Morgan Stanley analysis also mentions the metrics, such as the debt to equity ratio which can also be seen in the positives associated with its P/B Ratio of 1.10 which would indicate that its current stock price is almost equivalent to the book value (generally a good indication to buy for a value play). This would generally be a good thing, but Peabody's Altman Z Score is currently at 0.73 indicating that it is far below the standard distress point of roughly 1.80 which shows us a strong possibility of bankruptcy in the next two years. The Altman Z score for most coal companies is rather poor indicating a general level of distress for the industry. It should be noted that even Consol Energy (NYSE:CNX), which is well diversified in the natural gas sector, also has a poor Altman Z score of 1.58. While this is still considerably higher than Peabody, CNX illustrates the important point that the industry overall is in a state of distress.
A recent article by another Seeking Alpha author indicated that a person ought to consider shorting Peabody Energy. He mentioned some solid reasons for doing this which included an erosion of the fundamentals of Peabody and the recent surprising loss reported for the first quarter of 2014 back on April 24th. While analysts are currently indicating that:
Much of the investment case for U.S. coal, in our view, centers on its ability to step in as a low-cost, reliable "Plan B" if "Plan A" (gas+renewables) falls short. The cold weather-impacted 1Q14 offered a glimpse of what this might look like. (Paul Forward of Stifel Nicolaus)
We are rather left wondering how positive the "1Q14 glimpse" really was. For the most part analysts blame Met Coal for the poor earnings in the first quarter. But we are not expecting the rate of increase in steel production to increase adequately to bring Met Coal prices back to normal levels anytime soon. Consequently if we can go through a bad winter, where there was an overall increase in energy consumption and still not see an increase in earnings for BTU, then there might be a larger issue.
Possibility for Improvement In The Stock Price:
Finally, it seems that there would be three reasons to possibly purchase Peabody or to "buy' into the coal mining industry.
A) We would have to assume that the recently released EPA information was "information" that was already built into the stock price prior to Monday. This is certainly a possibility as indicated by a Forbes contributor right here. On Monday, Chris Helman at Forbes wrote:
Casualties of the [EPA] plan? Coal miners and owners of coal-fired power plants. Don't expect their shares to sell off on today's rule revelation though - EPA has been telegraphing its plans for months, so the bad news is baked in.
Naturally we saw the stock fall after the plan anyhow, and consequently on Wednesday and again on Thursday we saw analysts come out in favor of Peabody and coal. Whether this is justified conceptually is naturally up for debate.
B) The other alternative which has not been discussed very much by analysts is a change in policy-makers. It is possible that analysts are simply expressing the perspective that energy and electricity generation will always be needed. Consequently it follows that eventually a change to policy might occur as has occurred in the past when a court ruled that the EPA's standards had to be brought back into line with reality. A policy shift could occur with a change of elected officials, or as shown in the article, through a court order.
C) The third, and possibly least likely alternative, would be the development of some new technology that causes carbon capture and sequestration to suddenly be much cheaper. While this is unlikely it is naturally within the realm of possibility.
It is my perspective that the information with respect to the EPA was not actually properly contained within the stock price of the coal companies prior to Monday. If it had been "baked" into the price, then we would not have seen the decline and the subsequent reviews from analysts which were needed to prop the stock back up. I also believe that with respect to our secondary notion, that if one is going to invest in a stock and simply await a policy change or shift, then one would be better off waiting for the stock price to become more depressed as any policy change is generally a long time in coming. The final possible reason to buy BTU is hardly good enough for the astute investor. We cannot invest based on the offhand possibility or hope that technology will improve the prospects of a stock.
Conclusion:
Peabody Energy certainly had an interesting time last week. However, it would appear that the Goldman Sachs analysis was well founded and that we shouldn't expect a better future in the near term for Peabody Energy. With respect to thermal coal doing well in the future, there would need to be a policy shift. While this is certainly a possibility, we should not count on this happening in the near future. The main trouble for Peabody Energy is that its main exposure is to coal, and whether its thermal or met coal, neither are doing very well at the moment.
Diversification is what we should look for with respect to coal companies if we are considering an investment in them. Peabody Energy is diversified with respect to the type of coal that it mines and produces for purchase (thermal and met). However, Consol Energy is different than our other coal companies in that they are diversified with respect to the type of energy markets that they are competitive within. While the market window continues to close on coal with respect to thermal usage, we ought to look for a company that is horizontally integrated and can reap the rewards of a switch to natural gas. Consol Energy is the company to invest in therefore, and according to the analysts at Goldman Sachs there are other positive attributes to look for:
Consol Energy trades at a deep discount to our [sum-of-the-parts] value, driving our upgrade from Neutral to Buy. We see four pillars to our positive view on the company: (1) improving free cash flow at the coal segment, (2) a major E&P production ramp, (3) potential for asset sales/restructuring and (4) a strong balance sheet. We raise our 6-month SOTP-based price target from $49 to $55.
A policy shift most likely will occur in the long-term future. It is most likely that the analysts at The Jefferies Group, Stifel Nicolaus, and Morgan Stanley will in the long term be somewhat vindicated. Coal as an energy source is too cheap to always prefer another competing energy source. However, for the investor, that will be a long time in coming. Therefore, Consol Energy is the appropriate market play within the coal industry for now as it will benefit in the near future as well as the long term.
Peabody Energy is not a buy for now, but keep an eye out for a policy change, and the reduction of government regulation, as that will bring with it an increase in the stock's price.
Disclosure: I have no positions in any stocks mentioned, and no plans to initiate any positions within the next 72 hours. I wrote this article myself, and it expresses my own opinions. I am not receiving compensation for it (other than from Seeking Alpha). I have no business relationship with any company whose stock is mentioned in this article.