On Thursday, Calix Networks (NYSE:CALX) announced its intentions to acquire Occam Networks (OCNW). If you read Small Cap Ideas as the Market Drops, you know that OCNW was well-positioned to benefit from the Obama administration's multi-billion dollar Broadband Stimulus Initiative...and it still is.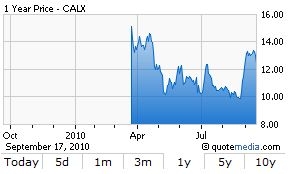 CALX is an OCNW competitor in the fiber-optic equipment market. As such, it is also poised to reap the benefits of Broadband Stimulus spending. In fact, acquiring OCNW promises to make its job that much easier.
By taking out its smaller rival, CALX instantly alleviates competitive price pressure. Simultaneously, it enhances its negotiating leverage with component suppliers. When combined with an expected spike in revenues, gross margins should show significant improvement throughout 2011 and well into 2012.
In addition, operating synergies and economies of scale will quickly make this deal very accretive for CALX. In the coming months, expect to see a sizable reconciliation of R&D and SG&A expenditures, leading to a more efficient cost structure.
Ramping revenues, rising margins, and shrinking expenses. It's a potent recipe for operating margin expansion. For CALX, the icing on the cake is a large balance of operating loss carry-forwards, which will allow it escape paying taxes for the foreseeable future. This will allow EPS and cash flow to accelerate unabated for years to come.
Looking at the Broadband Stimulus program, OCNW and CALX customers have been awarded over $1.5B in funding. Of this, an estimated 20% will be spent on fiber-optic equipment over the next 2-3 years. This $300M boost gives the CALX/OCNW combination a viable shot at approaching $600M in revenues by the end of 2012 (not to mention the numerous other Broadband Stimulus projects unfolding around the globe). This represents considerable upside against Wall Street's current 2011 estimates of $446M ($332M for CALX, plus $114M for OCNW).
With tax-credits in its back pocket, CALX's 2012 operations could produce $100M in cash -- not too shabby for company with an implied enterprise value of around $400M (assuming the OCNW deal goes through).
Speaking of which, one shouldn't count CALX's chickens before they hatch. An inexpensive price tag and the attractiveness of OCNW's operating synergies could draw a higher bid from competitors such as Adtran (NASDAQ:ADTN), Alcatel-Lucent (ALU), or even Cisco (NASDAQ:CSCO). Indeed this year has already seen its share of rival offers (most recently, the bidding war between Dell and HP sent 3Par's shares from under 10 to over 30 in just 2-weeks).
As such, investors that wish to gain exposure to the Calix/Occam story should consider buying shares of OCNW. If the CALX acquisition goes through, OCNW shareholders will receive $3.83 in cash, plus a tax-free swap into shares of CALX stock. If a competing bid surfaces, OCNW's stock would obviously provide an even bigger payoff.
Either way, this deal holds the potential for investors to profit greatly from the government's Broadband Stimulus Initiative.
Disclosure: I hold a position in OCNW