pSivida Corp. (NASDAQ:PSDV), a biopharmaceutical company founded in 1987 and headquartered in Watertown, Massachusetts, quite possibly represents the most compelling growth investment opportunity in the biopharmaceutical equity market space today. Though longer-term investors in PSDV have been rewarded with volatility and uncertainty about the company's future prospects, a thorough investigation of the company's prospects in the latter half of 2014 reveals that its equity shares offer a tremendously attractive risk-reward profile.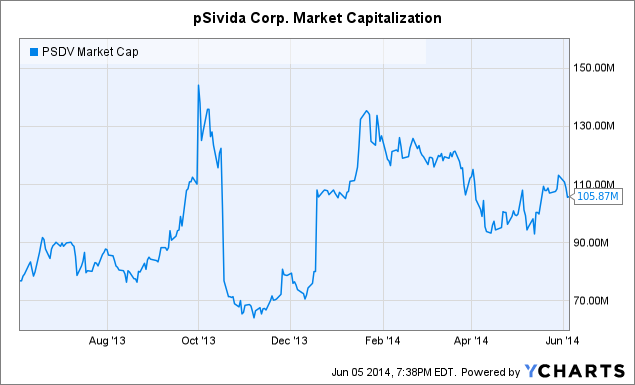 PSDV Market Cap data by YCharts
PSDV's market capitalization has fluctuated greatly over the past year, reaching a high of nearly $150 million in October 2013 and dropping below $70 million last fall. This has been a function of a cycle of hope and disappointment among pSivida's shareholders, driven in part by discussions and process work between the U.S. Food and Drug Administration and Alimera (NASDAQ:ALIM), the company's 80% earnings-sharing partner when it comes to Iluvien, which is the drug up for FDA approval that treats diabetic macular edema.
Iluvien
Though nothing is guaranteed, the fact that Alimera has already entered labeling discussions with the Food and Drug Administration regarding Iluvien indicates that the drug is likely to be approved. Global revenue for this drug once the American market is opened, depending on how effective marketing is, has the potential to be in the hundreds of millions of dollars or higher in the short-to-medium term. Either way, PSDV is entitled to a fifth of the earnings from American and European sales, making long-term revenue growth prospects look quite nice, especially given the increased efficacy and safety benefits Iluvien offers to patients versus current alternatives. Downside risk on this particular point could stem from the fact that competing drugs, including Avastin (manufactured by Genentech, a subsidiary of ROG.VX, OTCQX:RHHBY), Lucentis (also manufactured by Genentech), and Eylea (manufactured by Regeneron, REGN), already serve the market and are prescribed by practicing ophthalmologists. By one research group's estimate, Avastin "continues to dominate the market with 67% share of... patients," as recently as May 2013. By the same estimate, Lucentis has 14-20% of the same market, with Eylea coming in at just under 10% of the market.
However, another point toward the bullish case on PSDV is that as soon as Iluvien - a drug that is already approved in Europe - is approved in the United States, ALIM will pay PSDV $25 million in cash. This influx of capital will finance additional growth and R&D into PSDV's real gem: Tethadur (more on this later). Based on cash flow trends from PSDV's recent filing with the Securities and Exchange Commission, this amount of cash would be able to finance PSDV's operations for more than one year at current levels of spending and investing. The near-term catalyst for PSDV, then, is the September 26, 2014 FDA review of Iluvien, and the strong likelihood that the stock will trade up in anticipation of a positive result.
At the same time, though, all of pSivida's hopes don't rest on FDA approval of Iluvien, limiting downside risk considerably in the event approval does not go through. Medidur, for treatment of posterior uveitis, has entered its pivotal stage III trials and, if successful, has the potential to replace the use of Retisert (licensed by pSivida to Bausch & Lomb, a subsidiary of VRX.CN, VRX) in ophthalmologists' offices across America due to its potential for increased efficacy and fewer side effects.
Tethadur
Tethadur, however, represents the real potential growth story of pSivida Corp. All of the above analysis more than compensates for the downside risk of a PSDV equity investment at this point in time, given its already approved products and its shares' trading levels at just over five times book value and under 30x sales. Even accounting for a conservative probability of final approval, Tethadur's potential future cash flows, if approved, make the investment case on PSDV resoundingly bullish. Tethadur is a novel platform drug delivery system that uses nanostructuring to safely increase effectiveness for patients. It is able to provide long-term delivery of antibodies and proteins, and is fully bio-erodable over a range of time periods. Peer-reviewed preclinical data demonstrating the possibility of sustained release of Avastin was announced last month by PSDV, signaling the beginning of a long-anticipated catalyst chain that may see the eventual approval of Tethadur and its introduction into the market to replace existing, less efficacious and more unwieldy drug delivery systems such as pSivida's own Durasert technology system. The third and fourth quarters of 2014 may see more positive announcements on the Tethadur front, all of which would understandably serve as catalysts for PSDV equity share price to increase. However unlikely, downside risk here is clear: in the event of Tethadur's failure to launch or prove fully viable, expectations regarding the company's future growth prospects and even current self-sustainability would be called into question.
Tethadur has significant implications for PSDV's revenue stream; there are enormous potential revenue streams from licensing the drug delivery system to larger drug companies (think NVS, MRK, PFE, SNY, AMGN, GILD, TEVA, ABT, etc.) that need the technology for the sustained release of medications into the future. This could potentially have a value in the multi-billion dollar range. As a result, even with conservative assumptions regarding the probability of Tethadur's approval, the stock offers superb asymmetric risk/return characteristics for aggressive investors and those focused on growth. Ultimately, the opportunity offered now by PSDV shares, given the undervaluation in the market, is presented by too much focus on whether Iluvien gets FDA approval. Rather, the market should be focused on Tethadur, and there currently exists a lack of market attention to the much larger potential of this novel drug delivery system and its revenue implications.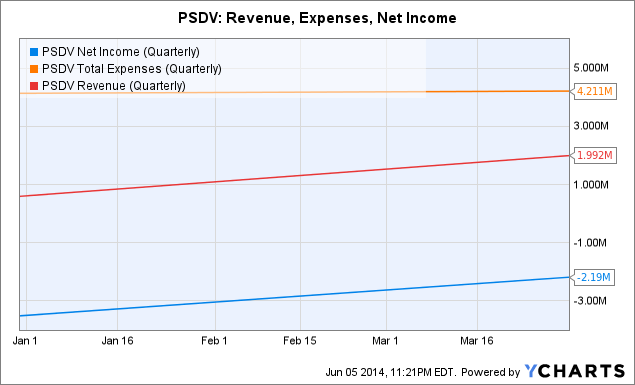 PSDV Net Income (Quarterly) data by YCharts
Risk
PSDV's investment risk, given the stage its products are in, is admittedly higher than that of an investment in a more established company's shares. Regulatory risk includes the potential that neither Tethadur nor Iluvien is approved by the Food and Drug Administration for use in the United States, though I estimate this outcome as unlikely. Moreover, it is possible the market will remain more illiquid relative to other biopharmaceutical equity shares (average volume is just under 60,000 shares traded daily) for some time, perhaps until September, when the Iluvien catalyst plays out. In terms of financing, if Iluvien is indeed not approved in the United States, the payment of $25 million from Alimera will not come and the company may have trouble financing its operations in the near term; reliance on higher-cost debt may increase its cost of capital in the short term if this is the case.
However, with all of this increased risk comes phenomenal return potential. In the final analysis, going long PSDV today is well worth the risk - especially because the risk is so low compared to many other equity market and sector opportunities of companies at the same stage. Imminent catalysts in Q3 2014 and Q4 2014 make now a great time to buy or increase exposure. Moreover, market capitalization is just over $100 million, but poised to grow; as a result, this stock will receive more attention from analysts and gain a liquidity premium. Investors looking for growth, strong returns to their invested capital, and increasing liquidity benefits as this investment thesis plays itself out would be wise to invest in pSivida Corporation as soon as possible.
Disclosure: I am long PSDV. I wrote this article myself, and it expresses my own opinions. I am not receiving compensation for it (other than from Seeking Alpha). I have no business relationship with any company whose stock is mentioned in this article.
Additional disclosure: I anticipate adding more to my long position in PSDV over the next 72 hours.