The Caesars Entertainment (NASDAQ:CZR) story begins with a $30 billion leveraged buyout of Harrah's in 2008 led by private equity heavyweights TPG and Apollo Global Management LLC (NYSE:APO). The first major problem with this deal was the timing. The buyout occurred at a time when business was booming and credit was easy to come by. Another problem with the deal was the massive debt load taken on by TPG and Apollo to finance the deal. After struggling with the company for a few years, due primarily to the difficult business environment, TPG and Apollo brought Caesars public in 2012, raising $16.3 million in an IPO. At the time of its IPO, CZR was also saddled with $22 billion in debt.
Debt
The main challenge facing CZR is its debt load. Currently, CZR has just over $21 billion in debt and just $2.65 billion in equity. Woodfield Consulting Group published a really nice piece on SA outlining CZR's debt problem. To further illustrate the problem, lets take a look at CZR's Q1 income statement: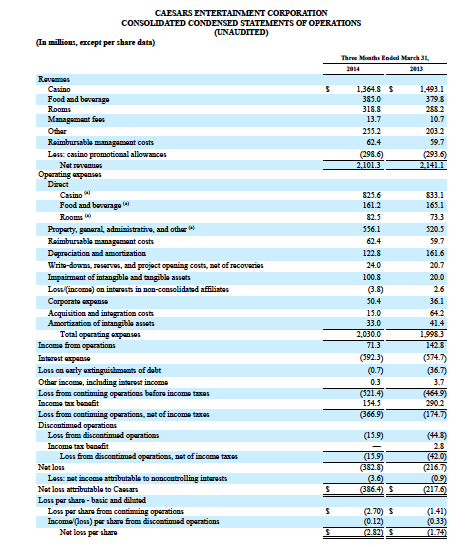 As shown above, CZR generated $71.3 million in income from operations, a steep decline from $142.8 million reported during the same period a year ago. Interest expense for CZR in the most recent quarter was $592.3 million. This is a major problem for CZR because the company is not able to generate enough income to pay the interest on its debt. Simply put, it is difficult to see how CZR will ever be able to repay $21 billion in debt if it cannot even generate enough income to pay the interest on its debt.
What If The Economy Weakens?
With the stock market at an all time high and unemployment falling back close to 6%, it is fair to say the economic back drop is pretty strong. CZR is currently benefiting from the strong environment and still struggling. It is difficult to say exactly what will happen with the economy over the short-term. However, if we were to see any weakness in the economy, it would almost certainly be fatal for CZR.
Apollo In The Driver Seat
Private equity giant Apollo Global Management LLC currently controls about 18% of CZR shares and has been in the driver seat at the company. Apollo has pushed a highly controversial strategy in which CZR has been selling off some of its better assets to subsidiaries such as publicly traded Caesars Acquisition Company (NASDAQ:CACQ) and CZR's partially owned Caesars Growth Properties. The strategy is controversial because Apollo has argued that the strategy will allow CZR to raise capital to lessen its massive debt load. However, bondholders believe that Apollo is simply trying to transfer assets to other companies, leaving only the worst parts of the company under control by the debt ridden CZR.
Legal Battle
Led by David Tepper's Appaloosa Management, a group of CZR bondholders, including Canyon Capital and Oaktree Capital Management, have announced plans to file an injunction to stop CZR from selling its best properties to other CZR-owned enterprises. A big legal battle seems likely given the number of high profile investors involved and the amount of money at stake. Noted equity holders in addition to Apollo also include Soros Fund Management, Leon Cooperman, and Paulson & Co. Another interesting side to the story is that one hedge fund, GSO Capital Partners, that owns CZR's bank loans is said to be cooperating with Apollo.
Caesars Receives Notice of Default
Late Sunday, news broke out that CZR bondholders sent a notice of default to troubled CZR unit Caesars Entertainment Operating Co. CZR quickly released a press statement objecting to the notice of default.
Ceasars Acquisition Company
If all goes according to plan for Apollo and Leon Black, Caesars Acquisition Company may be poised to benefit. CACQ is a recently formed company that was created to buy assets from CZR to help the debt laden company with its finances. So far, the main property that CACQ has acquired from CZR is the online gambling platform. CACQ also holds a 42% stake in Caesars Growth Properties. It is important to note that Apollo, Soros Fund Management, and Paulson & Co are large holders of CACQ.
My Take
Now that I have outlined the situation, I can share my personal views. On a high level, the situation discussed in this piece is among the most complex I have ever seen. That being said, there are two clear takeaways.
1. It is difficult to see how CZR is a good investment
I find it difficult to make the bull case for CZR shares. Simply put, CZR has too much debt to survive in its current form. Moody's has said that a restructuring is inevitable. If Apollo is successful in moving assets around within the different CZR associated companies, it probably will not benefit CZR but rather the new companies that are buying the assets at a cheap price. After all, the reason why bondholders are protesting Apollo's plan is because they believe it will leave them worse off. If bondholders are successful in halting Apollo's plan, I do not believe that will be a positive for CZR equity holders because the company cannot survive given the current capital structure. If CZR is able to survive in some form, it will likely be after highly dilutive equity offerings that will weigh on the stock. With a current market capitalization of more than $2.5 billion, I believe there is a lot of downside in CZR shares at current levels.
2. Under the right circumstances CACQ might be a good investment
Unlike CZR, I believe there is a bull case to be made for CACQ. In some ways, CZR's pain is CACQ's gain as the company is able to accumulate good assets at good prices. However, it must be acknowledged that it is unclear whether Apollo will be able to continue its plan to transfer assets from CZR to CACQ. Bondholders appear willing to use the court system to block such transactions. The other consideration when it comes to CACQ is in regards to the future of online gambling. Casino mogul and Las Vegas Sands (NYSE:LVS) Chairman and CEO Sheldon Adelson has mounted an extremely well funded public campaign against online gambling. If online gaming struggles due to regulatory hurdles, then CACQ will have a difficult time.
Conclusion
Investors looking to bet on a casino should avoid CZR. Established, well capitalized players, such as Las Vegas Sands and Wynn Resorts (NASDAQ:WYNN) offer a better risk/reward than CZR. Speculators who are willing to take on big risks in hopes of receiving massive payoffs should consider CACQ. For CACQ to be a good investment, online gambling needs to be legalized in more states and bondholders must prove unsuccessful in their attempts to halt Apollo's plan for CZR to sell assets to CACQ.
Disclosure: I have no positions in any stocks mentioned, and no plans to initiate any positions within the next 72 hours. I wrote this article myself, and it expresses my own opinions. I am not receiving compensation for it (other than from Seeking Alpha). I have no business relationship with any company whose stock is mentioned in this article.