Carl Icahn, of Icahn Enterprises (NYSE:IEP), has just become the biggest shareholder of Family Dollar (NYSE:FDO) by purchasing a 9.39% stake in the company. The struggling dollar-store chain operator has been eyeing a turnaround following years of underperformance.
Icahn: The Biggest Shareholder of Family Dollar
According to a recent SEC filing, Carl Icahn has declared that he, along with his associates, have purchased nearly 10.7 million shares of Family Dollar. The activist investor, who is currently facing an SEC probe over potential insider trading, has now become the biggest shareholder of Family Dollar, ahead of the company's head Howard Levine who owns 8.18% stake.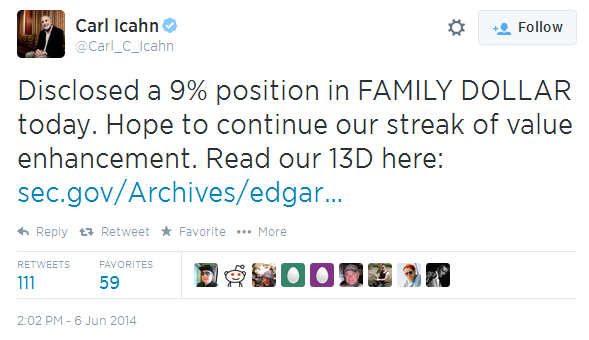 Carl Icahn also revealed that he could go after a position on Family Dollar's board. If Icahn gets a representation on the company's board, then he will be joining another activist investor, Nelson Peltz, whose representative from his firm Trian Fund Management sits on the company's board.
Nelson Peltz is also a major shareholder and owns 7.4% of Family Dollar.
Takeover Speculations
Nearly three years ago, Peltz made an unsuccessful bid for the dollar store, in an effort to attract other parties who could join Peltz in taking over Family Dollar. Although nobody showed any interest, since then, Family Dollar has operated in the midst of takeover speculations.
Earlier this year, Credit Suisse's Michael Exstein suggested in a report that Wal-Mart (NYSE:WMT) should acquire Family Dollar to aggressively expand its small-store business.
The takeover-related rumors are the primary reason why the short interest in the company reached record lows.
Family Dollar has been the worst performing dollar store operator as compared to Dollar General (NYSE:DG) and Dollar Tree (NASDAQ:DLTR).
A Disappointing Run
In its previous quarterly results, Family Dollar reported a 6.1% year-over-year drop in revenues and a 35.2% drop in profits. Its same-store sales fell 3.8% on the back of lower customer transactions.
On the contrary, in their previous quarterly results, Dollar General and Dollar Tree reported a 1.3% and 1.2% increase in same-store sales. Both of these stores have also outperformed Family Dollar in terms of revenue growth.
Family Dollar has been aggressively closing down its underperforming stores. The company will close 370 such stores this year, a significant jump from 22 store closures over the last six months.
In the meantime, Family Dollar will slowdown its pace of new store openings from 525 new stores in the current year to between 350 and 400 new stores in the next fiscal year.
With massive store closures and a slowdown in new store openings, the company could end up losing its market share to its rivals Dollar General and Dollar Tree. Together, Family Dollar's two main competitors will open more than 1,000 new stores this year.
Moreover, Wal-Mart has also planned to open more than 320 small-format stores as it ramps up the competition against the conventional dollar stores.
A long term analysis also reveals that Family Dollar has lagged behind Dollar General and Dollar Tree, in terms of revenue growth, profitability and net income growth.
Over the last five years, Family Dollar's annual revenues have grown at a compounded annual growth rate of 7%, behind Dollar General and Dollar Tree who have grown by more than 8% in the same periods.
Similarly, Family Dollar, which hasn't been as profitable as Dollar General or Dollar Tree, has not reported any meaningful growth in its profit margins since 2009.
Since 2009, Family Dollar has grown its annual net income (adjusted) at a compounded annual growth rate of 8.6%. On the other hand, Dollar General and Dollar Tree have enhanced their profits (adjusted) by 19.5% and 13.2% in the corresponding periods.
For the current year, according to the mid-point of the company's forecast, Family Dollar can report a 30% drop in earnings.
A Turnaround Via Icahn
Clearly, Family Dollar is in need of a turnaround. To do this, besides closing the underperforming stores, Family Dollar is cutting prices on 1,000 items. But this will have an adverse impact on margins and profits.
With the price cuts, Family Dollar has already made a significant shift in its strategy. The company, which used to offer lower prices on some, not all, items, is now moving towards the "everyday low price" model as it follows in the footsteps of Dollar General.
With Icahn as its biggest shareholder, who will likely get a seat on Family Dollar's board, the company could make some major strategic decisions in the coming quarters.
In its SEC filing, Icahn says that he, and his associates, will "have conversations with members of the Issuer's senior management and board of directors to discuss" Family Dollar's "business and strategies to enhance shareholder value, which may include the pursuit of operating initiatives or the exploration of strategic alternatives."
As an activist investor, Icahn has a track record of putting pressure on the companies he invests in, such as in the case of Apple (NASDAQ:AAPL), EBay (NASDAQ:EBAY) and Netflix (NASDAQ:NFLX).
For Family Dollar, Icahn believes that the company has "great long-term potential" and believes that its "current situation is analogous to that recently faced by companies such as CVR Energy, Forest Laboratories, Chesapeake Energy and Biogen, as well as a number of other companies over the last two decades, where" his (Carl Icahn's) "involvement helped to generate tremendous returns for all shareholders."
Conclusion
Family Dollar has been lagging behind its rivals in terms of top and bottom line growth. The company has been closing underperforming stores and cutting prices to turn itself around. But a poor track record, covering a period of more than five years, leaves little room for optimism.
Over the last one year, the company's shares have dropped by 1%, currently around $60 per share. In the same period, the shares of Dollar Tree and Dollar General have risen by 11% and 7% respectively.
The company desperately needs a major overhaul. In these tough times, Icahn's arrival is a welcoming sign. The activist investor might force the company to make some major strategic shifts, albeit it won't be easy since the CEO is also a major shareholder.
According to analysts, the strategic shift could include the possibility of merging its business with Dollar General. Family Dollar is already trying to emulate Dollar General's business model.
Disclosure: I have no positions in any stocks mentioned, and no plans to initiate any positions within the next 72 hours. I wrote this article myself, and it expresses my own opinions. I am not receiving compensation for it (other than from Seeking Alpha). I have no business relationship with any company whose stock is mentioned in this article.