The soft drink/beverage industry is dominated by two major competitors, PepsiCo (NYSE:PEP) and Coca-Cola (NYSE:KO). The industry is highly profitable, with an average return on equity rate of 24.8%. In spite of market maturity and saturation during recent years in the United States, the growth in international markets is very strong and promising. Both PepsiCo and Coca-Cola have dominated distribution channels, well-established brand names and consumer loyalty. And both the companies possess their own secret formulas. All of these serve as entry barriers that make it very difficult for a new company to enter the soft drink/beverage industry. These high entry barriers also protect the profitability of the industry. Coca-Cola and PepsiCo controls 42% and 30% of the total carbonated soft drink market, respectively.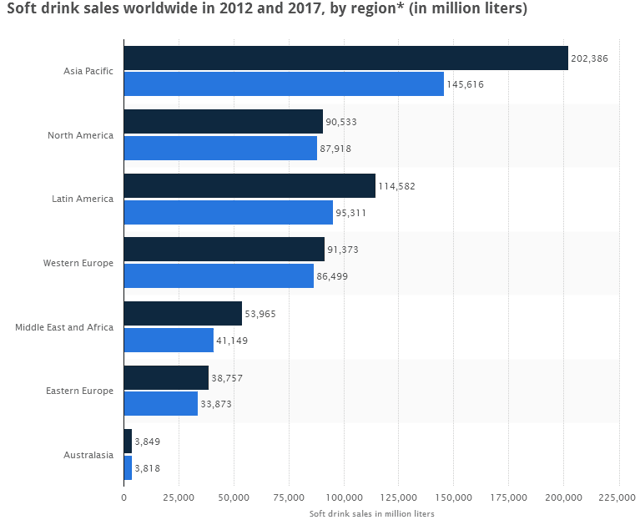 Source: statista.com
Soft drink/beverage industry in the U.S. has reached a maturity level. Both PepsiCo and Coca-Cola have been focusing on emerging markets to improve their revenues. Coca-Cola currently generates 58% of its revenues from outside the U.S. and PepsiCo is close behind at 50%. Emerging markets are less saturated and provide a growth opportunity for soft drink companies. From the above chart, we can see that most of the future soft drinks demand will come from the Asia Pacific region. Soft drink sales in the Asia Pacific region is estimated to grow by more than 38% during the period of 2012-2017.
In the Asia Pacific region, the most important growth market for PepsiCo and Coca Cola is China. Coca-Cola entered the Chinese market in 1927 much earlier than PepsiCo, which entered China in 1982. Coca-Cola and PepsiCo control 15.7% and 4.5% of the Chinese soft-drink market respectively. The Chinese beverage market is expected to grow by 40% over the next five years. Between 2012 and 2017, the Chinese carbonated soft drinks market is expected to grow at an annual rate of 3.5% to $13.2 billion by the end of 2017. To gain more market share in China, Coca-Cola plans to invest more than $4 billion in the country between 2015 and 2017. The investment will be used to build factories and add new products to its portfolio. Coca-Cola is also investing $4 billion in China between 2012 and 2014. In contrast, PepsiCo has not yet discussed any investment plans in China.
Both the companies have room to grow in China, but Coca-Cola's future looks brighter in the country than PepsiCo. Coca-Cola also offers juices in China. Its brands such as Minute Maid and Minute Maid Pulpy are very famous among Chinese. Juice drinks is the largest category of China's beverage industry. The country's juice market is expected to grow from $13.88 billion in 2013 to $25 billion in 2017. The growing juice market will provide great growth opportunities to Coca-Cola.
Another important growth market for Coca-Cola and PepsiCo is India. India is the third largest consumer of beverages after the US and China. Both the companies are investing heavily in India as the competition between them is very stiff in this market. PepsiCo and Coca-Cola hold over 95% market share of the soft drink market in India. It is a highly profitable market for the companies. PepsiCo is losing market share against Coca-Cola in India. Since 2007, PepsiCo's share in the Indian carbonated soft drinks (CSD) market has dropped by four percentage points to 36% in 2012. During the same period, Coca-Cola's share in the country has grown from 57% to 61%. Soft drink sales in India is forecast to grow at a CAGR of 16.2% during the period of 2014-2018. To snatch more market share from PepsiCo, Coca-Cola will invest $5 billion in India by 2020 to boost consumption and increase its presence in one of the fastest emerging markets. Similarly, PepsiCo will also invest about $5.5 billion to grow its business in India between now and 2020.
| | | | |
| --- | --- | --- | --- |
| | PepsiCo | Coca-Cola | Industry Average |
| Market Cap. | 133.28B | 180.16B | 37M |
| EPS | 4.43 | 1.87 | n/a |
| Profit margin | 10.35% | 18.22% | 11.80% |
| Operating margin | 15.22% | 23.93% | 7% |
| Return on Assets | 8.27% | 7.72% | 4.08% |
| Return on Equity | 30.55% | 25.78% | 24.80% |
| Current ratio | 1.20 | 1.03 | 1.18 |
| Dividend Yield | 3% | 3% | 2.78% |
| Payout ratio | 51% | 61% | 53% |
Source: Yahoo Finance
The competition between PepsiCo and Coca-Cola is intense, but both companies have successfully avoided price competition in order to maintain high profit margin. Instead, both the companies have focused on improving brand image through effective advertising efforts and marketing campaigns, and reducing costs and expenses by improving quality of operation and management. Looking at the above chart, Coca-Cola's profit and operating margins are much higher than PepsiCo. One major contributing factor to Coca-Cola's higher margins is that Coca-Cola has been able to charge premiums for its syrup concentrates compared to PepsiCo. Another factor could be Coca-Cola has always been able to effectively lower the cost of raw ingredients by acquiring from suppliers with lower price or by favorable commodity hedging. A third factor could be that PepsiCo's diversified businesses other than soft drink/beverage has lower gross profit margin in general. PepsiCo's return on assets ratio is higher than Coca-Cola. Higher return on assets means the company is more efficiently using its assets, which is a sign of great management.
Both PepsiCo and Coca-Cola are also attractive for dividend investors. Both the companies offer a similar dividend yield of 3%. However, Coca-Cola's payout ratio is higher than PepsiCo. The low payout ratio of PepsiCo suggests its dividend has more room for future payout growth when compared to Coca-Cola. Over the past ten years, PepsiCo and Coca-Cola have increased their annual dividend by 13% and 9.8%, respectively. High annual dividend growth rate along with a low payout ratio makes PepsiCo a better dividend investment than Coca-Cola. PepsiCo's return on equity ratio is higher than Coca-Cola, which means PepsiCo makes more profit than Coca-Cola with the money that you invest.
Bottom Line
Both PepsiCo and Coca-Cola are strong industry players in the soft drink/beverage industry. Coca-Cola owns the best-known brand worldwide, whereas PepsiCo also has a great brand-name recognition but is more diversified than Coca-Cola. Both the companies have great growth opportunities in China and India, and are attractive for dividend investors. These companies will deliver solid returns to their investors. However, If I have to choose one among the two, I will prefer Coca-Cola over PepsiCo.
Disclosure: I have no positions in any stocks mentioned, and no plans to initiate any positions within the next 72 hours. I wrote this article myself, and it expresses my own opinions. I am not receiving compensation for it (other than from Seeking Alpha). I have no business relationship with any company whose stock is mentioned in this article.