Today's income investor is faced with a variety of challenges. Low interest rates have suppressed the value in owning bonds and other fixed income securities, while increasing stock prices have depressed equity yields. And though cash may always be the proverbial king, today it feels more like a joker with its failure to earn even a penny on the dollar. Given the necessity and desire to generate an elevated and/or growing stream of income, investors are continuing to gravitate to stocks.
Given the environment, dividend income investors need to make wise equity-capital decisions that maximize current yield production while also hopefully generating concurrently some level of capital gain that can be potentially harvested down the line. There will be difficult choices amongst companies, both intra- and inter-sector, with similar qualitative and quantitative characteristics, that will make each and every allocation decision difficult.
Decisions become even more demanding as investors bring portfolio strategy into the mix. Should I average down, increasing a position in a down stock to increase yield - or should I diversify to another company with lower yield, but better perceived dividend growth potential? Should I seek instant gratification with a stock with a 5% yield and low dividend growth, or can I wait for a 3% yielder to grow to 5 percent? For most income investors, questions like these may be extremely difficult to answer.
The Challenge Explained
When a trader or a growth investor takes a position, the challenge is simple - pick stocks that afford the greatest potential for price change over the near- and/or long-term. For the income investor, the challenge is a bit more complex. While the ability for a stock to increase in price may be evaluated, its ability and/or desire to return cash becomes an important point - perhaps a superior point for many - of assessment.
Through a comparative vetting process, this series will take a look at income producing companies with similar attributes - two at a time - in an effort to conclude which stock provides for the currently more compelling investment, primarily on a cash return basis, and to a lesser extent, a total return basis. While current and estimated quantitative data will be a significant portion of the vetting process, we will also take a look at forward cash return prospects as well as corporate fundamentals and market intangibles in an effort to extrapolate where one's capital may be most efficiently allocated.
The goal will not necessarily be to direct one to an investment, more so it will be to provide a general baseline on how to conduct a comparison in an effort to adjudicate investment superiority.
Let The Games Begin!
The first two stocks I'd like to take a look at are global conglomerate General Electric (NYSE:GE) and consumer product behemoth Procter & Gamble (NYSE:PG). Both are mega-market-cap companies in excess of $200 billon and both currently yield about 3.25% - GE pays 88 cents on a stock price of about $27, while PG pays about $2.57 on a stock price of $80 a share.

While this represents a very vertical industry comparison - although GE does sell light bulbs, appliances, and caulk directly to the consumer as a small part of its business - I think it makes for an interesting debate between two widely-held, venerable corporations.
Quantitative Fundamentals
From a valuation perspective, GE trades at roughly 16X earnings based on current calendar year estimates of $1.70 a share. PG trades at roughly 19X earnings based on a FY June '14 estimate of $4.20 a share. Looking forward, analysts have GE growing EPS by 7% in 2015, while they have PG growing almost 8% YOY by June of 2015.
On a revenue basis, GE is expected to grow the top line about 2% this year and less than 1% next year, while PG is expected to be about flat for FY '14 and grow about 2.5% for FY '15. Below is a summary of operations for both PG and GE taken from their latest quarterly earnings presentations.
GE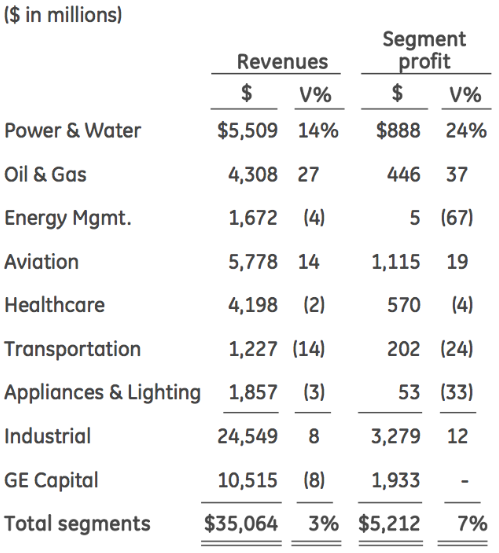 PG

Dividend Fundamentals
Procter & Gamble is commonly referred to as the "granddaddy" of dividend paying stocks due to its streak of dividend raises. This year's 7% hike marks the 58th consecutive year that the company has increased payouts to investors. General Electric, on the other hand, is better known for its infamous dividend cut five years ago, due to GE Capital's exposure to the financial crisis. As we can see in the revenue chart above, Capital continues to be a significant contributor to GE, supplying 30% of revenue and 35% of profit during the first quarter of 2014. With a current quarterly rate of 22 cents a share, GE's dividend sits at the same level it did nine years ago, 30% lower than where it topped out in 2009.
As far as payout ratio goes, GE will distribute about 52% of this year's expected earnings, while PG's new rate equates to about 57% of FY 2015's bottom line or 61% of FY 2014 profit.
GE also holds much more cash and investments on its balance sheet. As of March 31, GE held $133 billion of liquidity - equaling nearly half its market cap, while PG's liquidity was less than 5% of market cap.
Dividend growth at PG has settled into a roughly 7% clip, which seems to roughly match current earnings growth while GE has been raising at a double digit clip over the past several years, retracing steps it made over a decade ago as it pushes back to peak '09 levels.
Analysis
On the surface, we have two very mature companies with market caps in excess of $200 billion that are showing anemic revenue growth and exhibiting seemingly far from robust forward earnings potential. In their latest respective quarters, GE showed negative revenue growth in 5 of its 9 operating segments, while PG showed negative growth in 4 of its 5 primary divisions. Procter and Gamble was able to show positive organic sales growth only by means of currency translation.
From a dividend perspective, we have PG's picture perfect track record alongside GE's large blemish and continued catcalls regarding CEO Jeff Immelt's 2009 dividend flip-flop and managerial trust. However, I would remind investors that while the past can certainly be instructive and should be considered during investment analysis, one should be much more concerned with where things are headed.
Given a modestly lower payout ratio relative to earnings, a lower valuation, better cash position, and perhaps mildly better growth outlook going forward, my inclination is that General Electric is poised to provide superior dividend growth and total return for investors over the intermediate-term. However, given GE's reliance on Capital for a large chunk of its top and bottom-line, there is a heightened level of business risk/reward associated with the company relative to PG, which should be factored in. While I'd like to believe that mistakes of the past are past, Capital does seem to present a difficult to quantify "scarlet letter" on GE's business model.
Thus, it would seem appropriate, perhaps, to price PG's consistency at a premium to GE, as there's less doubt as to what happens to diaper, laundry, and shampoo purchases in a volatile economic environment. Still, paying a 19 multiple to own a company growing in the mid single digits, less if we factor out currency translation, might be questionable. Looking at GE, at $27 a share, its price is four-fold above its low at the depths of the financial crisis, but few remember that it is more than 50% below where it topped out during the growth stock bubble in 2000.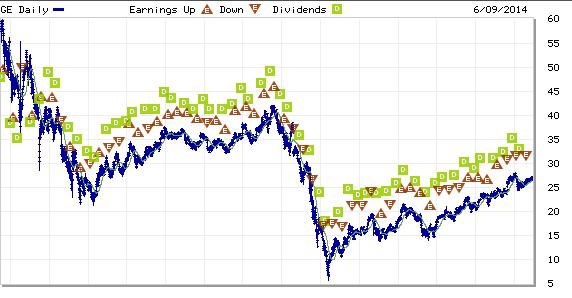 Still, despite GE's comparative volatility, I give it the nod - albeit a fairly slight one - in this challenge. And while I own the stock in my own portfolio, I'm not in a rush to increase my position at current levels. I'd probably characterize GE as a strong hold. If I owned PG in my portfolio, I'd characterize it as a hold as well, especially for income investors seeking dependable cash flows. But if I had to buy one or the other today - I'd pick GE over PG.
If you disagree with my assessment or have other comments on the analysis, feel free to discuss with me in the comment thread below.
Conclusion
While this may be viewed as a rather simplistic method of vetting investment choices, I think it provides a solid baseline on how income and total return investors should view options in the current market. If you have a solid handle on a company's business model, its valuation, balance sheet, payout, and have a forward thesis on how earnings and dividends will grow, you may have all you need to make informed income decisions.
If you have any thoughts on the scope of this series, have a constructive critique, or if there's a couple of companies you'd like to see me pair against one another, feel free to drop me a line.
Disclosure: I am long GE. I wrote this article myself, and it expresses my own opinions. I am not receiving compensation for it (other than from Seeking Alpha). I have no business relationship with any company whose stock is mentioned in this article.
Disclaimer: The above should not be considered or construed as individualized or specific investment advice. Do your own research and consult a professional, if necessary, before making investment decisions.