Almaden Minerals' (NYSEMKT:AAU) shares have performed more or less in line with the junior gold mining space for the year. However Almaden recently released a preliminary economic assessment (PEA) on its flagship Ixtaca project in Puebla Mexico that shows that project will be profitable, and that it is worth far more than the company's current $84 million market capitalization even if gold and silver prices fall from here.
After an initial pop in the stock after the announcement was made on April 16th Almaden shares have performed more or less in line with the sector. I think the reason is pretty straightforward. Almaden is a prospect generator, and this means that the company intends to sell the project. There are several different possible transactions that the company can make, and the market simply isn't sure what is going to happen. For this reason I think a lot of investors are hesitant to purchase the stock.
This hesitancy may also stem from the fact that the company's last deal -- that is, the last time it sold a deposit -- it did so for mostly stock and a royalty on that project. The stock is down nearly 90%, and the royalty isn't generating cash-flow, as the project's acquirer -- Goldgroup (OTCPK:GGAZF) -- doesn't have the means to bring it into production, and it is focusing its efforts on other projects that are more manageable for a nano-cap company.
Nevertheless I think that Almaden's lackluster performance as of late could be providing investors with an opportunity. There are reasons to assume that Almaden will be able to make a better deal for the Ixtaca Project than it did for the Caballo Blanco Project.
The project is much bigger, and it therefore has more appeal for a larger company with the means to bring it into production.
The project is more advanced since it has a PEA. Caballo Blanco was an exploration property with resources, but no mine plan when Almaden sold it.
Even if the deal that Almaden makes for the Ixtaca Project is similar to that made for the Caballo Blanco Project -- and this is almost necessarily a lower bound considering the above two points -- Almaden will realize assets that are worth nearly the entire market cap of the company -- $84 million. If we throw in the company's $11 million in cash, $9 million in stock, and its $10 million (estimated value) royalty on the Caballo Blanco project, we come to the conclusion that the stock is at worst slightly undervalued excluding its dozens of other exploration properties. If we assume that the Ixtaca Project is worth more considering that Almaden has released a PEA we find that Almaden is currently valued at less than the potential value the deal that the company can make for Ixtaca; and the cash, stock, Caballo Blanco royalty, and exploration assets are thrown in for free.
It is for this reason that I find the stock to be very compelling at the current $84 million valuation. However investors need to realize that this is speculative. Again, Almaden will not be building Ixtaca, and we don't know for sure what kind of deal the company will make. With that being said an investment in Almaden needs to be based upon an educated guess as to what this deal will look like. Given that Almaden is undervalued considering almost every reasonable outcome, and given that it is highly undervalued in several of these reasonable outcomes, and given that the downside risk -- provided you aren't bearish of gold and silver -- is minimal, I think this is a bet worth making.
Almaden's Strategy
Almaden Minerals is a prospect generator. Prospect generators come in many different forms, but they are all guided by the philosophy that finding and defining a mineral resource requires a different skill-set from developing and operating a mine. Consequently they decide to focus on the former, and they generate value from their properties in other ways. This usually means selling a property after the resource is defined, or sometimes after a preliminary economic assessment -- an initial study determining the particular economic characteristics of a potential mine -- is released. In exchange prospect generators receive cash, or something that allows them to retain some interest in the project without laying out additional capital such as stock in the company or a royalty on the mine. But again this compensation can take various forms.
An investment in Almaden at this point is predicated on an assessment of the company's flagship project -- the Ixtaca deposit. But as investors in Almaden we should be less concerned with the specific economics of the project and more concerned with what Almaden will sell this project for. The two are related, and when projecting the latter I will first give an overview of the former. But for now I am more interested in looking at the kind of deal that Almaden will likely make.
A good way to project this is to look at past deals, and in particular I will look at the company's Caballo Blanco deal with Goldgroup Mining. In general terms Almaden sold this project to Goldgroup in exchange for some cash, some stock, a royalty on the project's production (should the project ever go into production), and a promise to issue Almaden additional stock in the event that the Caballo Blanco project meets certain milestones.
If we look at the specifics, as I do in a moment, it is evident that the bulk of the compensation that Almaden received is in some way or another tied to the success of Goldgroup and the Caballo Blanco project in particular.
I suspect that we will see something similar with the Ixtaca project, although one key difference needs to be pointed out, namely that Almaden sold the bulk of the Caballo Blanco project in the earlier stages of exploration, and it sold the remaining 30% of it prior to the 2012 release of the project's PEA. Meanwhile Almaden developed the Ixtaca PEA itself, and it still owns the entire project.
Therefore investors can expect a deal involving cash, stock, and a royalty, but the partner, who will need about $500 million in initial capex, will be a larger company -- probably one with at least a $1 billion market cap. It is also a good possibility that unless Almaden runs out of capital that it will not begin to look for a partner for the Ixtaca project until metal prices are higher. Again we are not so much interested in the NPV of the Ixtaca project, but an acquirer will be. As the following table -- taken from Almaden's Ixtaca PEA announcement -- evidences, the mine offers a significant amount of leverage to gold and silver prices.

While some of this awesome leverage is retained if Almaden exchanges Ixtaca for stock, much of it is lost in a royalty, and all of it is lost in a cash deal.
The Caballo Blanco Deal, and How It Can Help Us Value the Upcoming Ixtaca Deal
To get an idea of what the Ixtaca deal will be worth we should look at Almaden's most recent large deal in greater detail. In 2011, shortly after the gold market peaked mind you, Goldgroup purchased the 30% of the Caballo Blanco project from Almaden that it didn't already own. But while the company was only buying 30% we must keep in mind that during the 70/30 JV days that Goldgroup was footing the exploration bill while Almaden was reaping the benefits of resource expansion, and so effectively Goldgroup's purchase of the property was more substantial than just 30%.
In exchange for giving up its claim on the Caballo Blanco Project, Almaden received the following:
A 1.5% NSR royalty on the mine, the value of which I will discuss presently.
$2.5 million.
7 million shares in Goldgroup, which are now worth just over $1 million, but which at the time were worth around $10 million.
The above were the immediate benefits. Almaden also has the right to earn up to an additional 7 million shares in Goldgroup as the latter company reaches certain milestones:
1 million shares when commercial production is announced.
2 million shares when measured and indicated resources exceed 2 million ounces of gold.
2 million shares when measured and indicated resources exceed 5 million ounces of gold.
2 million shares when measured and indicated resources exceed 10 million ounces of gold.
Note that for the time being Goldgroup's share price is just C$0.165, and so there is very little value in these considerations, however keep in mind that as Goldgroup finds more gold on the Caballo Blanco project that the shares will almost certainly rise in value.
The 1.5% NSR royalty is of interest here as it adds meaningful value to Almaden's NAV, although I should note that Goldgroup has been occupied with another project -- Cerro Pieto -- and it seems that Caballo Blanco has a spot on the back burner.
Nevertheless the Caballo Blanco project has the potential to produce 95,000 ounces/year according to the 2012 PEA. Right now the estimated mine life is 7.5 years, with years 2-7 at this level of production. While the economics for the project are robust we must keep in mind that Goldgroup needs to raise more than $80 million in order to build the project, and that isn't easy to do for a company with a $20 million market capitalization.
With that being the case the royalty will generate about $1.3 million in annual cash-flow for Almaden at current gold prices after taxes, and this makes the royalty worth about $10 million.
So in total Almaden sold a roughly 1 million ounce gold deposit for $10 million in stock, a $13 million royalty (the gold price was higher), $2.5 million in cash, and the right to $10 million more in stock. In all this was worth a little more than $25 million, or about $25/ounce.
Now mind you that the gold price is lower, but the Ixtaca Project has 4-times as much gold and silver when we represent the total mineral resource in gold equivalents. At $25/ounce, the project would realize $100 million, which even after taxes makes Almaden very appealing at $84 million. If we add more value considering that the PEA has already been released, we arrive at the conclusion that Almaden is highly undervalued. We will explore specific scenarios later, although for now let us look at the Ixtaca project in greater detail.
The Ixtaca Project
The Ixtaca Project is located in Puebla, Mexico, and as you can see from this portion of a map found in the company's latest presentation, it is surrounded by some of Almaden's other exploration properties.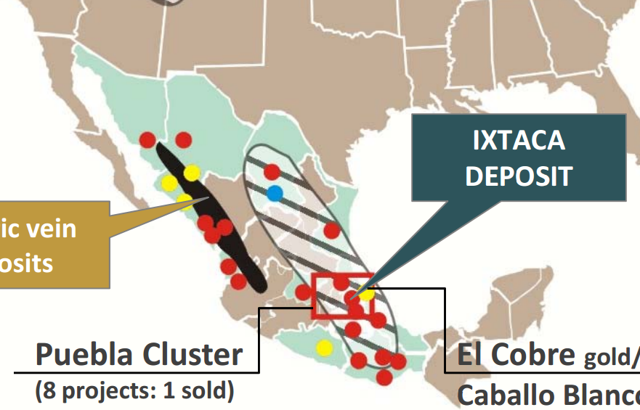 While the company measures its Ixtaca resource using several different cutoff grades, at 0.5 grams per tonne, the project contains more than 4 million gold equivalent ounces - about half of which is gold and the other half being silver. The following table, found in the same presentation, details this information. Note that the last category -- inferred resources -- is relatively speculative, and inferred resources often come with a disclaimer indicating this.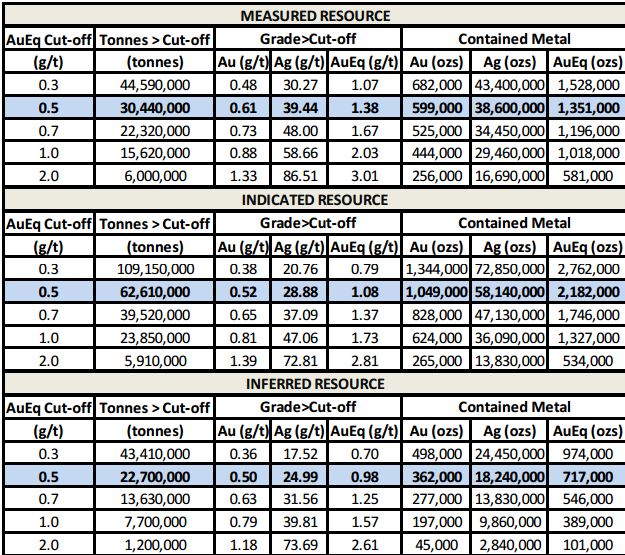 According to the above-cited press release whichever company buys the project from Almaden will produce an average of 130,000 ounces of gold and 7.8 million ounces of silver each year for 12 years. However, if we look at the mine plan we find that this production is front-loaded in the first 8 years before dropping off dramatically in the final four. This is illustrated in the following chart. Note that the figures given are for silver-gold bars, which will be the product that the mine produces. Each bar is 95% silver and 2% gold, with the remaining 3% being base metals of negligible value.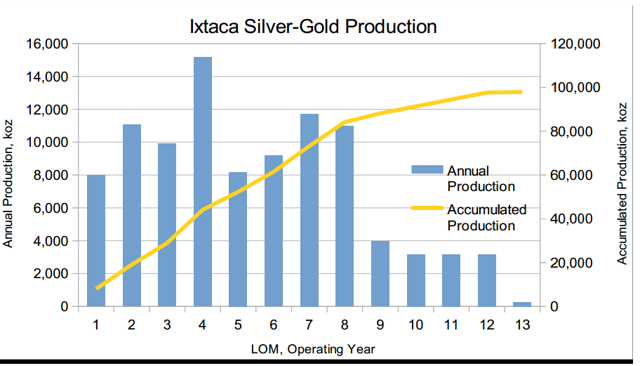 (Source: Ixtaca PEA)
Over the first 8 years, gold production will be 213,000 ounces per year, and annual silver production will be 10.1 million ounces per year (366,000 gold equivalent ounces at a gold:silver ratio of 66:1). In the remaining four years gold production will be 75,000 ounces per year and annual silver production will be about 3.6 million ounces per year (130,000 gold equivalent ounces).
How Valuable is Ixtaca to Almaden?
So given this overview of the project, and given what we know about the Caballo Blanco deal, we are now in a position to estimate Ixtaca's value to Almaden. While the above NPV estimates are certainly useful in determining this, they are not definitive considering that Almaden will not be developing the Ixtaca project.
As we saw above, when Almaden sold its share in the Caballo Blanco project, it did so for about $25 million in cash, stock, and a royalty. The royalty was about half of the value of the deal.
Since we are assuming that Almaden will sell the Ixtaca project, at least in part, for a royalty, I have made the following table exploring the NPV of a few royalty possibilities. It gives attributable gold production figures at various royalty rates and at two discount rates -- 3% and 7%. A low discount rate is customary for valuing royalties and by extension royalty income because "production" costs are fixed and this mitigates the cash-flow risk a great deal. When choosing royalty rates I assumed that because the Ixtaca is a later stage exploration project that Almaden will receive at least a 1.5% NSR royalty, which is the royalty it owns on Caballo Blanco, but keep in mind that this is a floor. I suspect the royalty that Almaden obtains will be closer to 2.5%, and possibly even higher.
| | | | |
| --- | --- | --- | --- |
| Discount Rate/Royalty Size | 1.5% NSR | 2.5% NSR | 3.5% NSR |
| 3% | 41,250 | 73,750 | 103,250 |
| 7% | 36,615 | 61,025 | 84,435 |
At $1,250/ounce gold and with British Columbia's 26% corporate tax rate (15% federal, 11% provincial), we get the following valuations for our hypothetical royalty. Amounts are in millions of dollars.
| | | | |
| --- | --- | --- | --- |
| Discount Rate/Royalty Size | 1.5% NSR | 2.5% NSR | 3.5% NSR |
| 3% | $38 | $68 | $96 |
| 7% | $34 | $56 | $78 |
Now if we assume that, once again, the royalty comprises about half of the total value of the deal, we simply double the above values in order to arrive at the value of our hypothetical deal. Amounts are in millions of dollars.
| | | | |
| --- | --- | --- | --- |
| Discount Rate/Royalty Size | 1.5% NSR | 2.5% NSR | 3.5% NSR |
| 3% | $76 | $136 | $192 |
| 7% | $68 | $112 | $156 |
With the company's current market cap sitting at $84 million, it is evident from this table that even in our most pessimistic scenario -- a 1.5% NSR with a 7% discount rate -- the stock is overvalued. As we will see in a minute that the company's other assets push the $68 million figure comfortably over the $84 million threshold. If we are more aggressive in our valuation -- and I have already argued that this makes sense -- it follows that the stock is substantially undervalued.
Valuing Almaden Given Our Hypothetical Ixtaca Deal
In addition to the Ixtaca project, Almaden has about $11 million in cash, $9 million in equities from past royalty deals, and a $10 million royalty in Caballo Blanco. The company also has other royalties and other exploration projects, although these are of negligible value. Still we find that the company has $30 million in assets without the Ixtaca Project, and this number is probably higher when we consider that many of Almaden's equity holdings are in the red and can generate tax-loss savings if they are sold.
Nevertheless we get the following valuation scenario for Almaden. Upsides are given in parenthesis in percentage terms.
| | | | |
| --- | --- | --- | --- |
| Discount Rate/Royalty Size | 1.5% NSR | 2.5% NSR | 3.5% NSR |
| 3% | $106 (26%) | $166 (98%) | $222 (164%) |
| 7% | $98 (17%) | $142 (69%) | $186 (121%) |
With these figures in mind, it follows that Almaden shares are significantly undervalued even if the company makes a lousy deal for its Ixtaca project, which I doubt will happen.
Conclusion
As we have seen, while Almaden shares are speculative, this is a worthwhile speculation. In all likelihood, Almaden is going to be able to make a deal for its Ixtaca Project that exceeds the current market cap of the company. With that being the case, the upside potential is substantial.
What's more, Almaden has options with respect to reaching a deal for its Ixtaca Project. Specifically what I am getting at is the possibility that the company waits for higher gold and silver prices before making a deal. As we saw earlier in the article, the Ixtaca Project offers substantial leverage to metal prices. Also consider that Almaden has $11 million in cash plus $9 million in equities which it can sell to raise capital. In short, Almaden has the capital to continue to operate its exploration business without fire-selling Ixtaca in this weak metal price environment. This gives investors who are bullish of gold and silver prices embedded optionality.
While there are better ways to get this optionality, it is impossible to find a company that has such optionality along with substantial built-in value cushioning the downside risk. That being said the risk-reward profile for Almaden Minerals is unique, and very favorable.
Disclosure: I have no positions in any stocks mentioned, and no plans to initiate any positions within the next 72 hours. I wrote this article myself, and it expresses my own opinions. I am not receiving compensation for it (other than from Seeking Alpha). I have no business relationship with any company whose stock is mentioned in this article.
Editor's Note: This article covers one or more stocks trading at less than $1 per share and/or with less than a $100 million market cap. Please be aware of the risks associated with these stocks.