Billionaire Carl Icahn has announced a 9.4 percent holding in Family Dollar Stores Inc. (NYSE:FDO) with plans to seek strategic changes in the management of the organization. In addition, he indicated that he might obtain board seats.
In this development as a major stakeholder in FDO, Mr. Icahn joins ranks with several other high-profile financiers, including Nelson Peltz of Trian Fund Management, with 7.4 percent of shares (8.4 million shares), and Paulson & Co., with a 5.7 percent stake (6.5 million shares).
In the required Securities and Exchange Commission filing, Mr. Icahn reported an investment of $265.8 million in the company in a mix of shares and options to purchase additional shares.
In response to the filing, FDO issued a statement saying, "The Family Dollar board of directors and management team are open to dialogue with all shareholders and welcome input toward the shared goal of enhancing value."
Overview of FDO Business (And Struggles)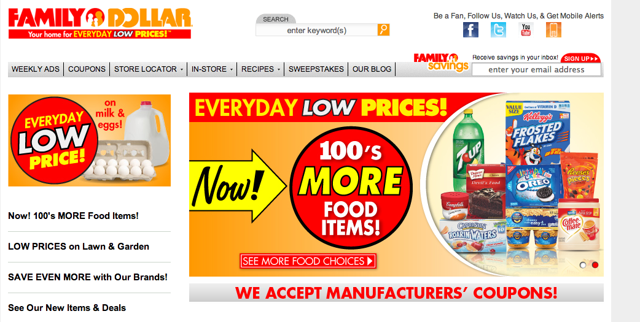 (Source)
FDO has more than 8,100 retail stores across America and faces critical challenges in its business model and strategy. Chief Executive Howard Levine stated the company was eliminating a pricing strategy that used price reductions on some items but not others. He indicated Family Dollar would adopt similar everyday price reduction models favored by major competitors Wal-Mart (NYSE:WMT) and Dollar General (NYSE:DG).
Making the shift to the new pricing model may turn off loyal customers, temporarily leading to a cut in profits at a time when profits are already declining. Adopting the new model will cut prices on over 1,000 items immediately.
Moreover, FDO plans to scale back store expansion plans by adopting the smaller store format. In comparison, Wal-Mart plans to open over 300 small-format retail stores this year.
Rumbles of a Merger Between Family Dollar and Dollar General
A merger between FDO and it bigger dollar-store competitor Dollar General continues to generate discussion among analysts and investors. However, many analysts believe the probability of such a merger has declined as Dollar General has increased its stock repurchases in recent quarters. Wall Street watchers view this as a signal that Dollar General prefers not to consider a merger.
Mr. Peltz floated an offer several years ago to buy FDO for up to $60 per share; however, he dropped the offer soon after Family Dollar agreed to seat his partner on the board instead of pursuing a buyout.
Declining Family Dollar Stock Performance YTD
Shares in Family Dollar have declined 19 percent since last September and recently closed just cents above $60. After Mr. Icahn disclosed his position in the company, the shares rose to over $67.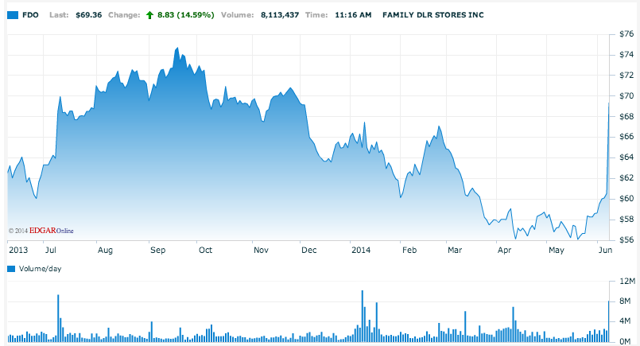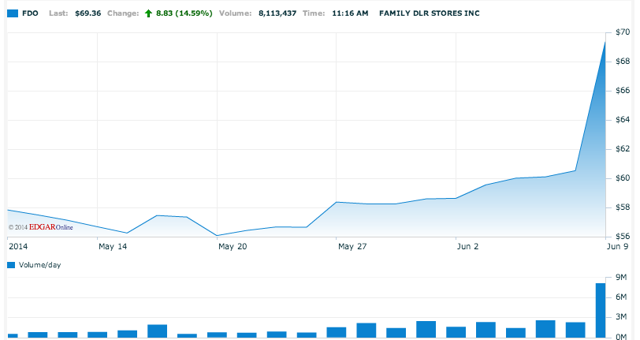 (Nasdaq.com)
Icahn's Influence Called Into Question
The news of Mr. Icahn's stock position follows revelations about a federal investigation into potential insider trading violations. The questions concern potential information passed on to Billy Walters, a Las Vegas sports bettor, regarding significant investments made by Mr. Icahn, and whether Mr. Walters relayed those investment tips to professional golfer, Phil Mickelson. All three men denied the allegations.
Mr. Icahn insists he always follows legal and regulatory requirements and said headlines about the federal investigation are "irresponsible." Mr. Walters insisted he is innocent of the allegations and said it was "preposterous" that he would partake in insider trading. Moreover, Mr. Mickelson has insisted he is innocent and will cooperate with the FBI.
After reports of the federal investigation made headlines, Mr. Icahn indicated that he is worried the revelations could damage a potential deal and be "a billion dollar problem." It remains unclear if Mr. Icahn was referring to his investment in Family Dollar.
Outlook For Family Dollar Investors In 2014
Family Dollar has certainly struggled, as evidenced by its declining chart, and poor earnings results recently. (FDO missed estimates for earnings-per-share and revenues and lowered guidance for the past three quarters.)
This disorder made FDO a ripe target for activist takeover.
However, as Icahn's influence has been increasingly questioned, and the economy continues its recovery (i.e. customers now able to turn to higher-priced, higher-quality discretionary goods), it's not clear if Icahn's influence will be able to re-vamp this struggling chain to the point of its being an attractive investment.
While the spike, following Icahn's announcement, is certainly obvious, we are not confident this is the beginning of a longer-term turnaround, and suggest investors hold off on FDO stock at present.
Disclosure: I have no positions in any stocks mentioned, and no plans to initiate any positions within the next 72 hours. I wrote this article myself, and it expresses my own opinions. I am not receiving compensation for it (other than from Seeking Alpha). I have no business relationship with any company whose stock is mentioned in this article.