Al Gore has long complained that modern capitalism incentivizes short-term value extraction over long-term abundance generation. But Elon Musk is the convenient counterparty to Gore's refrain. As Steven Chu recently outlined at Stanford Business, climate change risk is mainstream science like tobacco causing death is mainstream science: so the controversy of Gore need not be equivocated with the publicity of Musk.
A key principle for Musk newsreaders--a principle which few have fully grasped--is that Elon's word is Elon's greatest asset. True, he commands billions on paper from his stocks; however Musk's real resourcefulness is how easily he can influence the decisions of mega-billionaires and multi-nationals. I state this here for a specific reason: to remind us that Musk would not mortgage his word simply to manipulate stock prices.
Musk's Patent Hint Countersignals Gigawatt Strength
Musk, and his good word, recently hinted at a restructuring of Tesla's (NASDAQ:TSLA) patents. This is likely a coordinated play with software stakeholders from more obvious power centers in Silicon Valley, and to a lesser extent places like Silicon Alley.
Increasingly, influential DC thought leaders such as Paul Krugman have argued that software patents are clogging the arteries of our economy. As part of "The Hacker Bloc", Musk's move to open-source Tesla patents is a benign signal of allegiance.
More interestingly, however, Tesla's readiness to surrender IP-defenses is a countersignal of Tesla's non-IP operational strength. This includes both manufacturing and service execution.
What does this have to do with SolarCity (SCTY)? The bottleneck for solar has long been nocturnal intermittency. Scaling batteries solves this problem.
Further, service execution is a key differentiator in solar panel installation (just ask my landlord). Tesla association is nontrivial for SolarCity and can only grow with SolarCity brand recognition.
Ergo, a butterfly flapping his lips about car patents is countersignaling big moves in solar--particularly moves in the stock price of the company he chairs the board of.
SolarCity Has Asymmetric Upside Relative To Tesla
For quite some time, Musk has told interviewers that the majority of his attention is devoted to Tesla. Musk's time is priceless. What if some of that time started to shift towards SolarCity? Certainly Musk is hinting at a detachment from Tesla through disarmament of IP.
SolarCity is priced like a typical Silicon Valley momentum play. That is reasonable. However SolarCity deserves an unreasonable forward-looking premium because it is a global Musk energy play. And Tesla is internalizing all the risk for the holy grail: the LiOn battery factory. The 4+ $Billion battery factory which will eventually sit in history books next to Henry Ford's name.
SCTY Will Catch A Pageview Wave Next Year
I am predicting that SCTY will begin to attract more of a media circus over the next 8 months or so. This is an olfactory prediction--a.k.a., it smells like this will happen. Arguably, smell is the strongest sense as it bypasses the blood-brain barrier--however it is the most difficult to translate to English.
Those who know me know that Tesla was my favorite pick when it was at $30, not least because I sensed a media wave swelling. I believe implements such as electric skateboards will capture the imagination of the multi-generational American household.
Recursively, news editors will notice the level of engagement in the household. The zeitgeist will incite a compounding media stampede towards the easy stories of: lithium ion, refuel-able batteries, extra-regional geopolitical instability, and power from the sun.
In conclusion, good luck, and here are some financials: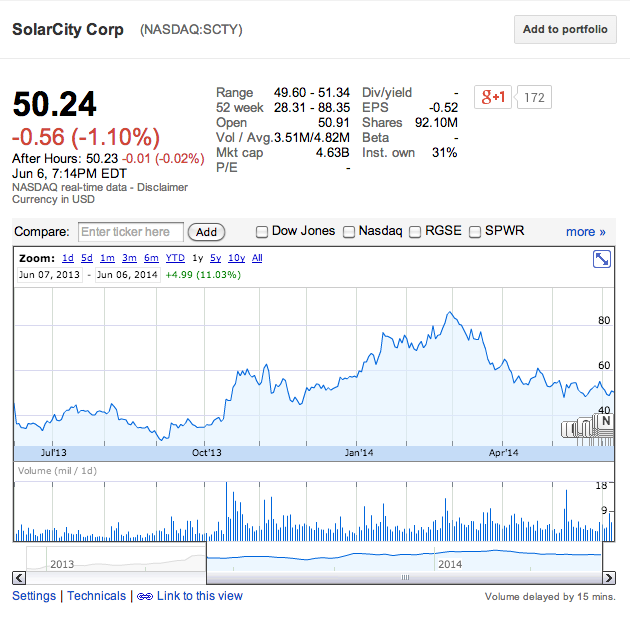 Disclosure: I have no positions in any stocks mentioned, and no plans to initiate any positions within the next 72 hours. I wrote this article myself, and it expresses my own opinions. I am not receiving compensation for it (other than from Seeking Alpha). I have no business relationship with any company whose stock is mentioned in this article.