The Alerian MLP index gained 1.74% this week bringing the total YTD return for the index - including distributions - up to 11.77% . The S&P 500 gained 1.34% for the week. MLPs as a group continue to outperform even as the major indexes climb to record highs. The continued climb in both MLPs and the market as a whole show up in the 33 new 52-week highs for the week against three new lows among the MLP and related company values.
In a week with little actual news, Plains All American Pipelines LP (NYSE:PAA) announced that Q2 EBITDA is expected to exceed the midpoint of the company's guidance range by 8% to 10%. On the news, PAA was up 1.29% for the week.
Unit Value Winners and Losers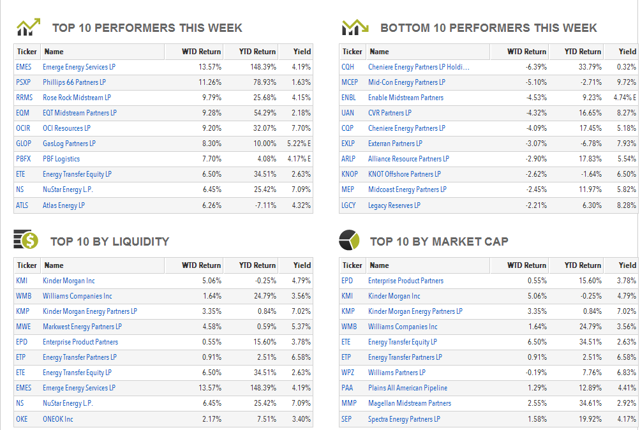 Emerge Energy Services LP (NYSE:EMES) closes another week at the top of the MLP performance list. With a YTD gain of 150%, EMES has spent many weeks at or near the top of the weekly performance chart. Phillips 66 Partners LP (NYSE:PSXP) has also been a top performer since last year's IPO. New record highs by the broad stock market indexes, and moderate 10 year yields, appear to provide the most upwards benefit for the high-growth MLPs.
Last week Cheniere Energy Partners LP Holdings (NYSEMKT:CQH) was the top MLP, posting a 13% gain. This week CQH gives back half that gain after the parent company, LNG, delays their annual meeting by three months to address a lawsuit related to executive compensation. Also, affiliated Cheniere Energy Partners, LP (NYSEMKT:CQP) was number four on the worst performer list. See Insider Trading notes below concerning CQP. Enable Midstream Partners LP (NYSE:ENBL) announced its first post-IPO acquisition by way of a larger stake in the SESH pipeline, which will be funded with a 6.3MM unit issuance, resulting in unit accretion in 2015.
Distribution Rate Changes
No dividend announcements released this week.
Insider Trading
A major owner of Cheniere Energy Partners, LP sold close to $300 million worth of units. The sale price gives a 16% YTD gain. Insider/13D buying was very active at Kinder Morgan (NYSE:KMI), NuStar Energy LP (NYSE:NS) and Global Partners LP (NYSE:GLP).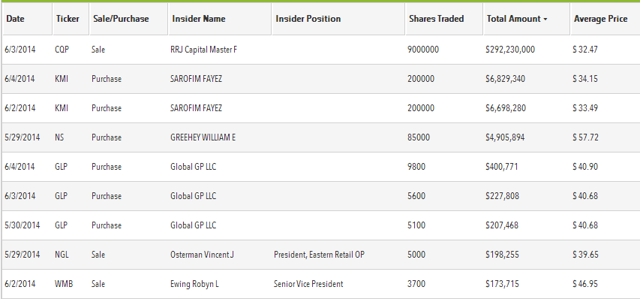 Share Issuance News
There were no reported equity or debt issuance this week.
Get the details of any offer of interest by clicking on the specific issue on the Issuance page of the MLPData Dashboard.
ETF, CEF and Mutual Fund Money Flows
MLP focused fund flows popped back up to $505 million added for the last week, compared to $258 million from the previous week and reversing a 3-week down trend. Mutual funds added $308 million, up $50 million for the week and ETFs took in just $197 million, compared to just $17 million a week ago. The heavy fund flows provides dry powder for the low float, high growth units to issue equity to funds looking to build positions.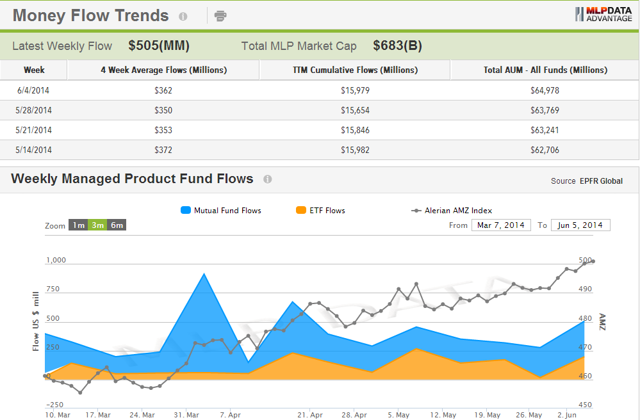 Next Week's Earnings Calendar
The 2014 Q2 earnings season starts afresh on July 17 with the Kinder Morgan companies scheduled to report.
To close, here is a chart of the top Baker's Dozen MLPs for YTD performance: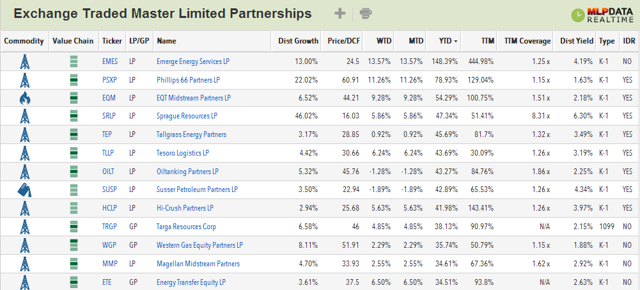 To make sure you get this round-up each week, make sure you are Following MLPData here on Seeking Alpha.
All charts and tables provided by MLPData.com
Disclosure: I have no positions in any stocks mentioned, and no plans to initiate any positions within the next 72 hours. I wrote this article myself, and it expresses my own opinions. I am not receiving compensation for it. I have no business relationship with any company whose stock is mentioned in this article.