On June 9, 2014, iCo Therapeutics Inc. (OTCQB:ICOTF) announced top-line results from the iCo-007 Phase 2 iDEAL study in patients with diabetic macular edema (DME). Results look like a complete failure, not only of the efficacy of iCo-007, but also the active control in ranibizumab (Lucentis®). From these initial data, one can only conclude that iCo-007 has no clinical utility or commercial potential. The company will continue to follow patients through 12 months of treatment and plans to present and publish the full data later in 2014. At that time, subset analysis of VEGF-refractory patients may show a niche commercial market for the drug if iCo-007 was helping patients that previously failed drugs such as Lucentis® or Eylea® (aflibercept). However, for now we assign no value for iCo-007. We believe the company is worth approximately $17.5 million in total value, or around $0.15 per share based on potential for Immune Pharmaceuticals (NASDAQ:IMNP) to develop iCo-008 in inflammatory and orphan diseases, the potential to partner iCo-009, an oral Amphotericin B candidate, plus estimated cash at year end 2014.
Phase 2 iDEAL Fails To Impress
Top-line data from iDEAL are extremely disappointing. We are surprised at the lack of response to iCo-007 and the two active controls in laser photocoagulation and ranibizumab (Lucentis®).
…Background On iDEAL…
On May 5, 2014, Dr. Quan Dong Nguyen presented a poster at the Association for Research in Vision and Ophthalmology 2014 Annual Meeting. The poster, titled "Demographics and Baseline Characteristics of the iDEAL Study: A Randomized, Multi-center, Phase II Study of the safety, Tolerability, and Bioactivity of Repeated Intravitreal Injections of iCO-007 as Monotherapy or in Combination with Ranibizumab or Laser Photocoagulation in the Treatment of Diabetic Macular Edema with Involvement of the FoveAL Center" outlined patient demographics and baseline characteristics of each arm of the Phase 2 iDEAL study, as well as the trial design and objectives.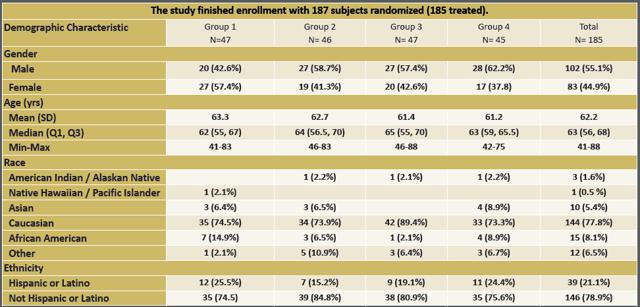 Source: iCo Therapeutics, Inc. / ARVO
Importantly, the conclusion from the poster can be seen below:

Source: iCo Therapeutics, Inc. / ARVO
In the iDEAL study, patients with DME received repeated intravitreal injections of iCo-007 as a monotherapy and in combination with ranibizumab (Lucentis®) or laser photocoagulation, randomized into one of four treatment groups noted below:
Intravitreal dosing of 350 µg iCo-007 at baseline and Month-4
Intravitreal dosing of 700 µg iCo-007 at baseline and Month-4
Intravitreal dosing of 350 µg iCo-007 at baseline + laser photocoagulation Day-7, then another intravitreal dosing of 350 µg iCo-007 at Month-4 + laser photocoagulation at seven days later (if necessary).
Intravitreal dosing of 0.5 mg ranibizumab (Lucentis®) at baseline + 350 µg iCo-007 at Day-14, then a repeat dose of 0.5 mg ranibizumab at Month-4 + 350 µg iCo-007 14 days later.
…The Top-Line Data…
The primary endpoint of the iDEAL study was mean change in visual acuity (NASDAQ:VA) from baseline to month eight. Below we've created a table showing the data that iCo Therapeutics released on June 9, 2014. We include only the Last Observation Carry Forward (LOCF) data:

These are very disappointing results. According to the press release, using both LOCF and Multiple Imputation (MI) statistical methods, mean changes in visual acuity (VA) measures in all four groups at both Month 4 and Month 8 were negative. There was no statistically significant difference in mean VA between the 350 µg monotherapy and either 350 µg + laser or 350 µg + Lucentis® arms using either LOCF or MI. Based on Genetech's READ-2 study with Lucentis® or Regeneron's Phase 2 DAVINCI study, these results compare rather poorly. For example:
The READ-2 data with Lucentis® showed +7.2 lines of improvement at Month 6 (dosing 0.5 mg of ranibizumab at baseline and months 1, 3, and 5) vs. -0.4 lines for laser photocoagulation (at baseline and month 3). A combination of ranibizumab plus laser showed +3.8 lines of improvement.
The DA VINCI data with Eylea® showed between 8.5 and 11.4 lines of improvement (depending on dosing level and frequency) at Month 6 and between 9.7 and 13.1 lines of improvement at Month 12. The control in DAVINCI, laser photocoagulation, showed 2.5 lines of improvement at Month 6 and -1.3 lines at Month 12.
We are baffled by the reported significant declines in the patient population from iDEAL. The poster from ARVO noted above concludes that these are "consistent patient demographics" with other DME studies. The entry criteria for iDEAL(NCT01565148) and READ-2(NCT00407381) and DA VINCI(NCT00789477) can be seen below:

We do not see a discernible difference in the patient population between these three trials. However, we understand the range for Best Correct VA is rather large at 20/32 to 20/320, and it is quite possible that iDEAL enrolled a far sicker and more difficult to treat patient population. The commercial existence of both Lucentis® and Eylea® represents a challenge in enrolling patients. Although, according to the company, 34% of the patients treated in iDEAL were Eylea® or Lucentis® naïve.
The analysis will continue. We note that all patients in the study have received their final iCo-007 injections and the last patient 12 month follow-up visit is expected in June 2014. Keep in mind, iCo currently expects to report overall safety and other secondary endpoints in the fourth quarter 2014. As a reminder, these endpoints include: 1) change in visual acuity from baseline to 12 months, 2) change in central retinal thickness from baseline to month 8 and month 12, 3) duration of effect during 12 month follow up period, 4) safety of repeated injections, and 5) pharmacokinetic assessments.
…Final Thoughts…
Beyond disappointing, we find these results perplexing. The company has presented good proof-of-concept with iCo-007 from previous studies. In July 2009, Hnik et al published a detailed analysis of the mechanism of action for iCo-007 in the Journal of Diabetes Science and Technology (Vol.3, Issue 4:924-931), titled Antisense Oligonucleotide Therapy in Diabetic Retinopathy. The authors conclude that a number of growth factors critical for neo-vascularization and leakage signal through the MAP kinase cascade, which includes c-Raf kinase, and are involved in cellular processes regulating proliferation, differentiation, and apoptosis. Other growth factors, such as erythropoietin, hepatocyte growth factor, basic fibroblast growth factor, and others, may play important roles in the etiology of diabetic retinopathy and DME.
In May 2010, iCo Therapeutics announced results from an open-label Phase 1 clinical trial examining the safety and efficacy of 110 ug, 350 ug, 700 ug, or 1000 ug of iCo-007 administered via single intravitreal injection in 15 patients with diffuse macular edema. Diffuse DME is considered more difficult to treat than focal DME, which involves a smaller portion of the retina. All of these patients were non-responders to previous therapies, including photocoagulation, steroids, and anti-VEGF therapeutics such as Avastin® and Lucentis®. All patients had either Type-1 or Type-2 diabetes, with BCVA at baseline of 60-15 letters (ETDRS) or approximately 20/63 to 20/500 (Snellen). Visits took place at Day 0, Day 3, Day 7, Week 2, Week 4, Week 8, Week 12, Week 18 and Week 24. At all visits, patients were evaluated for changes in central retinal thickness (a measure of edema) and visual acuity. Among the 12 patients available for evaluation at 24 weeks (5.6 months), changes in retinal thickness in responsive patients were -149 to -743 uM, with a mean value of -169 uM. Data from the Eylea® COPERNICUS study, 2 mg every four weeks resulted in range of -127 to -195 uM reduction in central retinal thickness after 24 weeks after six injections (source: Brown DM, et al, 2013).
Alas, the Phase 2 results did not turn out as we expected. We expect iCo to continue to fund the analysis of the 12 month data, as well as continue its subset analysis of these results looking for signs of efficacy perhaps in a refractory population of DME patients. There were some patients that did show improvement with iCo-007. Approximately 20% of the treated group with 350 ug obtained > 5 lines of improvement. The 350 ug dose performed better than the 700 ug dose, which is surprising but certainly not unprecedented.
That being said, we believe the only prudent thing to do from a valuation standpoint is to completely remove any commercial potential for iCo-007 from our financial model. We had previously believed that iCo-007 could be a $500 million drug at peak, and would fetch the company in the range of $50 million in terms of an upfront payment from a larger ophthalmology player seeking to push iCo-007 into Phase 3 trials in 2015.
What's Left At iCo Therapeutics?
We had previously assigned 75% of our "sum-of-parts" valuation to iCo-007, believing the stock was worth $0.90 per share on a successful Phase 2 iDEAL outcome. The stock sits today at $0.07 per share, far below our $0.225 residual value for iCo-008 and iCo-009. It should be noted; however, that inherent in our $0.225 per share residual value for these two candidates was iCo's ability to attract new funding at reasonable dilution. The company exited the first quarter 2014 with CAD$7.2 million on the books. Obtaining new funding at today's valuation will be tricky.
Candidate iCo-008 is a first-in-class fully human IgG4 monoclonal antibody discovered using Cambridge Antibody Technology's phage display technology, and licensed to iCo in January 2007. The mechanism of action of iCo-008, also known as bertilimumab, has been described in detail by numerous authors in peer-reviewed papers we reviewed in our initiation report. Preclinical work show high affinity and specificity for eotaxin-1, a pro-inflammatory cytokine that plays a critical role in mast cell degranulation and the development of an inflammatory condition known as eosinophilia. Clinical and preclinical evidence proves that by blocking eotaxin-1 can result in effective inhibition of early phase mast cell activation as well as late phase eosinophilia. iCo Therapeutics believes this mechanism of action has clinical utility for the treatment of vernal keratoconjunctivitis (VKC) and wet age-related macular degeneration (NASDAQ:AMD).
Beyond ocular indications, iCo Therapeutics has out-licensed bertilimumab to Israeli-based Immune Pharmaceuticals for the treatment of Irritable Bowel Disease (NYSEARCA:IBD) and Bullous Pemphigoid (NYSE:BP). The clinical data in all indication is a little early-stage, and thus forecasting potential peak sales and probabilities of approval is difficult. However based on modest success in VKC and/or AMD, and similar blockbuster success by Immune Pharma in IBD or BP, we think iCo-008 is worth $15 to 20 million in value.
iCo Therapeutics also owns the worldwide exclusive rights to an oral Amphotericin B delivery system for life-threatening infections. Amphotericin B (AmpB), the gold standard for systemic antifungal drugs, is one example of a well-established, highly efficacious systemic antifungal drug that has a 50-year history of intravenous therapy. iCo's candidate is the company's oral lipid capsule formulation of AmpB. The company acquired the exclusive worldwide rights to the drug back in May 2008 from the Wasan Labs at the University of British Columbia. In November 2013, U.S. patent #8,592,382 was issued for the Oral Amphotericin B platform providing protection around oral delivery of the drug.
iCo Therapeutics has progressed into in vitro testing with study partners in Montreal, and will examine the role of this formulation in targeting latent HIV reservoirs which remain in individuals despite enormous therapeutic advances in the treatment of HIV/AIDS. Recruitment of eight HIV-infected subjects successfully treated with highly active antiretroviral therapy (HAART) with detectable latent viral reservoir is expected to be complete in the first half of 2014. In September 2010, iCo Therapeutics was granted Orphan Drug status by the U.S. FDA for the treatment of Visceral Leishmaniasis (VL).
Orphan designation qualifies iCo for tax and marketing incentives, which can include tax credits for clinical research, study design support, exemption from application-filing fees, grant funding for clinical trials, and seven years of marketing exclusivity after the approval of the drug.
As noted above, animal model studies from 2008 showed a >99% knock-down effect of parasitic infection caused by VL with 10 and 20 mg/kg of iCo-009 oral administration BID for one week. We have assumed very modest success for iCo-009 in our valuation model, concluding that without more substantial human clinical data, the candidate is worth roughly $5 to 10 million in value.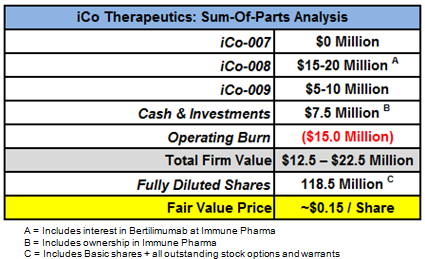 Sum-of-parts analysis tells us that iCo's stock is worth between $12.5 and $22.5 million in value. This equates to a target between $0.11 and $0.19 per share. At today's price of $0.08 per share the stock has > 100% upside, but investors need to consider the significant risk inherent in investing in a biotech stock at this level. We are hesitant to recommend investment as such, and believe that investors wishing to put money (or keep money) in iCo Therapeutics should do so knowing significant volatility exists in the shares.
…Financing Is The Key Risk…
Despite what we see as a meaningfully undervalued stock, there are certain risks to consider prior to an investment in iCo Therapeutics shares. iCo Therapeutics exited the first quarter 2014 with CAD$7.2 million in cash, CAD$2.0 million of which will be used to fund the rest of the iDEAL study. The company's stock in now publicly traded Immune Pharma is worth another $1+ million. With an operating burn of around $1.0 million per quarter, we believe iCo will be able to fund operations through 2014. The top-line results from iDEAL were not positive. At this stage, it is prudent to believe results at the end of the year from the full analysis will be no better. We believe iCo will exit 2014 with around CAD$3.5 million in cash. The company will require new financings, which will be highly dilutive at today's price, at some point before the balance runs out around the middle of 2015.
Disclosure: I have no positions in any stocks mentioned, and no plans to initiate any positions within the next 72 hours. I wrote this article myself, and it expresses my own opinions. I am not receiving compensation for it (other than from Seeking Alpha). I have no business relationship with any company whose stock is mentioned in this article.
Editor's Note: This article covers one or more stocks trading at less than $1 per share and/or with less than a $100 million market cap. Please be aware of the risks associated with these stocks.