Overview
Last spring, I made the decision to purchase Apple (NASDAQ:AAPL). At the time the company was trading in the low 400's and it was cheap on almost any conceivable metric. My decision to invest was largely guided by Apple's low PEG, strong free cash flow generation, pristine balance sheet, and history of innovative products. As those who follow Apple know, the company's stock has done quite well over the past year. The point of this article is not to gloat about past success, but rather to emphasize my belief that value investors should periodically reevaluate their holdings, especially after major share price increases. With that in mind, I will be looking at Apple to decide what action, if any, I will take.
Some Things Have Changed
Apple's valuation has risen from the obscenely cheap levels that were present in early 2013. That is not to say that the company is overvalued or even fairly valued, but simply that it is a less compelling bargain than it was a year ago. Some might find Apple to be attractively priced with a dividend adjusted PEG of under 1.00 and a free cash flow yield of 8.29%. However, as shown below, there is no denying that the company now sports a noticeably higher valuation. Generally speaking, higher growth rates are needed to support higher valuations. At last year's prices, it seemed like the market expected no growth from Apple. Currently, Apple's valuation will require at least a moderate amount of growth. At some point, the company will need a successful new product in order to keep growing. Perhaps the iWatch, which is expected to launch later this year, will be Apple's next category defining product. Whether it's the iWatch or something else, as time passes, the need for a new major product increases. While Apple's valuation seems reasonable, it will require some growth from the company.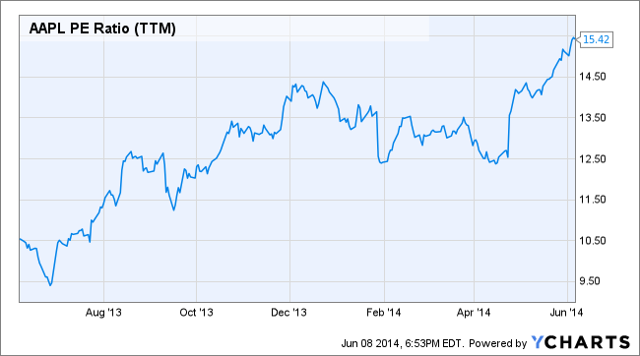 The amount of capital returned to shareholders has also increased quite a bit over the past year. As shown below, Apple has meaningfully reduced its share count over the past year. In April, Apple announced an 8% dividend increase, but this was just the tip of the iceberg. More importantly, Apple's share repurchase authorization was increased to $90 Billion. Unfortunately, this increase to the repurchase program was announced just as the share price began to take off. As I'm sure many of you know, increases in share price decrease the effectiveness of buybacks. Of course, shareholder value is still created as long as shares are repurchased below their intrinsic value. I believe future repurchases will be a net positive for shareholders, but I can't help but think about what could have been if Apple had more aggressively repurchased shares when the prices were at their lowest.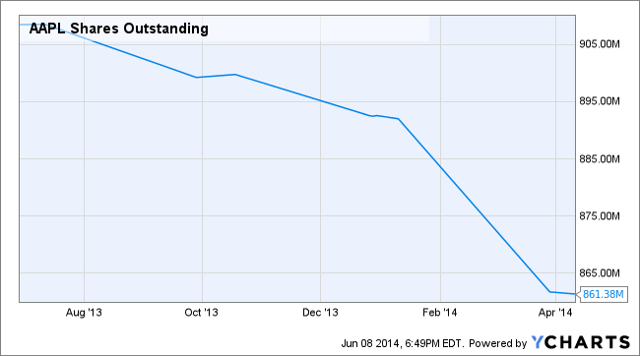 Finally, Apple's decision to split its stock elicited a strong reaction, but I find stock splits to be meaningless. I don't think I will ever understand how so much time can be spent discussing a "change" that will leave investors with the exact same ownership stake. I recognize that lowering the stock price will make it easier to purchase round lots of Apple. This would have been great news 50 years ago when stock was purchased in groups of 100 shares. Since it is now possible to purchase single shares, Apple's share price was only problematic for those who did not have ~$650 + commission available to invest. I'm sure someone wants to invest less than $650 into Apple, but unless he has millions of like minded friends, it will be tough to influence the price of a $550 Billion company. It has been suggested that the split may have been designed to get Apple added to the DOW. This move would likely increase Apple's share price, but I prefer gains that come from improvements in the underlying company to those that are the result of being added to an index.
Core Remains The Same
Apple's strong brand has remained a constant. Recent history has shown that people are willing to pay more for a piece of technology with the Apple logo on it. That's not a knock on those who buy Apple products - I am satisfied with my decision to purchase an iPhone despite Samsung (OTC:SSNLF) offering a more powerful phone at the same price. While the iPhone is the only Apple product I currently own, I'm aware that many people exclusively purchase Apple products and believe in the value of Apple's ecosystem. I know many individuals like this and, from my observations, they seem content to pay a premium for Apple products simply because they are Apple products. I suspect that if Apple decided to sell potato chips, many of these fans would be lined up outside Apple stores eagerly waiting to pay $10 for a bag. I believe that Apple's brand image and brand loyalty are the company's most valuable assets.
As a company, Apple is still doing well. While debt levels may have risen slightly, when looking at the big picture the company is in excellent financial condition. Its long term borrowings are easily manageable when compared to its current assets or free cash flow. The company has $150 Billion of cash, cash equivalents, and marketable securities. Looking at the graph below, Apple still does an excellent job converting revenue to free cash flow. The generation of free cash flow is important because it is used to pay dividends, repurchase shares, and make acquisitions. Apple also has a high ROE and a high ROA. Taken together, these numbers indicate that Apple is doing a good job of generating income for its shareholders. When looking at Apple, I see a high quality enterprise.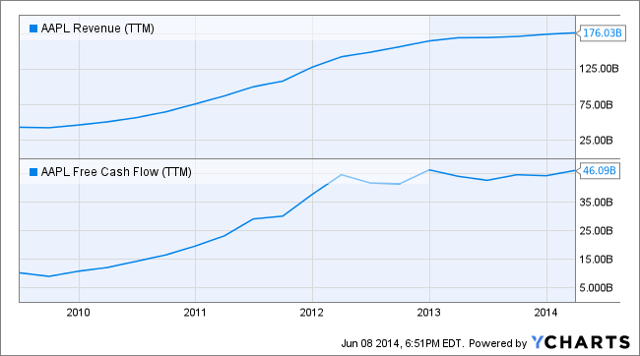 Conclusion
There is little doubt that Apple is still a great company with a loyal following. The primary change over the past year has been the price at which this great company can be purchased. Despite the run up, I believe Apple's future growth will be more than capable of supporting its current valuation. My only concern is that another year has passed without an innovative product from Apple. I'm not too worried by this, but at some point Apple will need to unveil a new category defining product. Looking at Apple's current valuation, I see no reason to sell my shares.
Disclosure: I am long AAPL. I wrote this article myself, and it expresses my own opinions. I am not receiving compensation for it (other than from Seeking Alpha). I have no business relationship with any company whose stock is mentioned in this article.