Last week a Top Idea was published on SA Pro written by John Leonard on Xplore Technologies (NASDAQ:XPLR), a small firm that specializes in rugged computing hardware. Top idea articles have had sizeable impacts on small cap stocks in the past. Whether the phenomenon is causative, correlative, or simply prophetic on the part of the authors is anyone's guess.
The example that comes to mind is Tonix Pharmaceuticals (NASDAQ:TNXP). Back on December 3rd, a Top Idea was published on Tonix, written by Joe Springer. The stock had a closing price that day of $5.82. By January 13th, TNXP hit a high of $21. It has since dropped to as low as $8.14, and now trades for $10.66 as of the June 6th market close. Gains from following Springer's advice that day could have been anywhere from 40% to 260% depending on when you sold. Considering only the price action and granting that there were many convincing fundamental reasons to buy Tonix at the time, it seems that in the case of Tonix, the Top Idea call was correct and the gains real rather than purely an outgrowth of hype. Hype may have pushed the high a bit higher than it otherwise would have been, but 40% gains in the worst case scenario is nothing to sneeze at.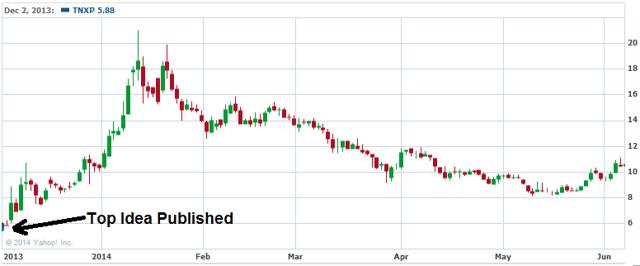 The upside move in Tonix was very quick, almost immediate after publication. This perhaps has to do with the fact that Tonix is a trial stage biotech, and those tend to move violently in response to regulatory catalysts that investors try to anticipate. By contrast, Xplore Technologies has yet to move in response to Leonard's article, though Xplore does not have the FDA to deal with before it can sell something and make money. Therefore, assuming Leonard is correct on Xplore, it is possible that Xplore's capital growth will be slower and steadier than Tonix's was in the aftermath.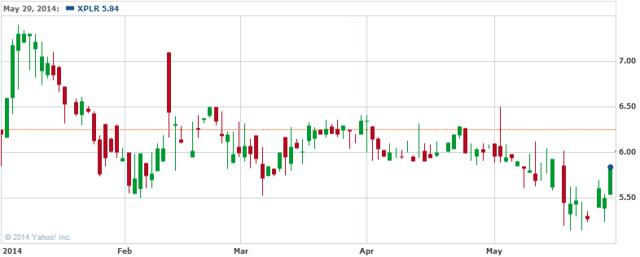 I will not reinvent the wheel here, and for company fundamentals, I refer you back to Leonard's article linked above. What I intend to do here is explore (no pun intended) a possibility Leonard missed in his otherwise thorough analysis of the company.
Back in a March 2012 piece, Takeover Analyst mentioned Xplore as an undervalued firm and how he intended to write a focus piece on it, but then nothing happened. I assume, as his pen name suggests, that he was going to analyze a possible takeover, so I will begin where he left off.
Xplore manufactures and sells rugged tablets, mostly for heavy industry and military uses. The rugged hardware industry is obviously a niche market that small firms on the fringe usually take up because bigger companies are busy with larger markets and sales volumes. However, of late, there have been significant acquisitions in this space as larger companies attempt to establish a foothold in the niche. Some have been successful, others have failed. A look at the takeovers that have already occurred focusing in on the smaller firms may point us in the direction of the next one, if indeed it should happen.
One of the first major takeovers in the rugged hardware niche happened in 2005 when Itronix became part of General Dynamics (NYSE:GD). The exact amount was undisclosed, but we know the number was roughly a third of $275M, as GD did disclose that it had made 3 acquisitions that year for $275M (page 29), Itronix being among the three. In April of last year, this experiment was ignominiously ended when GD pulled the plug on Itronix's line of ultra-rugged computers. Itronix is no more. It is unlikely then that GD will venture into this space again anytime soon.
Next we have Motorola (NYSE:MSI) which took over Psion in Q4 2012 for $200M. It is still too early to tell if the Psion acquisition was worth it for Motorola. While filings indicate that sales have risen (page 30) in its first full year since acquisition, Motorola still had a rough first quarter of 2014, with sales down 9% compared with Q1 2013, though Q1 has historically been a slow time for the company. I believe it is safe to assume that if Xplore will be acquired, it won't be by Motorola, since Motorola is still in the process of digesting Psion.
Which takes us to Honeywell (NYSE:HON). Honeywell has made 3 key acquisitions of small firms in the rugged computing hardware space since 2008. First, it acquired Metrologic for $720M. At the time, Metrologic had annual sales of $246M (previous link). Then, in 2011, it acquired EMS Technologies for $491M at a time when it had annual revenues of $355M (page 72). EMS' earnings, however, were quite small. In its final quarter before acquisition, EMS had earnings of only $3.5M. Then, last September, Honeywell made another rugged acquisition, this time of Intermec for $600M. Interestingly, Intermec actually had 3 quarters of consecutive losses totaling $33M before being acquired by Honeywell, notwithstanding Intermec's quarterly sales of $200M.
Honeywell has been on a tear since the beginning 2013, with its stock price increasing over 50%, and annual earnings up 90% since 2011. It has acquired 3 rugged computing companies since 2008, two since 2011. Its acquisitions in this space have been of small fries that didn't make a lot of money, and one of which was actually operating at a loss for nearly a year before being acquired. It has $6B in cash, a stockpile that has been growing steadily, and its earnings are growing nicely as well.
As for Xplore, it has revenues of $14M in Q4 2013, almost double Q3, and has finally achieved profitability at $890K last quarter. While I am not saying that any acquisition of Xplore by Honeywell is imminent, I am saying that if Honeywell is indeed engaged in some sort of roll-up of the rugged computing niche as it seems to be, and Xplore continues to grow and show consistent quarterly profits over the next year or so, Xplore may pique Honeywell's interest sooner rather than later.
In the meantime, it is certainly going in the right direction, and XPLR has yet to move as a result of Leonard's Top Idea.
Disclosure: I am long XPLR. I wrote this article myself, and it expresses my own opinions. I am not receiving compensation for it (other than from Seeking Alpha). I have no business relationship with any company whose stock is mentioned in this article.
Editor's Note: This article covers one or more stocks trading at less than $1 per share and/or with less than a $100 million market cap. Please be aware of the risks associated with these stocks.