The Seaborne Iron Ore Trade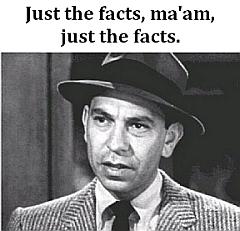 Seaborne iron ore is a fungible commodity. That is, one tonne of Seaborne iron ore is indistinguishable from another tonne. Unless otherwise stated, quotes for iron ore are for 62% Fe Fines/Chinese imports (CFR Tianjin Port). Normalization of the price of a set range of grades is to 62% Fe Fines and shipment to other ports is normalized to Tianjin. The Steel Index provides complete specifications for the agreed upon industry standards.
The three largest players in the seaborne trade are Vale (NYSE:VALE) of Brazil, Rio Tinto (NYSE:RIO) from Australia, and BHP Billiton (NYSE:BBL) also shipping from Western Australia. These three account for 60% of the trade.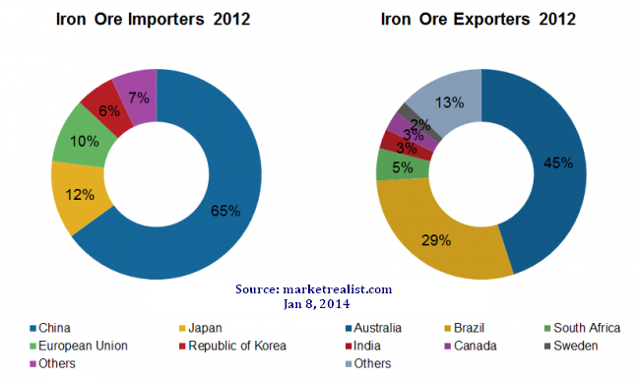 Supply
The three largest producers of iron ore have been frantically investing capital, expanding brownfield iron ore to gain efficiencies of scale.
BHP Billiton, and its newest mine in the Pilbara region is set to ramp up production to 55 million tonnes, with a goal of producing 270 million tonnes a year from the region.
Rio Tinto's aggressive expansion schedule is on track at 290 million tonnes toward an eventual goal of 360 million tonnes.
Vale is intent on increasing its 300 million tonne production to 400 million tonnes by 2018.
These global miners have all banked on sustained increases in iron ore demand from China, ramping up capacity and boosting available Seaborne supplies.
New supply, from these miners and others from Canada to Africa, will be coming on line through at least 2018. This unprecedented expansion recently drew the stern criticism of the CEO of miner and commodities trader Glencore (OTCPK:GLCNF), formerly known as Glencore Xstrata. Ivan Glasenberg's message at the mid-May annual general meeting in Switzerland was that rivals BHP Billiton, Rio Tinto and Vale have put too much pressure on iron ore prices with their aggressive expansions. He was quoted by Bloomberg as saying,
"Prices are coming off because we see massive expansions coming there from our major competitors… They continue to expand these brownfields and put more supply into the market."
Demand
Changes in economic direction are taking place in China and the Chinese are talking openly about these changes. The emphasis will shift from investment in construction, the rapid build out of infrastructure, especially housing, to more of a consumer-led economy opening all sectors to market forces. Some statements the Chinese recently made:
"The period of China's high steel demand has passed, and iron ore demand is now rising at a slow pace of 3%-4% annually," the National Development and Reform Commission said.
"In the next two to three months, iron-ore output will increase, port inventories will remain high, and under slow demand for steel products, it will be difficult for iron ore prices to rise."
On a visit to China last week, BHP Billiton CEO Andrew Mackenzie admitted Thursday that BHP Billiton made mistakes regarding its iron ore strategy. He said to reporters in Beijing…
"The firm's expansion of its iron ore business was too rapid and that it did not focus as much as it should have done on the underlying expansion of the overall business."
He sees expanded opportunity for the firm's potash and copper divisions, and added, "We see a Chinese economy gradually shifting from construction to consumption, and so, we will transition… we're much more likely to make major investments in what we feel is the next phase of Chinese growth…"
The Price
Vale's fate is tied to the price of iron ore, as the patterns of these two five-year charts show.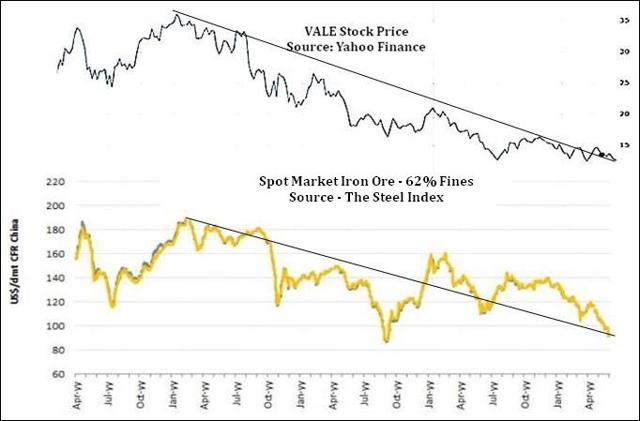 Chart -Three Miners and S&P 500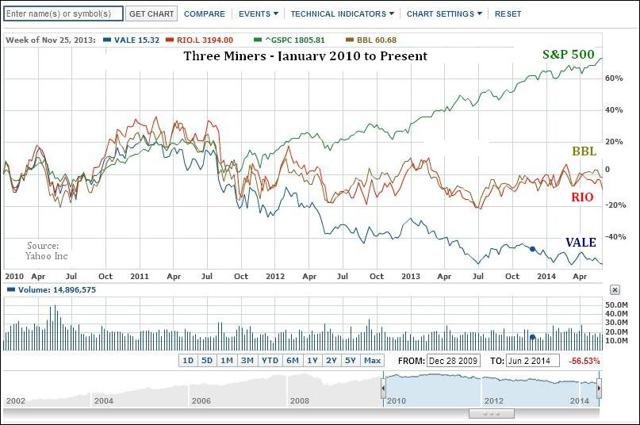 The most notable thing about this chart is that while BHP Billiton and Rio Tinto were about flat for the period, Vale was down 56%.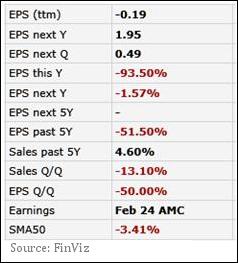 The stock price of a company is what the market perceives as its value. This is often based on a calculation of its anticipated aggregate future earnings discounted to the present. With that in mind, let us look at the record of Vale's past earnings and the firm's projected future earnings.
Vale has always touted the fact that it was the industry's low cost producer. The most recent production cost I have seen for the company is in the mid to low $20s, and they have a goal to reduce that further. However, for now it appears that RIO has caught up, with CEO Sam Walsh claiming the honors at $20/tonne. I am sure that BHP Billiton is not far behind.
Vale, however, has a disadvantage even with an equally low cost of production. Transportation costs are $10 to $15/tonne more to get the ore from Brazil to China than from Western Australia. The ValMax, a huge carrier for seaborne ore, has yet to solve the problem and China has not welcomed that class of huge ships to its ports. Along with lack of product diversification and transportation issues, there is a third area of concern regarding Vale.
Management and Governance Structure
Vale has an ownership and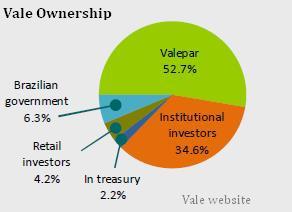 governance structure unlike any company I'm familiar with. Once owned by the government of Brazil, it is still in many respects controlled by that government. This Morningstar description of Vale ownership and management is the clearest statement I have seen concerning the matter, and I'm pleased to include it below in its entirety.
"The shareholder structure at Vale is complex. Despite being privatized by the Brazilian government in 1997, Brasilia retains significant influence over the company's management and strategic direction. Following privatization, Valepar became Vale's controlling shareholder, with the right to appoint nine of the board's 10 directors. Valepar is an investment vehicle owned by of a variety of entities, including the Brazilian government's development bank BNDES. BNDES, notably, provides debt financing to Vale. Banco do Brasil's pension fund, known as Previ, is the majority shareholder of Valepar. Banco do Brasil, while publicly listed, is controlled by the Brazilian government and the Brazilian president appoints Banco do Brasil's CEO. In addition to exerting influence through its indirect control of Valepar, the Brazilian government owns 12 golden shares, which entitle it to special veto power over fundamental changes in Vale's business, including but not limited to a rather nebulously worded "change in corporate purpose" and any asset sales pertaining to Vale's iron ore operations."
The firm is constrained by the many political interests that must be served and I believe this constraint on management is apparent in an industry lagging ROE and a continuing dismal bottom line.


Unlike its peers, Vale is unable to react quickly to changes in markets, and is extremely hesitant to replace management. On the other hand, following a terrible 2012, both Rio and BHP Billiton took action. Seasoned managers, leaders of operating divisions, replaced their existing CEOs.
Dividends
I frequently see articles that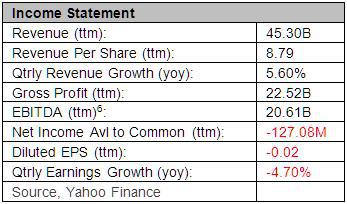 talk about the high yield of Vale. True, if you take the ttm dividends and add them together and divide them by the current price you get a yield of 6.6%. The P/E is often reported as 6.7%, but that is the forward P/E for the fiscal year ending December 31, 2015, and is pure speculation. In reality, there is no ttm P/E because the firm operated at a loss.
I would like to caution readers to take care when reading ratios, yields and P/E and that you verify exactly what the writer is referring to. If you look at a table of data, be it at Yahoo Finance, Morningstar or another source, make sure you read all the footnotes and understand exactly what they are saying. All the numbers in this section are from Yahoo Finance for consistency, except for the ttm yield, which I calculated manually.
Yield is a funny number. The company does not set what its yield is, but rather sets its quarterly or semiannual dividend at a certain amount per share. The annual dividend, divided by the share price, gives the yield percentage. One way to get an increasing high yield, or an equally impressive low Price/Earnings number, P/E, is to have the stock price decline. Thus, it might look like a high yielding, low P/E stock is a bargain when in reality the company is in great trouble and the market has given the stock a lower valuation and the price has decreased.
Vale Has Decreasing Annual Dividends.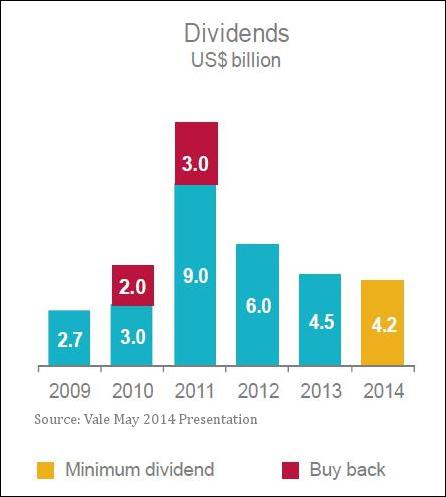 In the past, the company also bought back shares, another way to increase stockholder value. The firm did so in the years 2010 and 2011 but has not done so since according to the 10-year cash flow statement available at Morningstar.
Analyst Bias
Many major sell-side analysts cover Vale. A partial list includes these familiar names: Banco do Brasil S.A., Barclays, BB&T Capital Markets, Citigroup, Credit Suisse, Deutsche Bank, Goldman Sachs, JPMorgan Chase and UBS.
This part of Wall Street is called the sell-side because these are the firms that create IPOs and other stock and bond offerings and sell stock to individuals and institutions. In addition to selling the stock, they service the companies by providing support for its product. It does this with analysis and ratings of the stock it has sold. This is where the sell-side sometimes is criticized as having a bias toward "pushing" stock.
In the ideal world, every stock that an investment bank brings public becomes a great company. The analysts covering the stock predict a great future, and it happens. Everyone wins in that scenario.
But that is not reality and it is well documented and has been for years that analysts have a positive bias. The corrective? A healthy dose of skepticism. When a stock is downgraded to a "Hold" you might consider the reality is that it is really a "Sell." After 40 years of investing, my skepticism is well developed, and rightly so, I believe.
Commentator, Writer Bias
Everyone is rooting for success. It is part of the American Dream to discover a stock that soars 50% after you buy it. Sometimes commentators find a glimmer of hope in the most dismal circumstances. Writers, and I have been guilty of this, have the same tendency to take a positive outlook. If you look at the 20 articles that have been written on Seeking Alpha about Vale this year, you will see in the majority of them at least a hedged optimism. That is not wrong… it is just human. Be skeptical and be careful with your money.
Just the Facts
Detective Joe Friday had it right when he said, "Just the facts."
When I look at Vale's recent past,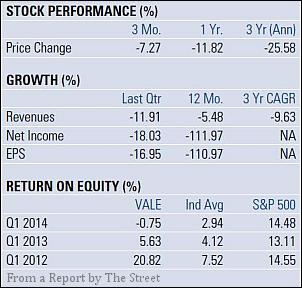 the charts and numbers, I see a several year downward trend. The management, shackled to the Brazilian government and part of a politicized bureaucracy, exacerbates this. The Chinese have spoken in earnest, and there is no doubting the huge dockside inventories. Vale's performance is closely tied to iron ore prices and those iron ore prices, in a market swamped with a glut of supply, are likely to continue to be weak for the next several years.
Apply the facts to your decision and take the appropriate action.
Disclosure: I am long BBL. I wrote this article myself, and it expresses my own opinions. I am not receiving compensation for it (other than from Seeking Alpha). I have no business relationship with any company whose stock is mentioned in this article.