AstraZeneca (NYSE:AZN) develops, markets and manufactures products for patients suffering from various chronic and acute medical conditions, including cancer, cardiovascular disease, autoimmune disorders and neuropathy.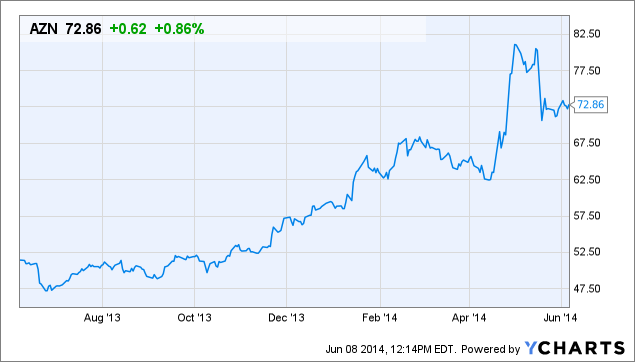 Market overview
The volatility of the pharmaceuticals sub-industry is well documented, as top line pressure from imminent patent expirations of many blockbuster drugs prompts serious concerns over revenue growth. AstraZeneca is no exception to the volatility caused by patent expirations, as adjusted earnings tumbled 26% at constant currency in 2013, and the company anticipates continued decline during 2014 and 2015. This is partially due to the $350 million loss to genericization of products -- including Seroquel IR, Atacand and Merrem -- in 2013. Sales of Nexium, AstraZeneca's blockbuster heartburn treatment, also plummeted following patent expiration in May, 2014. Despite numerous efforts to delay generics from entering the market, AstraZeneca lost its legal battle with Teva Pharmaceuticals (NYSE:TEVA), which marketed a generic called Esomeprazol in late May.
Unfortunately for AstraZeneca, no tourniquet is tight enough to stop the bleeding, as Crestor, the company's blockbuster cholesterol drug, loses exclusivity in May 2016. It is expected that Crestor sales will plummet, and most of its market share will be captured by generic versions of Pfizer's (NYSE:PFE) Lipitor.
Are buyout talks still on the table?
AstraZeneca stock reached 52-week highs last month, following a series of bids from Pfizer. However, the stock subsequently declined more than 10%, following management's decision to reject Pfizer's "final" bid for $92.48/share, or $116 billion. Although the discussions took on an acrimonious tone and we expect Pfizer will cease its efforts acquire AstraZeneca, investors should be aware that the door for an acquisition could still be open. UK takeover laws prevent Pfizer from submitting a new bid for six months, but this duration is reduced to three months if AstraZeneca invites Pfizer to discussions. Again, we suspect that all signs suggest that this will not take place.
What should investors look to now?
Despite AstraZeneca's grim outlook with respect to patent expiration and the termination of buyout talks with Pfizer, investors should look to several pipeline developments, as well as some encouraging statistics that could help the company outperform in the coming years. First, revenue from emerging markets continues to grow at a steady pace, up 11% CER. In conjunction, Brilinta is showing good progress in Europe and international markets, with revenue up 94% CER. AstraZeneca also benefited from a strong performance in China, up 22% CER. As the company continues to outpace this market, shareholders should benefit handsomely.
AstraZeneca can also benefit from development of olaparib for PSR (platinum-sensitive recurrent) ovarian cancer. Under Priority Review designation and facing regulatory decision in Q4 2014, this PARP inhibitor compliments cediranib for a higher PFS benefit. In fact, the combination yields a PFS benefit of 17.7 months, as compared to 9 months with olaparib alone. It also has an impressive safety profile, since it is a non-chemotherapeutic drug. Likewise, it is well-tolerated, since dosage quantity and frequency are not restricted as opposed to standard care (chemotherapy).
In addition to PSR ovarian cancer, AstraZeneca's olaparib is targeting other indications, including prostate cancer, relapsed ovarian cancer, solid tumors and neoadjuvant and adjuvant breast cancer. If successful, the drug could acquire a significant market share in some or all of these indications, and thus generate billions in revenue for Astra in the coming years.
AZD9291, a tyrosine kinase inhibitor, is also a prized gem that AstraZeneca is developing for non-small cell lung cancer. Similar compounds have reached the $2 billion sales mark, including Novartis' (NYSE:NVS) moor inhibitor and Pfizer's Sutent. This bodes well for AZD9291, and CEO Pascal Soriot even projects that the sales opportunity could reach $3 billion due to its potential synergy with Astra's coPD-L1 antibody and selumetinib. The versatility of the compound will be explored in the coming years.
Trading AstraZeneca
Undoubtedly, there is a lot of uncertainty when it comes to trading AstraZeneca. While buyout talks could resume within the aforementioned periods, olaparib could receive approval during Q4 2014. On the other hand, Astra may run into trouble in clinic as it embarks on its resurgence campaign within the Oncology space. The probability from Phase I to FDA approval over the last decade for oncology was 6.7%, compared to 12.1% of all other therapeutic indications. Other important statistics are shown in the graph below: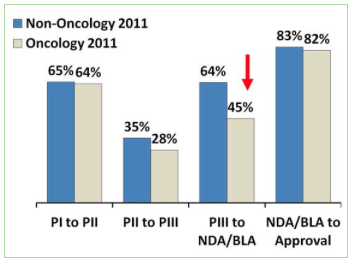 (Image source: biotech-now.org)
Per the company's Pipeline Development Table, it has 14 drug candidates in Phase I, 9 in Phase II and 9 drug candidates in Phase III/Registration. From a statistical standpoint, 1 of 14 Phase I drug candidates are supported to receive regulatory approval; 1 of 9 in Phase II; and 7 of 9 in Phase III/Registration.
While statistics support regulatory approval for 9 of Astra's 32 drugs targeting the Oncology indication, it is not clear which drugs in Phase III (the quickest to the market) are likely to receive approval. Investors should approach AstraZeneca with caution. By doing so, he or she can profit in multiple ways, but I believe my proposed Collar strategy is optimal, since it provides moderate upside, an enhanced yield and downside protection should the worst-case scenario develop, either due to the company's specific failure or an overall market decline.
Strategic implementation
My proposed Collar is executed in three simple steps:
Acquire 100 shares of AstraZeneca, which is not necessary if the investor already owns the security. The share price as of writing is $72.75.
Sell a January 17, 2015 Call (a commitment to deliver the stock) at the strike price of $77.50/share. For selling this Call, the investor immediately receives $4.70/share. Additionally, the investor would harvest whatever dividend is paid in the intervening 7-month period, which is roughly half the dividend of 5.20%.
Buy a January 17, 2015 Put (the right to sell given a calamity!) at the strike price of $62.50/share. This will cost the investor $2.45/share.
The outcome of our proposed Collar strategy falls into one of three possible scenarios:
Scenario A) On or before the strike date of January 17, 2015, the stock trades above $77.50. The transaction would yield a maximum upside of approximately $889, factoring in the dividend of 2.60%, the Call premium received of $4.70/share, the $4.75/share increase and the Put cost of $2.45/share. Disadvantage: The total profit from this transaction is limited to roughly $889. If AstraZeneca stock rises significantly higher than the strike price of $77.50, the investor would lose out on the margin between the new price level and the $77.50 strike price.
Scenario B) The stock stays stagnant or does not reach the strike price of $77.50 prior to January 17, 2015. The transaction would yield approximately $414, factoring in the 2.60% dividend, the Call premium received of $4.70/share and the Put cost of $2.45/share. Disadvantage: The total profit would be limited to $414. Despite this, an investor does better here than simply buying and holding.
Scenario C) AstraZeneca succumbs to an earnings apocalypse. This is where the Put comes in handy. With downside protection at $62.50/share, the risk is limited to approximately $6.11/share (or $611), factoring in the roughly 4-point cushion calculated by adding the 2.60% dividend and the Call premium received of $4.70/share and deducting the Put cost of $2.45/share. Imagine, hypothetically if AstraZeneca stock was to go to $0, the investor's maximum loss would be relatively minor compared to the buy-and-hold investor or one without a protective Put position. Disadvantage: If AstraZeneca shares do not trigger the Put, the investor loses out on $245 which he invested into the Put. This could be analogous to paying for insurance and peace of mind, as the investor is only exposed to anywhere below approximately $611 downside.
Final thoughts
Given my view of AstraZeneca, I endorse the proposed Collar strategy constructed above for conservative investors. This includes insurance against a catastrophic loss, as additional downside protection through purchasing a Long Put could be necessary. My strategy also enhances AstraZeneca's juicy 5.20% dividend and provides various levels of protection around which each investor individually must assess his/her risk tolerance.
Disclosure: I have no positions in any stocks mentioned, and no plans to initiate any positions within the next 72 hours. I wrote this article myself, and it expresses my own opinions. I am not receiving compensation for it (other than from Seeking Alpha). I have no business relationship with any company whose stock is mentioned in this article.