Winnebago (NYSE:WGO) stands ready to benefit from multiple macroeconomic factors. For those reasons, it may make for a strong stock in coming years. It competes with other high-priced recreational adult toys from motor home brands like Thor Industries (NYSE:THO) and motorcycle brands like Victory brand motorcycles by Polaris (NYSE:PII) and Harley Davidson (NYSE:HOG).
Winnebago is the best selling, most well-known, motor home brand in the country. The potential growth of the company is apparent in its current operations.
Winnebago is expanding, having opened a facility in Lake Mills, Iowa. The production line in Lake Mills is up and running, and that plant should start shipping in the third quarter, taking production duties for Class B products from the Charles City, Missouri factory. That Charles City plant will then focus more on subassembly, and this should help efficiencies and margins.
The company is also rolling out a number of new motor homes. 22% of its second quarter shipments were products not available at this time last year. That provides more options for dealers selling to customers with a diverse set of needs and tastes.
Below is a picture of the new Winnebago Brave. Also, Trend, Viva! and Travato models all should begin shipping this quarter, so sales may see a bump due to that.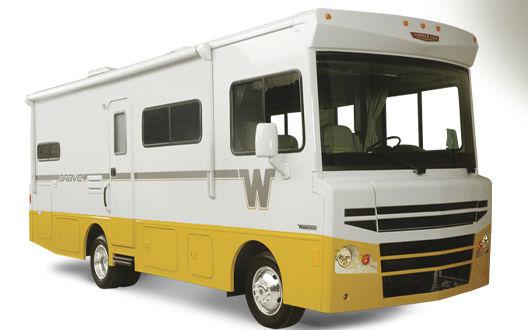 Fuel Prices
One of the primary macroeconomic factors that we see positively affecting the purchase of these Winnebago motor homes is the prospect of cheap gas.
Thanks to the domestic oil drilling in the north-central plains states, we are basically energy independent. What that means is there should be less gas price spikes as we head forward, and gas prices themselves should trend down. For a large vehicle that has made fuel efficiency leaps and bounds, it still helps to convince a prospective buyer if they know that gas prices will be staying lower.
The CEO recently noted that cheaper energy costs would enable more cost conscious buyers to purchase RVs because it makes them cheaper to operate. We think this is a major factor going forward.
Economy
The CEO also noted that interest rates should stay low for quite a long time, and that should allow easy loans for RV purchases.
Considering current lack of inflation, the Federal Reserve is unlikely to raise rates any time soon. That will keep financing costs relatively low, especially important for higher price-point items like motor homes.
Additionally, the health of the economy is very relevant for these large consumer discretionary purchases like motor homes. Not only does a healthy economy translate to more jobs and higher incomes (eventually), but it plays a vital psychological role. Consumer confidence must be high for there to be increasing purchases of motor homes. With the economy finally getting back to more solid footing, and as unemployment rates drop toward 5%, you should see wage pressure and consumer confidence. Those factors will cause more people to feel comfortable pulling the trigger and buying a motor home.
Demographic Tailwind
Winnebago has a competitive moat due to its famous brand name. It has been the number one selling motor home brand since 1974. At no point has that brand recognition and sales position been more relevant than entering the Baby Boomer retirement era.
Tens of millions of Baby Boomers either have begun to, or are planning to, retire in the next ten years, and they hold a large chunk of wealth. With houses paid off, and retirement accounts finally looking healthier due to the rebound from 2009 stock lows, you can bet that more of the Baby Boomers will be interested in traveling the country via RV than ever before.
That puts Winnebago in an envious position, despite its modest market cap. It stands to benefit directly from Baby Boomer retirement purchases. Any company would love to be the premier name in a promising industry, with few competitors.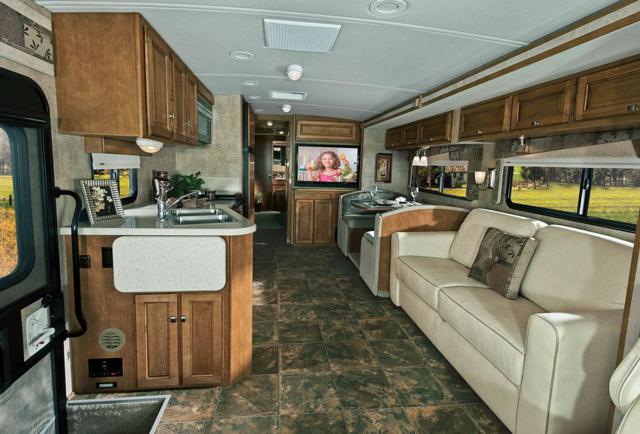 Financials And Metrics
Despite weather delays at its Iowa and Indiana facilities, and higher utility costs at those plants due to the harsh temperature, the company saw volume and revenue growth for the quarter. Those factors did put pressure on margins, but that only serves to bolster our view that margins and EPS growth can really ramp up through the rest of the year. Additionally, the company is planning to metal stamp its own equipment, but that won't be operational until the fourth quarter. In the meantime, it is outsourcing that activity and that is weighing slightly on margins, but it should improve margins when its own production comes online.
I think you could see a margin increase of 60 to 80 basis points heading into 2015, based on the above noted factors.
For the quarter:
"The recreational vehicle maker showed ... a revenue increase of 29% to $228.8 million, while earnings per share jumped 59% to $0.35... (and) other numbers were equally impressive as motor home deliveries improved 45% to 2,055 and backlog rose 5.4% to 2,900."
Winnebago sports a P/E of 17.5 and a forward P/E of 13.21. With projected EPS growth the next five years of 15.80%, Winnebago sports a PEG of 1.11, which is a solid number indicating solid value based on growth expectations.
Additionally, 616,000 company shares were repurchased through the current share repurchase program. We expect more to be purchased, increasing EPS.
The Chart
The weekly chart below shows what looks like a bull flag. That is a continuation pattern, so unless we break down below support at $21.75, we should break above $25 and retest highs above $32.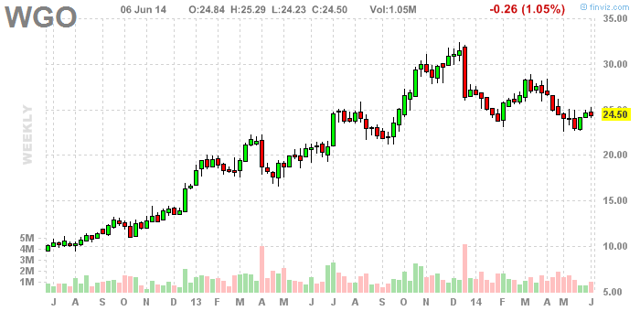 The Play
I believe that Winnebago can be bought on weakness, with a sell stop at $21, and writing covered calls against the position.
Disclaimer: We do not know your personal financial situation, so the information contained in this article represents an opinion, and should not be construed as personalized investment advice. Past performance is no guarantee of future results. Do your own research on individual issues.
Disclosure: I have no positions in any stocks mentioned, and no plans to initiate any positions within the next 72 hours. I wrote this article myself, and it expresses my own opinions. I am not receiving compensation for it (other than from Seeking Alpha). I have no business relationship with any company whose stock is mentioned in this article.