Excellent Well Result
This morning, Halcón Resources (NYSE:HK) reported test results for its much anticipated first operated well in the Tuscaloosa Marine Shale play. The result is excellent both in terms of well productivity and execution.
According to Halcón's press release, the company's Horseshoe Hill 11-22H-1 well in Wilkinson County, Mississippi, achieved a 24-hour average IP rate of 1,208 barrels of oil per day and 1.1 million cubic feet per day of super-rich (1,551 BTU) natural gas on a 19/64 inch choke. The well had a 7,060-foot effective lateral and was completed with 24 frac stages, of which 21 stage were effectively pumped and 3 stages were partially pumped. The well's IP rate is in-line with the best producers drilled in the play to date.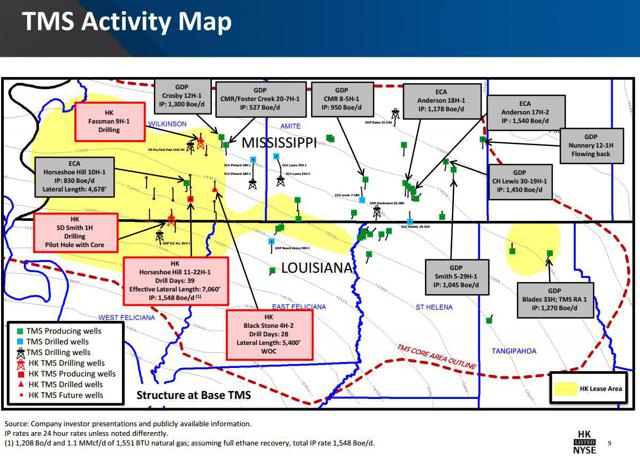 (Source: Halcón Resources, June 2014)
Also very impressive is the relatively smooth execution that Halcón was able to demonstrate in its first attempt. As reported earlier, the well was drilled in just 39 days, spud to total depth, an excellent performance for a 7,060-foot lateral. All the 24 frac stages are contributing to production, even though 3 stages could not be stimulated with the full amount of proppant originally planned. The result demonstrates that Halcón's technical team was able to capitalize on peer operators' learnings and successfully implement best operating practices.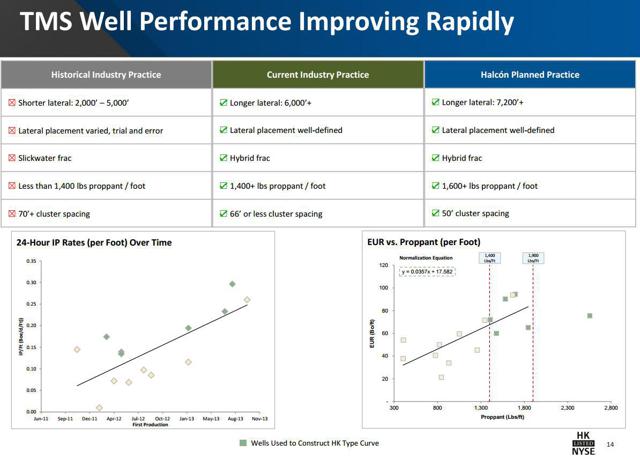 (Source: Halcón Resources, June 2014)
Expensive Financing
Halcón also announced a TMS-related mezzanine financing of up to $400 million. While securing funds for the TMS development is a positive development for Halcón, given the company's acute need for capital, the financing appears to be quite expensive.
Halcón signed a definitive agreement with Apollo Global Management, which will invest up to $400 million, in the form of 8% preferred stock, in a newly created entity, HK TMS. HK TMS will hold all of Halcón's acreage in Mississippi and Louisiana that is prospective for the TMS formation. Pro forma for the financing, Halcón will continue to own 100% of the common shares of HK TMS and will be the sole operator. Holders of the HK TMS preferred shares will receive quarterly cash dividends of 8% per annum. In addition, preferred stock investors will receive a 4.0% overriding royalty interest in a certain number of wells (0.5 wells per $1 million of investment into preferred stock) to be drilled and completed on its TMS acreage. The royalty will be subject to reduction to 2.0% under certain circumstances,.
Originally, Apollo will contribute $150 million in cash consideration for 150,000 of HK TMS preferred shares and overriding royalty interest in 75 net wells.
Apollo will also have an option to acquire up to an additional 250,000 preferred shares of HK TMS, in combination with the overriding royalty in up to 125 wells, on the same terms.
Based on my estimate, the 4% overriding royalty interest in one well could have an NPV-10% in the $1.1-$1.7 million range, which may increase the total return to preferred stock investors to over 20% per annum. (This is an estimate based on certain assumptions: detailed terms of the preferred stock have not been disclosed yet).
The good news, the financing is structured to limit the effective sell-down of the TMS asset in the financing and may be the lesser of all possible "necessary evils."
TMS Wells In Progress
Halcón reported that it has drilled the Black Stone 4H-2 well in Wilkinson County, Mississippi, and will commence completion operations this month. The well, which has a 5,400-foot lateral, was drilled in just 28 days, spud to total depth.
Halcón is currently running two rigs in the play and has recently spudded two additional wells in Wilkinson County, Mississippi:
The Fassman 9H-1 is planned with a 6,030-foot lateral;
The SD Smith 1H is planned with a 7,660' lateral.
In total, Halcón plans to spud 10 to 12 operated wells in the TMS in 2014 running an average of two rigs. The Company also expects to participate in 15 to 20 non-operated TMS wells in 2014.
In Conclusion…
Halcon's success in executing its inaugural TMS well and drilling the second well are important and were sufficient to offset potentially negative reaction from the underwhelming financial partnership terms for the TMS acreage.
While somewhat disappointing in terms of its funding cost, the Apollo deal covers only a small portion of potential drilling locations and may be ultimately compensated by the accelerated delineation of the acreage. If no additional sell-downs of the TMS asset by Halcón will occur, the transaction is a relatively minor sacrifice and is, arguably, a more favorable outcome than a more traditional carried JV deal for a substantial percentage of the acreage.
The well result provides a positive read-across to Goodrich Petroleum (NYSEMKT:GDP), Comstock Resources (NYSE:CRK), Sanchez Energy (NYSE:SN) and Encana (NYSE:ECA).
Disclaimer: Opinions expressed herein by the author are not an investment recommendation and are not meant to be relied upon in investment decisions. The author is not acting in an investment advisor capacity. This is not an investment research report. The author's opinions expressed herein address only select aspects of potential investment in securities of the companies mentioned and cannot be a substitute for comprehensive investment analysis. Any analysis presented herein is illustrative in nature, limited in scope, based on an incomplete set of information, and has limitations to its accuracy. The author recommends that potential and existing investors conduct thorough investment research of their own, including detailed review of the companies' SEC filings, and consult a qualified investment advisor. The information upon which this material is based was obtained from sources believed to be reliable, but has not been independently verified. Therefore, the author cannot guarantee its accuracy. Any opinions or estimates constitute the author's best judgment as of the date of publication, and are subject to change without notice.
Disclosure: I have no positions in any stocks mentioned, and no plans to initiate any positions within the next 72 hours. I wrote this article myself, and it expresses my own opinions. I am not receiving compensation for it (other than from Seeking Alpha). I have no business relationship with any company whose stock is mentioned in this article.