No, I have not switched to the dark side. I am still positive on Apple (NASDAQ:AAPL), and today I will detail how shares could still have decent upside. However, I've come across way too many people out there lately that have very unrealistic expectations for Apple. This is the perfect time to provide some fair and necessary caution, as I don't want to see investors ever lose money. Today, I want to discuss some short-term risks for Apple, and what it means for the stock.
It is a numbers game:
There are a couple parts to this. Let me first talk about the split. When a stock splits, we hope there will be a post-split pop. In Apple's case, many thought Apple would pop after the split because smaller investors who might not want to spend $600 plus on a stock would come in and buy a roughly $90 stock. Apple did rise 1.6% on Monday, the first day post-split. My theory for being positive on the split was that it would increase the chance of Apple getting into the Dow Jones Industrial Average. Getting Apple in the Dow would be positive, as those who own Dow components would need to buy Apple. For example, the SPDR Dow Jones Industrial Average ETF (NYSEARCA:DIA) would need to buy about 4 million shares of Apple, with that number depending on who got booted. Right now, I think Dow inclusion is worth around 5% for Apple, but I'll get to valuation later.
Second, the law of large numbers is starting to impact Apple more and more with each passing quarter. Apple is expected to have more than $181 billion in revenues during this fiscal year, which ends in September. More on current estimates later. As Apple gets that number closer to and hopefully eventually above $200 billion, percentage growth becomes harder to achieve. For Apple to get 6% revenue growth, Apple needs total revenues to increase by about $11 billion. A company like Google (NASDAQ:GOOG) (NASDAQ:GOOGL) only needs about $4 billion for roughly 6% growth. Especially with iPod revenues plunging, and perhaps declining iPad revenues as well for certain quarters, it makes the math even harder for Apple.
Finally, Apple investors should hope that Apple used some of that cash from the debt offering to buy back stock during April and or May. With Apple shares racing to new 52-week highs, the buyback becomes a lot less effective. Apple had $14.1 billion left on the $60 billion buyback at the end of the March quarter, according to the 10-Q filing. Add in the extra $30 billion from the raise, and that gives you $44.1 billion. At $525 a share or $75 post-split, basically where Apple was going into the April earnings report, Apple could buy back about 588 million shares post-split. But at $650 or $92.86 a share, that's just about 475 million shares. Don't forget that with share prices soaring, investors looking at Apple's declining dividend yield might look elsewhere for income potential.
Yes, Apple still has a lot of money left on the buyback, but you hope some of it was spent when shares were a little lower, as that will help earnings per share a bit. Remember, it is the buyback that is a significant driver of Apple's earnings per share growth currently. In fiscal Q2, Apple's net income was up 7.08%, but earnings per share were up 15.16%. That's the buyback right there. In fiscal Q1, Apple actually had a 5% rise in earnings per share despite a small decrease in net income. I'll detail in the next section why this is an even bigger issue than some might think.
A hit to margins?
I always talk about the bear camp and how there are always those who like to point out the negatives with Apple. Back in January, I detailed one analyst who was already worried about iPhone 6 margins. Before Apple had even reported the major sales quarter for the iPhone 5S, the analyst was worrying about iPhone 6 margins. The analyst detailed how margins are impacted by launches:
On gross margin concern, Um said, Gross margins have decreased by an average of 225 basis points in the period following the launch of new form factor iPhones while increasing ~225bps in the two quarters following an "s" launch.
Since Apple is expected to be launching a larger screen phone, and perhaps two different screen size versions, you would think gross margins will take a hit. Apple could make up some of the gross margin dollars by sales volume, but that's only if the phones are not supply constrained at launch. Now, we have heard rumors that Apple is trying to charge a premium for the larger phones. This would certainly help, although you have to wonder if too much of a price raise could negatively impact sales.
Declining gross margins could be a big issue for Apple as you work down the income statement. In the following table, I've detailed some key income statement numbers from the first six months of the fiscal year, per the Q2 earnings release. I've highlighted a few numbers to detail current year issues.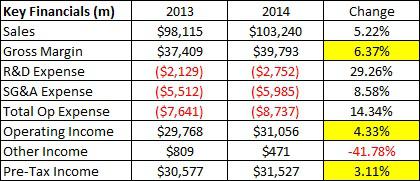 Apple did expand gross margins a little for this period, but that could reverse with the iPhone 6 without a price increase. For all those complaining that Apple does not spend on R&D, look at how much R&D expenses have increased over the prior year period. Also, SG&A expenses rose at a rate faster than both sales and gross margin dollars. Other income has also fallen, primarily because of the interest expenses involved with Apple taking out debt last year. With more debt this year, interest expenses will rise even further. Apple did not take out as much debt in 2014, but the company's interest rate did rise a bit for fixed rate debt. Again, in terms of EPS, this can be offset to some extent by the buyback, but for net income and cash flow, extra interest expenses are a negative.
A new entrant to the market?
There's been a lot of buzz regarding Amazon (NASDAQ:AMZN) lately. Just a look at the recent market news page shows a couple of items that could worry Apple shareholders to an extent. Amazon could launch a streaming music service in the next few months and might launch its own smartphone very soon. Amazon has recently expanded further into online payments, and those efforts could be paired up with a phone. Nobody knows if Amazon will ever make money off these items, but the company seems focused on revenue growth and these will all help.
Are any of these items Apple killers? They most likely are not. However, you could see small dings here and there for Apple, which given the huge Apple bear camp, could be a problem. While the Kindle Fire has not killed the iPad, even those most positive on Apple must admit it probably has taken some iPad sales away. The same can probably be said about Microsoft's (NASDAQ:MSFT) Surface. A phone from Amazon won't make iPhone sales drop by 30%, but even if a million iPhone sales are lost a year, it makes Apple's growth story harder to achieve. This goes back to the law of large numbers item I brought up earlier.
My post-split Apple price target information:
I promised a post-split update on my price target table for Apple, so I will do that here. At the same time, I think it's a good time to start looking forward to fiscal 2015, as Apple has less than 1/3 of its current fiscal year remaining. Most recently, I had a $95 post-split target on Apple, and if you include a roughly 5% premium for Dow inclusion, that would put you around $100.
But for now, I'm going to discontinue my fiscal 2014 target, and I want to focus on my 2015 target. So in the table below, I've applied the split to earnings and what my target would be. I'll discuss what this all means after the table.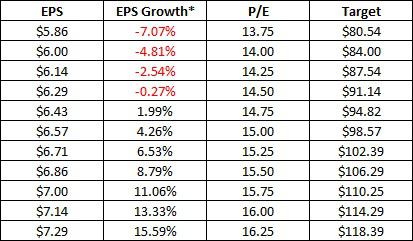 *EPS growth based on current estimate of $44.12 for current fiscal year. This number will change until we get final fiscal 2014 results. The EPS numbers above were derived by taking a $41 to $51 EPS range and dividing by 7.
Right now, analysts are looking for $47.96 in earnings per share for fiscal 2015, and that was the pre-split number. Dividing that by 7 gives you about $6.85 in earnings, so you could see my target based on that above. If you assume roughly 5% for Dow inclusion, my Apple target would be basically $111, which would have been $777 before the split. This is by the time Apple reports fiscal 2015 results in October 2015. I will constantly adjust this target as estimates and the situation changes, but this far out, I think $111 is rather fair if Apple makes it to the Dow.
So here is where I need to provide some level of caution. I've seen way too many comments, whether in my Apple articles or elsewhere where people think Apple is going to $120, $130, or even $150 in the next year. I think these people are being a bit unrealistic given the current Apple picture, and these people need to calm down.
Remember, the 52-week low for this stock, split-adjusted, is a little over $55. We're now nearly $40 above that. Apple has already made a tremendous move, thanks to optimism over the buyback, iPhone 6, and other items. There's been a lot priced into this stock already, so expecting Apple to rise another 50 points in the next year is a little crazy. Remember, Apple has already used more than half of the buyback, and that was at much lower prices. We don't know how much has been used in this quarter so far, but what if it is like $10 billion or $15 billion? If Apple is down to like $30 billion or $35 billion on the buyback, at these higher prices, the buyback is not as tremendous a positive as it once was. $45 billion at $525 is one thing, but $35 billion at $650 (adjusted) is a lot different.
Additionally, what if Carl Icahn decides to sell shares at some point? We saw Icahn take profits on Netflix (NASDAQ:NFLX), and that hurt Netflix shares for a time. I could easily see Apple losing a couple of points if Icahn sold a chunk or all of his shares. If Apple gets over $100, Icahn could easily decide to sell, and that's another pressure on shares. I still believe Apple has upside, but those that think another 50 or so points are coming in the next year need to calm down. Apple has had a tremendously rally, and so have the markets. One correction and Apple could be back at $85. Keep things in perspective.
Final thoughts:
Apple has a bright future ahead, but let's not get too crazy with this stock. There are some negative pressures here, especially on the margin front if Apple can't get higher prices for its new phone(s). Additionally, the buyback becomes less effective at higher share prices, and income potential for dividend investors is down. Plus, what happens if Apple doesn't make the Dow, or if Carl Icahn decides to sell? Amazon could also impact Apple, albeit on a smaller scale, with its new line of products and services. With Apple racing to new highs, along with the crowd that always demands perfection, investors need to have some level of restraint. I do think this stock goes higher in the long run. But with markets due for a pullback, investors should not expect outrageous returns over the next year. A large run has already been made, as you can see in the chart below.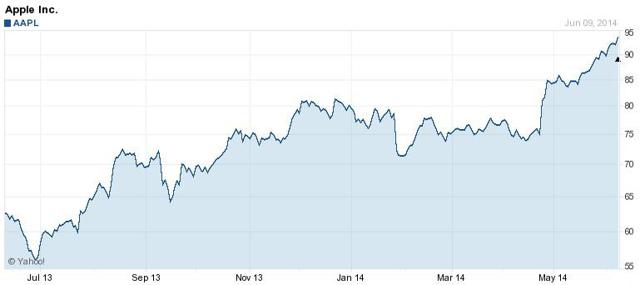 (Source: Yahoo Finance)
Disclosure: I have no positions in any stocks mentioned, and no plans to initiate any positions within the next 72 hours. I wrote this article myself, and it expresses my own opinions. I am not receiving compensation for it (other than from Seeking Alpha). I have no business relationship with any company whose stock is mentioned in this article.
Additional disclosure: Investors are always reminded that before making any investment, you should do your own proper due diligence on any name directly or indirectly mentioned in this article. Investors should also consider seeking advice from a broker or financial adviser before making any investment decisions. Any material in this article should be considered general information, and not relied on as a formal investment recommendation.