Revett Mining Company, Inc. (NYSEMKT:RVM) shares used to trade for about $6, but the drop in silver and a suspension of production at the "Troy" silver mine in late 2012 has caused the stock to decline to bargain levels. Due to the production issues at Revett Mining and the currently depressed price of silver, this stock appears to be a classic "buy low" opportunity. This has created a near perfect buying opportunity whereby potential downside risks are seemingly low, and the stock is now poised for major upside due to its very cheap valuation. This stock has multiple upside catalysts, the biggest of which in the long-term appears to be the Rock Creek project. Furthermore, the company plans to resume limited production later this year at the Troy project and that will be a game-changer for revenues and profits. While this stock is still cheap and being overlooked by many investors, it is an ideal time to buy before production resumes and before investors once again seriously consider the major potential this stock has, due to the Rock Creek project which is one of the largest undeveloped silver projects in North America. Let's take a closer look at this company and the upside catalysts that could soon take this stock significantly higher.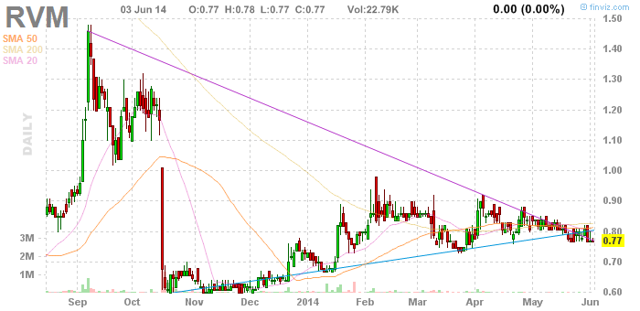 As the chart above shows, after a sharp pullback last October, this stock has bottomed out and has been slowly but surely rising. The stock is trading near support levels now which is shown by the light blue uptrend line on the chart. With the stock showing signs of having bottomed out, it might continue to rise and even "breakout" to a higher level as progress continues towards restarting production at the Troy project. It's worth noting that this stock nearly doubled in value very quickly when it rose from about 80 cents per share in September, to around $1.50 per share in October. This shows how quickly these shares could move on some good news, or in a technical breakout, either of which could occur soon.
Both The Troy And Rock Creek Projects Are Located In The USA Which Removes Geopolitical Risks: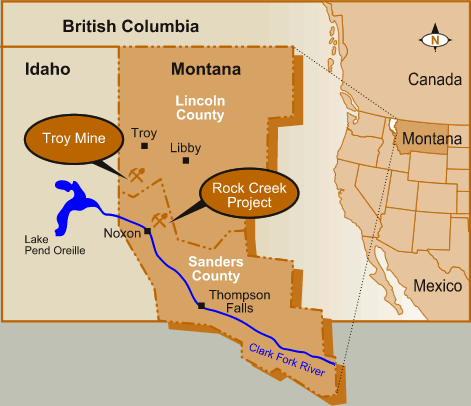 Source: Revett Mining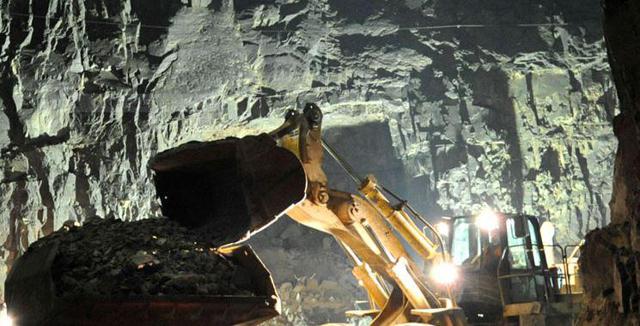 Source: Revett Mining ~ "Troy Mine"
The Troy Project Should Re-Start Production In A Few Months:
First of all, this company has a strong balance sheet with about $9 million in cash and very little debt. This financial strength is extremely important since the company has limited revenues until production resumes. This also reduces risks for shareholders. Many small gold and silver mining companies have significant debt levels and very little cash. Since this is not the case with Revett Mining, it is well-positioned to get through the next few months and once again become a producer of precious metals. The stock market tends to look forward at least a few months and because of this I expect the stock to start moving higher as we get closer to production resuming in Q4. Another factor that significantly reduces potential downside risk is the recent confirmation from Revett Mining that the plans to resume production at the Troy mine by Q4, remain on schedule and within budget. The annual production rate for the Troy project is estimated at 1 million ounces of silver and 8 million pounds of copper. Based on silver prices of just over $18 per ounce and copper at just over $3 per pound, this should generate about $43 million in annual revenues for Revett Mining. This is very significant for a company that has a market capitalization of just around $30 million.
The Rock Creek Project Could Turn This Stock Into A "Multi-Bagger":
The potential of the Rock Creek project is huge: This project is estimated to potentially have about 300 million ounces of silver and over 2 billion pounds of copper. At about $20 per ounce and with 300 million ounces, the silver is worth roughly $6 billion. With copper trading at around $3.17 per pound, this deposit could be worth well over $6 billion. Based on these values, the total value could be worth over $12 billion at current prices, and possibly much more if silver and copper prices rise. Based on these numbers, and with just around 40 million shares outstanding, these metal deposits could be equivalent to more than $30 per share in value at today's prices and possibly much more in the future. For example, if silver rises back to $30 per ounce, and copper once again trades for $4 to $5 per pound, the potential value is significantly higher.
The Rock Creek project has taken years of planning and permitting but it is moving forward and getting closer to being a potentially approved project. A "green light" from the governmental agencies involved would be a very major upside catalyst for this stock. There could be positive news on the permitting process for Rock Creek later this year. A recent conference call transcript by Seeking Alpha details the update given by the CEO of Revett Mining, which states:
"We've come so far on the Rock Creek project. We've been through the litigation cycle, for most part of it, we certainly have come out. There's certainly is no fatal flaw or nothing to tell us that Rock Creek cannot be permitted, cannot be operated at-operated within all the rules and regulations, and operated as a project that we're all going to be very, very proud of. We do it at Troy, we know we can do it at Rock Creek. But we also want a complete and comprehensive document, and so we hope that in the coming months, the draft SEIS will be circulated amongst the cooperating agencies and culminate in an SEIS for public comment sometime later this year.

Now this timeline is not ours, but we know it's approaching completion. We know the agencies are working diligently and putting their best foot forward and we're part of that process."
This Stock Is Clearly Undervalued And The "Smart Money" Is Investing In Revett Mining:
As an example of how undervalued this stock is, just take a look at the book value which is $2.08 per share. Another huge factor which the market seems to be overlooking is that some very "smart money" has invested in this company. Silver Wheaton Corp. (SLW) is a significant shareholder with a nearly 14% stake in Revett Mining. Silver Wheaton is one of the world's largest silver producers and it has around $666 million in annual revenues and a market capitalization of about $7.34 billion. It appears that Silver Wheaton sees the investment potential in Revett Mining shares and the possibilities that the Rock Creek project holds. It would not be surprising if Silver Wheaton or another company were to make a takeover offer for Revett Mining. At just around 80 cents per share, the potential for a takeover and the fact that a leading silver producer has bought this stock does not appear to be priced in. Trafigura is a major commodities firm which owns over 10% of Revett Mining. This is yet another example of "smart money" buying into this undervalued stock.
Management Is Also Invested In Revett Mining And Recently Bought More Shares:
Another big positive is the fact that Revett Mining has an experienced and conservative management team with "skin in the game". On May 14, 2014, the CEO John G. Shanahan purchased 10,000 shares at 82 cents each. On March 26, he purchased 128,205 shares for 78 cents each, in a transaction worth about $100,000. On March 26, 2014, Timothy R. Lindsey, (a director) bought 320,512 shares at 78 cents in a transaction worth about $250,000. These recent insider purchases add to the already significant stakes that both of these insiders own.
The Price Of Silver Should Rebound With The Global Economy, But It Remains A Potential Downside Risk:
The biggest potential downside risk might be the price of silver. As most investors know, the price of gold and silver have been weak lately. Many investors bought gold as a hedge against some type of disaster or another financial crisis. But, since geopolitical issues have not caused a crisis of confidence and because the U.S. Government and Federal Reserve have (for now at least) successfully re-inflated real estate prices and the stock market with low rates and easy money, many investors have given up on gold. This has pushed the price of silver down as well. However, the pullback in silver might already be overdone because it is an industrial metal more than a hedge against a crisis. At some point, silver should see a strong bounce even if gold remains weak because if the global economy strengthens further, industrial demand for silver will jump. A recent Bloomberg article details why silver prices could be heading higher later this year thanks to growing demand from a number of industries, including electronics. The article also points out that silver prices could benefit from a drop in production. The article states:
"This year demand from the electronics industry will drive growth, Krebs said. Industrial uses for silver, including electronics and photography, represent about half of total demand. The silver market will receive a boost as larger mines such as BHP Billiton Ltd.'s Cannington mine in Australia, the world's largest silver mine, end production, Krebs said. Scrap availability is also falling, he said."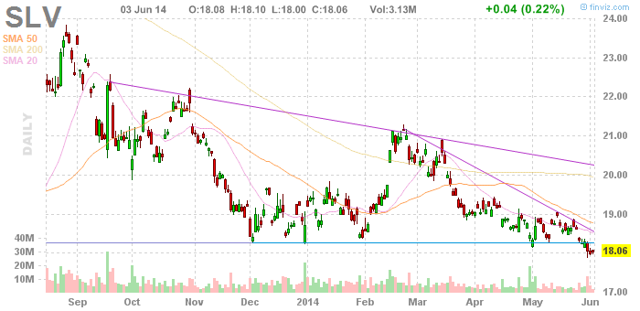 As the chart above shows, silver has been scraping the bottom of the recent trading range which is right around $18 per ounce. Silver has tested this level a number of times and it has not breached it in a major way. This could mean that it has already hit rock bottom, and a strong rebound could be in store.
In Conclusion:
Revett Mining shares appear to have bottomed out, and silver may have as well. There is a lot of very good news that could be coming from this company in the short-term about the Troy project and in the long-term about the Rock Creek project. The potential downside risks appear limited since the company has a strong balance sheet, and because production (and therefore significant revenues) is likely to resume in the coming months. This stock appears deeply undervalued when you consider that book value is just over $2 per share and that it could be a takeover target. Again, with a market capitalization of just about $30 million, and with potentially many billions of dollars worth of silver and copper in the ground at Rock Creek, this stock could be a multi-bagger in the long run. This could be a classic "buy low" opportunity considering how cheap the stock is as it has been hit by the production suspension and depressed silver prices. If the global economy continues to strengthen, industrial demand for silver could cause prices to jump and create even more upside for this stock. If the Troy project starts producing later this year, and if silver prices rise and if the Rock Creek project gets permitted, the current buying opportunity could turn out to be the deal of a lifetime for some investors. For these reasons, I view Revett Mining shares as a call option on the price of silver, and it could return huge gains.
Here are some key points for Revett Mining:
Current share price: about 82 cents per share
The 52 week range is 60 cents to $1.48 per share
Annual dividend: n/a
Data is sourced from Yahoo Finance. No guarantees or representations
are made. Hawkinvest is not a registered investment advisor and does
not provide specific investment advice. The information is for
informational purposes only. You should always consult a financial
advisor.
Disclosure: I am long RVM. I wrote this article myself, and it expresses my own opinions. I am not receiving compensation for it (other than from Seeking Alpha). I have no business relationship with any company whose stock is mentioned in this article.