One of the big questions in REIT-dom today is the impact of rising interest rates. As we discovered just over a year ago, the mere whisper of accelerated rates has continued to spark a sell-off in the darling asset class backed by durable dividends. While some investors ran for the hills, others (like me) saw the attraction and opted to begin building a foundation of powerful income producers.
Recognizing a wider margin of safety in the Triple Net REITs, I decided to over-weight my portfolio with the most durable REITs such as Realty Income (NYSE:O), STAG Industrial (NYSE:STAG), Chambers Street Group (NYSE:CSG), American Realty Capital Properties (ARCP), and Lexington Realty (NYSE:LXP). As I'm sure you are aware, all of these REITs have produced above average returns (since January 1st) except for ARCP.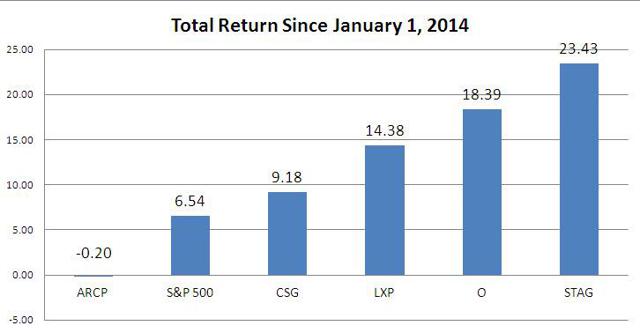 I decided to add one more stand-alone REIT, W.P. Carey (NYSE:WPC) in April (around 60 days ago) and I have been pleased with the recent performance - shares up over 8%.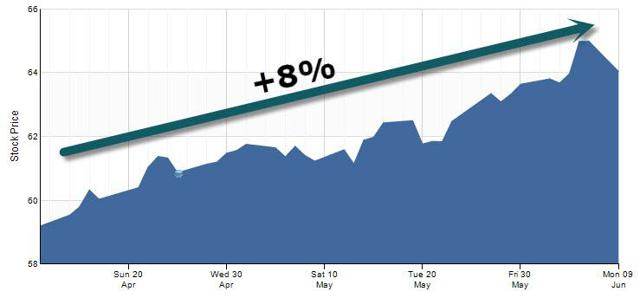 With 6 Triple Net REITs in my portfolio, it seems that I may have too much sector diversification; however, I like the fact that I have 6 horses in the race and given the fact that my entry points were opportunistically-derived, I feel good. With the exception of ARCP, I'm still bullish and even though rising rates are still on the horizon, I'm comfortable with the seeds that I planted over the last few months.
It's clear that the alpha for my Triple Net weighting strategy is compounding and that means that I'm not looking to cash out my chips this year, or even next. My simple strategy is not based on immediate gratification but long-term asset allocation rooted by predictable earnings.
Is Monmouth Ready To Run?
Over the last few years I have written numerous articles on Monmouth Real Estate (NYSE:MNR) but I have never taken an ownership stake. In my last article (January 28th) I hinted to the prospect that I was seriously considering a position but I "chickened out" based upon the following observation:
Monmouth has not increased its annual dividend since 2005. Since 2006 Monmouth has paid an annual dividend of $.60 per share.
Eight years is a long time to wait and although I admire Monmouth's dedication to maintaining a dividend, the lack of an increase always cooled my flame. After all, the Great Recession officially ended in June 2009 (spanned over 18 months) and most REITs have begun to ramp back up payouts, including the 6 horses that I now have in the stable.
Monmouth is not a young horse. The New Jersey-based REIT is in fact one of the oldest REITs in the US and IPO'd on December 15, 1968. As a small cap REIT with a market cap of under $600 million, Monmouth has not seen the attention of the bigger stallions like ARCP and O. Here is a snapshot of Monmouth's market cap as compared with the direct Industrial peer group:

As a result of the broader industry diversification within the transformational Triple Net sector, I have also included Monmouth in a broader peer group classified as the Triple Net REITs:

The purpose for this more recent update on Monmouth is to determine whether or not this REIT could be a candidate in my investment stable. Recently Monmouth has announced a number of sizeable transactions that lead me to believe that a dividend increase may be forthcoming. It's obvious. Monmouth is not sleeping in the stable and this horse has been fueling its platform with plenty of feed and seed. The question remains: Is Monmouth Ready to Run?
Plenty of Calories To Win the Race
At the end of the latest quarter, Monmouth's capital structure consisted of approximately $334 million in debt of which $287 million was property-level fixed rate mortgage debt and $47 million were loans payable. 87% of total debt is fixed rate, with a weighted average interest rate of 5.3%, compared to 5.8% in the prior-year period. Monmouth also has $111 million in perpetual preferred equity at quarter end. Combined with an equity market capitalization of $451 million, Monmouth's total market capitalization was approximately $896 million at quarter-end.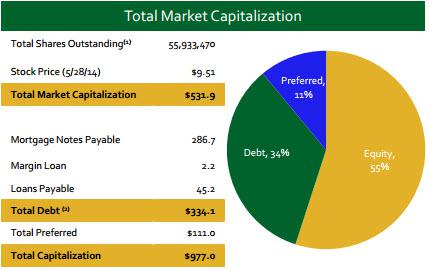 From a credit standpoint, Monmouth maintains a conservatively capitalized platform with a net debt to total market capitalization at 34%, net debt plus preferred equity to total market capitalization at 48%, fixed charge coverage at 2.1x and net debt to EBITDA at 6.2x.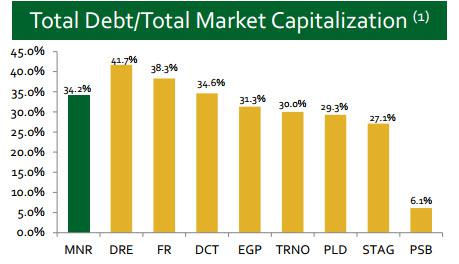 From a liquidity standpoint, Monmouth ended the latest quarter with $10.7 million in cash and cash equivalents. Monmouth has $20 million in additional liquidity currently available from its recently expanded credit facility, as well as an additional $20 million available from the new accordion feature. The company has limited debt maturities through 2018 and the weighted average mortgage maturity is 8.1 years.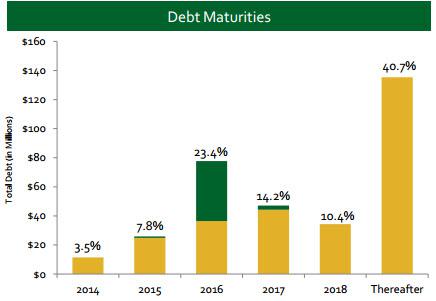 Monmouth also has $53.5 million in marketable REIT securities at quarter end, representing 6.7% of un-depreciated assets. At the end of the quarter, Monmouth had $3.2 million in unrealized gains on securities investments, in addition to $425,000 in gains realized during the second quarter and the $576,000 in gains realized thus far in fiscal 2014.
No Mule Here. Monmouth is a Stalwart Horse
So Monmouth has plenty of spark but is this horse ready to run?
The simple answer is Yes. As evidenced by the last quarter's substantial 1.1 million square feet in new acquisitions at an aggregate cost of $73.9 million. Fiscal year to date, Monmouth has acquired 5 industrial buildings representing 12% growth in GLA.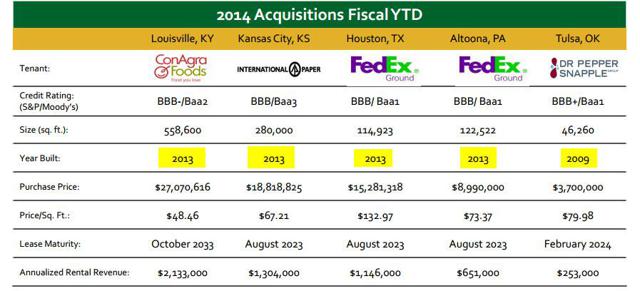 The company expects a significant amount of deal closings throughout the remainder of fiscal 2014 and into 2015. As of the latest quarter Monmouth's portfolio contains 10.7 million square feet, consisting of 81 properties in 27 states. Most of the properties are located on the East Coast where the newly expanded Panama Canal is expected to increase capacity for many Monmouth tenants.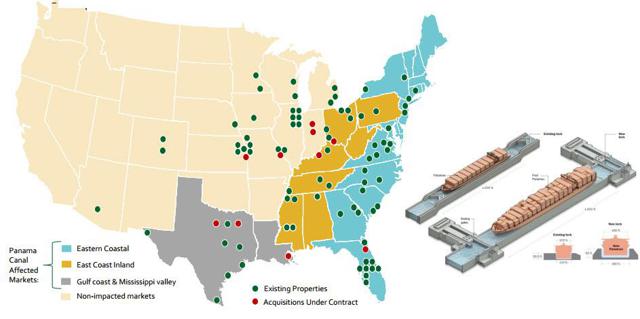 Monmouth's weighted average lease maturity is 6.8 years with in-place leases going out as far as 2034. As a result of the rapid growth in e-commerce, Monmouth is currently working with its largest tenant, FedEx, on the expansion of six facilities, totaling approximately 231,000 additional square feet. Here is a snapshot of the significant growth of the portfolio:

Total GLA has increased by 101% since 2010:

One of the most attractive attributes for this rugged horse is the predictability of the income stream. As mentioned, Monmouth hasn't increased its dividend in a few years, but it has NEVER cut either. When you take a look at the portfolio metrics, it's plain to see that the high quality income is backed by high-quality leases.
Over 87% of Monmouth's rentals income is investment grade and the tenant roster includes names such as Anheusrer Busch, Caterpillar, Coca-Cola, Dr Pepper Snapple Group, FedEx, International Paper, Sherwin Williams, and ConAgra. FedEx is Monmouth's largest tenant and the REIT started investing in the logistics giant in 1992.

As a result of the predictable revenue sources, Monmouth has maintained a predictable occupancy record. As of the latest quarter, Monmouth's occupancy was 95.4%.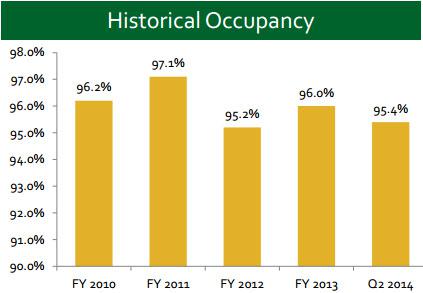 This occupancy is among the highest in the Industrial sector:

Monmouth also has one of the youngest portfolios in the peer group:
Because of the newer building profile, Monmouth also enjoys limited near-term lease rollovers.

Monmouth weighted average rent per square foot is $5.55 and the company achieved 93% tenant retention in 2013.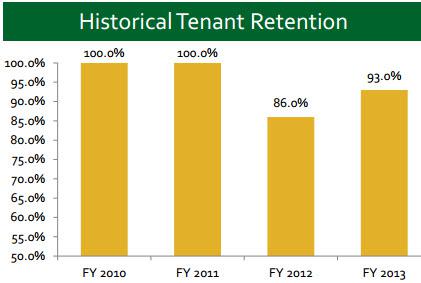 Here's a snapshot of the Top Tenants based on Annual Rent: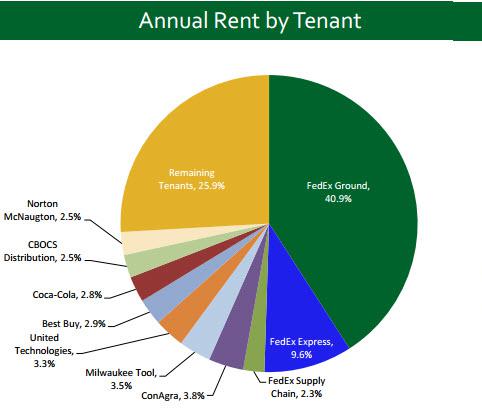 Can Monmouth Move the Needle?
As I said, I have been reluctant to invest in Monmouth because I wanted to see dividend growth. As I examined the more recent earnings trends, it's plain to see that Monmouth is in the race. Over the past 2 quarters Monmouth has increased revenue by 19% (Rental and reimbursement revenues for the latest quarter were $16.3 million, compared to $13.3 million or an increase of 23% from the previous year).

Adjusted funds from operations (or AFFO) which excludes securities gains or losses, was $0.14 per diluted share for the recent quarter, compared to $0.11 per diluted share a year ago. The 27% year-over-year growth in AFFO per share is attributable to the positive impact of accretive acquisition and expansion activities. Monmouth's AFFO per share increased by 26% over the most recent 2 quarters:

Given Monmouth's large acquisition pipeline fiscal 2015 this horse should again see double digit AFFO per share growth. In addition, Monmouth's has steadily decreased its Payout Ratio such that the company should see excess cash flow in 2015 so its dividend is better covered. That means Monmouth will soon be in a position to grow its dividend.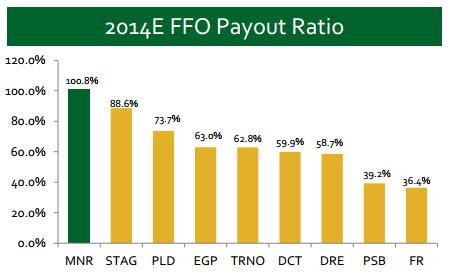 Monmouth currently trades at $9.53 per share with a P/FFO multiple of 16.2x. Given the velocity of transactions, I expect to see Monmouth's valuation improve, especially when assets reach $1 billion and the company gains broader recognition in the market.

Given the broader peer group alternatives, Monmouth is still trading at the lower-end of the valuation range:

Regardless of the dividend growth, Monmouth remains attractive based on a current yield of 6.30%.

Monmouth's annual dividend payout is $.60 and as illustrated below, the company should be able to fund its full dividend in 2015 (without the help of its securities profits). As acquisition velocity continues, Monmouth's recurring income (AFFO) should provide more clarity as to whether a dividend increase is coming.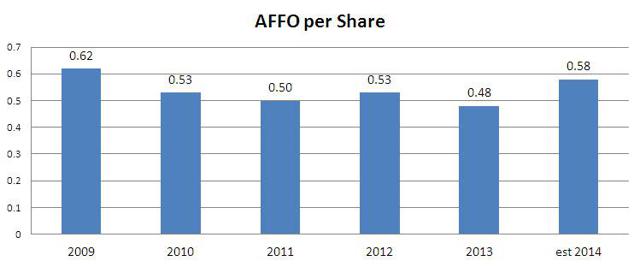 This coupled with a low multiple, high yield and investment grade income streams, make Monmouth a very attractive investment. Maybe, just maybe, Monmouth may be ready to run! My target BUY price is $9.50 and I'm considering a position based upon the narrative referenced in this article.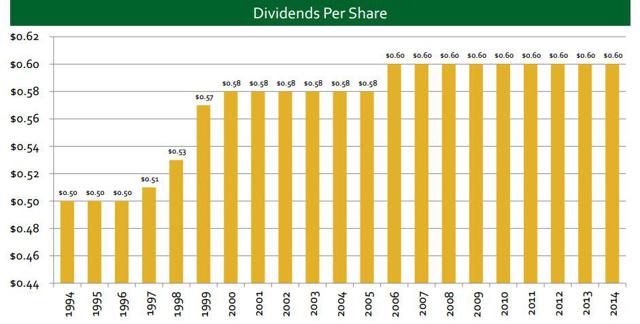 I like predictability, especially when it comes to dividends; however, I'm also attracted to REITs that have a growing dividends. Boring horses never win races and I have never been a fan of watching the grass grow. Monmouth is beginning to look like a work horse and this REIT pick could be an interesting contender to watch (or own). (Note: The FAST Graph below utilizes FFO instead of AFFO).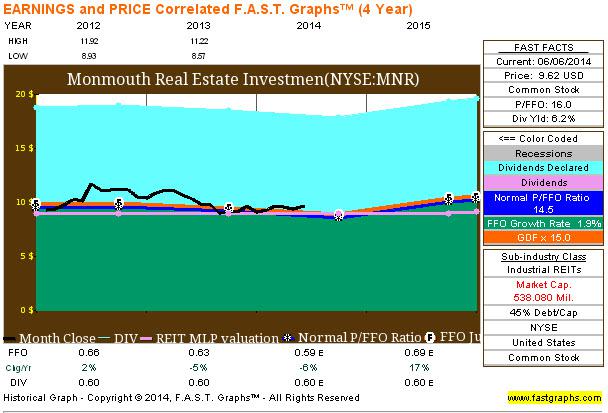 For more information on my REIT portfolio, check out my monthly REIT newsletter HERE.
Sources: SNL Financial, FAST Graph, and recent (June 2014) Monmouth Investor Presentation.
Peer Group: (NYSE:DRE), (NYSE:DCT), (NYSE:EGP), (NYSE:PLD), (NYSE:TRNO), (NYSE:PSB), (NYSE:FR), and (NYSE:NNN).
Disclaimer: This article is intended to provide information to interested parties. As I have no knowledge of individual investor circumstances, goals, and/or portfolio concentration or diversification, readers are expected to complete their own due diligence before purchasing any stocks mentioned or recommended.
Disclosure: I am long O, DLR, VTR, HTA, STAG, UMH, CSG, GPT, ARCP, ROIC, HCN, OHI, LXP, KIM, WPC, DOC. I wrote this article myself, and it expresses my own opinions. I am not receiving compensation for it (other than from Seeking Alpha). I have no business relationship with any company whose stock is mentioned in this article.