Patience is not simply the ability to wait - it's how we behave while we're waiting.
This is exactly the case with Sino Agro Food. On April 11, 2012 I bought some stocks of this US China small cap company at $0.80. Unfortunately, the stock price declined, and is still trading at bankruptcy levels. Many positive developments have occurred during my wait and see approach, but also many hurdles still have to be taken.
The current price of $0.42 is a good moment to act and average down. Take action while you are waiting that's my approach with this stock.
In this article, I will present a view into the company.
Investment Thesis
Sino Agro Food (OTCQB:SIAF) is heavily undervalued, and could easily become a four bagger if sentiment starts to improve.
The Company
The company is a vertically integrated, "farm to table" primary producer, processor, and marketer of natural, sustainable food products in China, mostly protein food, beef and seafood. Its niche market is selling the highest profit margin foods (healthy, sustainable, "organic" foods) to the burgeoning middle class in China.
The company is structured as a public holding company of private equity, for which it provides financial and operational oversight, creating synergy and vertical integration between joint venture ("JV") subsidiaries, to add value. Sino Agro Food plans to spin out properly matured subsidiaries to Asian exchanges to unlock value.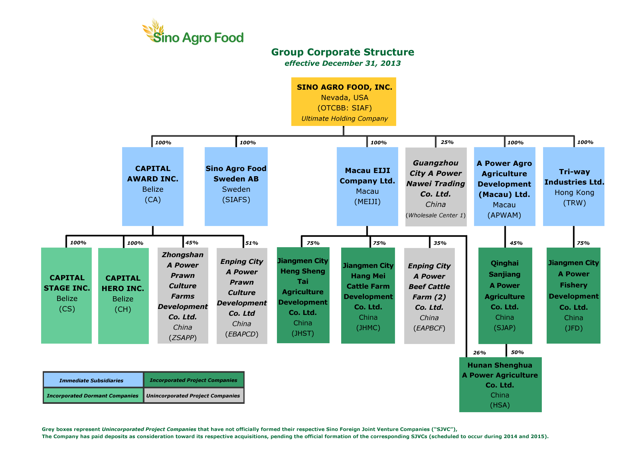 As the chart above illustrates Sino Agro Food holds equity stakes in a portfolio of companies.
Background
Sino Agro Food, Inc. became a fully reporting company in 2011, with the effectiveness of its Form 10, which led directly to its current Over the Counter Bulletin Board (OTC BB) quotation.

The company's business in China started in 2006 as an engineering consulting company that specializes in building agriculture and aquaculture farms and the development of related business operations. The company's expertise and know-how in specific agriculture and aquaculture technologies, includes:
Power Re-circulating Aquaculture System and related technology
Cattle growing, feeding and caring technology
Design engineering, construction, project management, business operations and information systems for indoor and outdoor fishery and cattle farms and hydroponic vegetable farms, adaptable to various climate and growing conditions
Producing organic, green and natural agriculture produce
Ongoing operational management, including sales and marketing, for aquaculture fishery farms, cattle farms, produce farms, and products. The company performed all these business functions successfully in Australia and Malaysia since 1998.
In the past few years, Sino Agro Food has matured into a company dedicated to the agriculture and aquaculture industry. Revenues are mainly derived from seafood and beef, along with fertilizer, livestock, the HU Plantation, and services in engineering consulting.
The company divides their activities into five standalone business divisions or units:
Fishery,
Cattle,
Organic Fertilizer,
HU Plantation and
Marketing and Trading.
SIAF's Entities in China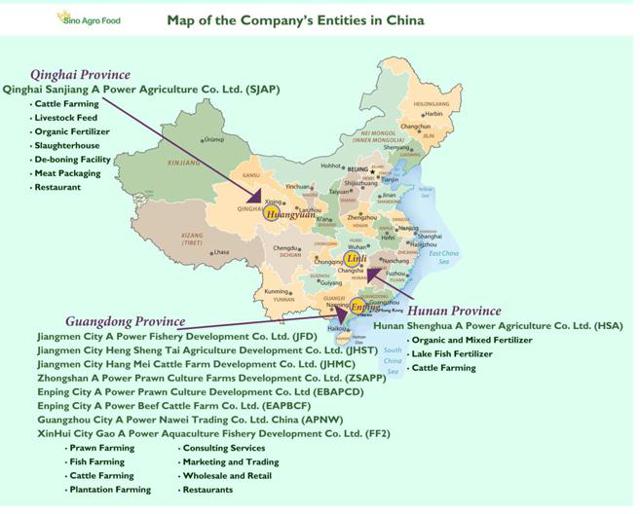 Value and Growth
Sino Agro Food is a value and growth play alike. With a P/E of .75 and P/B of .25 investors could think "it's too good to be true" story, but in fact it's true. SIAF is a remarkable growth story, having extraordinary CAGRs in the last 5 years (see below), which can very reasonably be expected to continue. The only problem is that investors do not understand the company.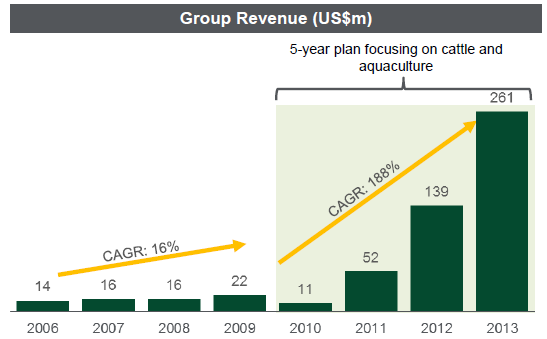 The company is now embarking on two major projects expected to produce very significant incremental revenue. These are the abattoir and related facilities at its SJAP subsidiary, and a "Mega Farm," at the new Zhongshan Prawn Project.
The former will start operations approaching phase I capacity in June. The company has said that this facility will more than triple revenues from this subsidiary in its first full year of operation to between $150M to $200M, with growth from there. Still, in its first rolling year, processing and sale of packaged, value added, and the company's new marbled beef ($150m-$200m) may approximate "only" 35% of its ultimate capacity of 50,000 head of cattle and 150,000 head of lamb.
The Prawn project is a phase dependent 20 year construction of indoor prawn facilities, which ultimately targets 300,000 metric tons of production per year. With ancillary industries, it projects employing 80,000 people. The phase I target in two years is production of 10,000 MT/year of prawns per year ($150M). The company's wholly owned subsidiary, Capital Award will license the technology, and provide all consulting and management services in the build out, which projects revenues of $150M for phase I, and approximately $2.5B for the life of the project. Capital Award will also market the end product, which will include hydroponically grown vegetables (projected to reach 20,000 MT/year).
Confidence
Investors such as myself ask themselves the following question:
Why is the share price so low?
Personally, I think there are several reasons:
Guilt by association, given the stigma against US Chinese companies.
Equity dilution (not uncommon for a company at this stage of growth and with these prospects.
Listed on the OTCBB.
What makes SIAF different from other Chinese US-listed small caps?
Multi-national Board of Directors: US, Swedish, Malaysian, Chinese
CEO is Chinese, also an Australian citizen, with business background in Australia
JV structure creates "partner oversight"
Large shareholder base in Sweden (institutional investors Nordnet Pension and Avanza Pension)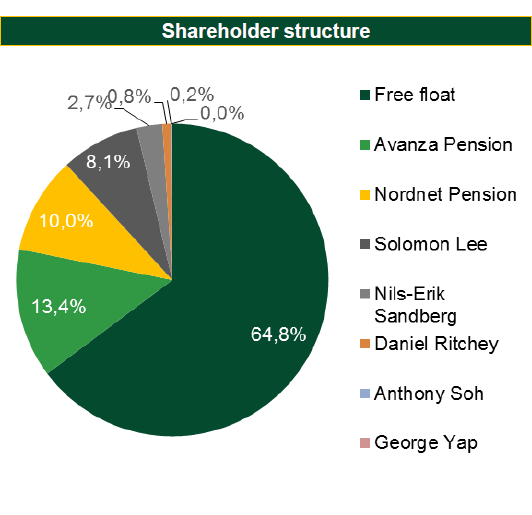 Unusual transparency, with annual investor tours of hard, physical assets in several China provinces
Catalysts
New CFO
The appointment of a new CFO Olivia Lai on May 21, didn't initiate a positive stock price reaction. Despite Ms. Lai has over 20 years accounting and finance experience and held senior positions in many multi-national and public accounting and consulting firms; including Cisco Systems, Ernst & Young and PricewaterhouseCoopers.
NASDAQ listing
Sino Agro Food is still satisfying all the Nasdaq requirements, because Nasdaq wants to be sure that it also works for them.
The company will cross-list to Nasdaq OMX in Sweden which is a fast track, semi-automatic process.
Cash Flow Positive
The company projects being net cash flow positive early 2015, or sooner with a bond; Sino Agro is currently cash flow positive operationally (net of cap ex).
Alternative Financing
The company is in the process of and progressing on financing alternatives, which would
retain conservative debt to equity ratios
add business flexibility, and leverage to returns provide discretionary cash from operations, eliminating the need for equity issuance, and very possibly funding a share buy back (company has commented on a buy back being advisable)
Final Note
There is a very reasonable case that this company could be a ten-bagger. Afterall, even at a PPS of 10x, the shares would trade at a P/E of 7 over ttm earnings (probably 5x forward) and p/b of 2, this for a company that targets being listed on Nasdaq and OMX Nasdaq Sweden and acquiring debt financing, all this year.
Meanwhile growing at 65%. (based on history, as guidance not yet provided; however, can easily be extrapolated), and with sustainable high growth thereafter. The company also targets a net asset base of approximately $500M in the earlier part of 2015.
As a "kicker," the company has often stated its intention to spin out its SJAP subsidiary to an Asian exchange, sometime in late 2015. Deloitte and Touche has performed due diligence, and estimated that on the Hong Kong exchange, that IPO could fetch a p/e of 16 +/-, which with TTM revenues of $200M and net margin of 25% would result in a full valuation of $800M. Currently, SIAF owns 45% of SJAP.
A compelling opportunity for those who believe in this agriculture company. Management is aware of the disconnect between the stock price and the value of the business. I am sure the next months we will hear positive news that will be beneficial for the stock price.
Risks
For all the risks associated with this specific investment I suggest investors to read the 10-K filing. Some of the risks I will describe below.
Some Industry Risks
SIAF's agricultural assets are situated in three provinces in China: crop disease, severe weather, natural disasters and other conditions affecting the environment, including the effects of climate change, could result in substantial losses and weaken the company's financial condition.
Prices of agricultural products are subject to supply and demand, a market condition which is not predictable. Because SIAF's agricultural products are commodities, the company is not able to predict with certainty what price they will receive for their products. In addition, general public perceptions regarding the quality, safety or health risks associated with particular food products could reduce demand and prices for some of the company's products.
SIAF's products are sold primarily through distributors, who are responsible for ensuring that the products have the appropriate licenses to be sold to farmers in their provinces, and are stored at the correct temperature to ensure freshness and meet shelf life terms. If distributors do not obtain the appropriate licenses, their sales of our products in those provinces may be illegal, and SIAF may be subject to government sanctions, including confiscation of illegal revenues and a fine of between two and three times the amount of such illegal revenues.
Some Company Risks
The concentration of SIAF's current major customers could adversely affect their business if they were to lose one or more of them. Four major customers for the Marketing and Trading unit accounted for 51.49% of consolidated revenues during the fiscal year ended December 31, 2013. Two of those customers accounted for 33.97% of consolidated revenues, approximately evenly split.
SIAF's reporting obligations as a public company places a significant strain on the company's management, operational and financial resources and systems. If SIAF fails to maintain an effective system of internal control over financial reporting, the company could experience delays or inaccuracies in reporting financial information, or non-compliance with SEC reporting and other regulatory requirements. This could result in a loss of public confidence in the company and cause the stock price to drop even further.
OTC Security Risk
An investment in an OTC (over-the-counter) security is speculative and involves a high degree of risk. Many OTC securities are relatively illiquid, or "thinly traded," which tends to increase price volatility. Illiquid securities are often difficult for investors to buy or sell without dramatically affecting the quoted price. In some cases, the liquidation of a position in an OTC security may not be possible within a reasonable period of time. The average volume in Sino Agro Food for the last 3 months was 615,800.
Sources:
SIAF Company Presentation, Q2 2014 - First presented in Charlotte, North Carolina on April 28, 2014.
Earnings Call Transcript, Q1 2014.
Disclosure: I am long SIAF. I wrote this article myself, and it expresses my own opinions. I am not receiving compensation for it (other than from Seeking Alpha). I have no business relationship with any company whose stock is mentioned in this article.
Editor's Note: This article covers one or more stocks trading at less than $1 per share and/or with less than a $100 million market cap. Please be aware of the risks associated with these stocks.