This article is intended to be an overview of the flaws I see in Tilly's business model and management's decision to maintain an unsustainable new store growth rate before first optimizing its existing fleet of stores and providing better, cost efficient shipping and logistics for its stores located outside of the West Coast and online consumers not reached by its brick and mortar stores.
A Niche Market
Tilly's (NYSE:TLYS) is an action sports specialty retailer of West Coast inspired apparel, footwear and accessories. It operates in a niche market place, targeting teens that enjoy such action sports as surfing and skateboarding, in areas with above average incomes.
Fashion retailing as a whole already poses a difficult business model. You must understand your target customers ever changing trends; have the right product mixes, price points, promotional activities, locations and shopping experiences in order to both generate traffic in stores and turn that traffic into profitable sales. And while targeting a niche market may increase your likelihood of success, in the current market place for teen fashion, times have been tough and very competitive. Fashion leaders like Forever 21 and H&M have been providing its teen customers with desirable, affordable clothing lines at a price point that Tilly's does not match.
Unlike some of its competitors that sell more of their own proprietary brands, Tilly's instead offers a wide range of products from merchandise partners such as Adidas, LRG, and Volcom. In 2013, sales from these brands represented 72% of revenues, while its four proprietary brands (RSQ, Full Tilt, Blue Crown and Infamous) only represented the remainder 28%. To put that in perspective Pac Sun's (NASDAQ:PSUN) 2013 revenues were derived from 51% third party merchandise, 49% proprietary brands. And while these proprietary brands are used to expand Tilly's price point to try to match that of competitors, a vast majority of its sales are from third party merchandise that can be purchased through many different channels outside those of Tilly's and require maintaining a higher price point per the merchandisers requests. Most of what drives Tilly's traffic is not brand loyalty to its proprietary brands, but instead traffic is driven by its third party brands.
Tilly's has also deployed the large store format in an attempt to become the one stop fashion destination retailer for teens. This strategy is beneficial during times of strong consumer spending, giving Tilly's the ability to offer a wider range of products than some of its competitors like Pac Sun that traditionally operate smaller stores in regional malls or Zumiez's (NASDAQ:ZUMZ) that dedicates more floor space to skateboards, skateboard accessories and hardware.
However, this also leaves Tilly's model more vulnerable to any slowdown in consumer spending because of the greater overhead required to operate these larger stores when compared to other smaller store formats.
Tilly's stores also generally carry a base lease of 10 years giving them little flexibly for any necessary store closures. And with Tilly's recent rapid growth of store openings it may help to note that 50% of its new stores were built within the last 5 years so many still have longer noncancellable lease obligations left (Figure 1).

Source: TLYS 2013 10k Filing
However, when looking at a competitor, for example PSUN, many of its leases contain cancellation or kick-out clauses in its favor that relieve PSUN of any future obligations under a lease if a specified criterion is met. These cancellation provisions typically apply if annual store sales levels do not exceed a certain amount or mall occupancy targets are not achieved within a certain period of time of the lease. This is what has helped Pac Sun to easily ramp up its store closures as it cuts back and adapts to this new consumer environment.
It may also be important to note that because Tilly's mostly offers third party merchandise this allows them even less flexibility than fashion leaders like H&M that during times of slower consumer spending can engage in heavier discounting of its proprietary brands to continue driving traffic and revenues. This also leaves Tilly's less adaptive in allowing them to identify changes in trends using its own consumer information and adapt to those new trends quickly.
Management's Unrealistic Goal
Management has made the statement that it believes there is a significant opportunity to expand its store base to 500 stores. I believe this to be an unrealistic goal used only as a good punch line to excite investors. Let's take a look at some of the numbers.
In the last four years Tilly's has added 84 stores for an increase of about 15% yoy with plans to add at least another 18 during its 2014 fiscal year (6 of which have already opened). This increase in new stores has been TLYS main driver of revenue growth yoy.
However, this model of "build them and they will come" cannot sustain because of the cannibalization of sales that is occurring as both Tilly's and competitors saturate a niche market with similar third party products that can be purchased through many different channels. Since 2011, average net sales per store have fallen by roughly 6.1% yoy. In fiscal 2013, comparable store sales change (comps) decreased by 1.9% and experienced rapid slowing in fiscal 2012 compared to 2010 and 2011 (Figure 2).

Source: TLYS 2013 10k Filing
To better understand how this trend will negatively affect Tilly's store profitability let's graph the possible effects of the cannibalization of in-store sales as Tilly's continues to expand its store base. In the graph below I will use an estimated 5% yoy decrease in in-store sales, an estimated 12.5% yoy new store growth rate and break even sales of $1.9 million (Figure 3). Take note Tilly's has actually been experiencing a 6.1% yoy decrease in in-store sales and a new store growth rate of 15% yoy.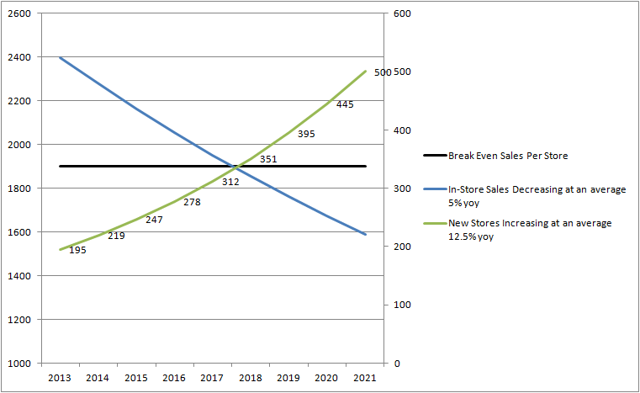 As you can see if this trend is to persist, Tilly's stores will be unable to sustain profitability by the end of fiscal 2017 with a store base of around 325. At a store base of around 500, in-store sales will be far below profitability.
TLYS has also been having trouble converting store space to greater average sales per square foot as it builds more and more stores. While the average store size has remained roughly the same (roughly double that of competitors), since 2011, average sales per square foot have fallen by roughly 6.3% yoy (Figure 2). To put this in perspective let's take a look at one of Tilly's competitors Zumiez (Figure 4).

Source: ZUMZ 2013 10k Filing
ZUMZ was able to grow its new stores at a rate of 10% yoy for that last four years all while maintaining a 2.5% yoy growth in net sales per square foot and a 2.55% yoy growth rate in net sales per store. Comps for ZUMZ have also held strong during this changing teen retail environment. I believe ZUMZ success was derived from a strategy of slower, steady, strategic store openings while focusing on consumer experience, its omni-channel approach and increasing comps.
It's also important to note that since 2011, TLYS capital expenditures have increased by nearly 45% yoy (Figure 2). So essentially management is spending more money and receiving a lower return on investment per store square foot.
Now even though the teen fashion market has seen tough times, consumer spending between TLYS, ZUMZ, and PSUN has steadily risen by roughly 7.5% yoy for the last 4 years (Figure 5).
| | | | | | |
| --- | --- | --- | --- | --- | --- |
| Net Revenues (in millions) | 2013 | 2012 | 2011 | 2010 | 2009 |
| PSUN | $798 | $785 | $759 | $756 | $811 |
| TLYS | 496 | 467 | 401 | 333 | 283 |
| ZUMZ | 724 | 669 | 556 | 479 | 407 |
| Total | $2,018 | $1,921 | $1,716 | $1,568 | $1,501 |
Source: PSUN, TLYS & ZUMZ 10k Filings
These revenue increases are due in part to the rapid increase in online consumer spending. In e-commerce ZUMZ has experienced a 70% yoy increase in online sales and TLYS a roughly 36% yoy increase. For PSUN, e-commerce represented roughly 6-7% of net sales for the last 3 years. In 2013, $202.68 million ($55.86m, $57.77m and $89.05m) or 10% of net sales for the three derived from e-commerce and this trend doesn't appear to be going away. Tilly's most recently stated that it believes its target customer regularly shops online and plans to grow its e-commerce business to significantly greater than 15% of total net sales. That's ~50% higher from where TLYS is today.
Despite the continued increase in revenues, interestingly enough the number of total stores has remained roughly the same (Figure 6). This has been in large part due to PSUN closing over 300 stores over the last 5 years while ZUMZ and TLYS filled the void.
| | | | | | |
| --- | --- | --- | --- | --- | --- |
| # of New Stores | 2013 | 2012 | 2011 | 2010 | 2009 |
| PSUN | 618 | 644 | 733 | 852 | 894 |
| TLYS | 195 | 168 | 140 | 125 | 111 |
| ZUMZ | 551 | 498 | 444 | 400 | 377 |
| Total | 1364 | 1310 | 1317 | 1377 | 1382 |
Source: PSUN, TLYS & ZUMZ 10k Filings
However, with the addition of new stores this year, we will be reaching those same levels when PSUN had to start closing doors. I believe what we have been experiencing over the last 5 years was a redistribution of a relatively small market amongst these three teen fashion retailers as in-store consumer traffic and spending for PSUN was unable to support its 950 stores.
Unfortunately for Tilly's, Zumiez was better positioned to take advantage of the void created by PSUN and while they both were able to experience tremendous growth over that period of time, Zumiez was able to grab a much larger market share than TLYS. But for either company this tremendous new store growth cannot be sustained forever.
Placement of its New E-Commerce Facility
Tilly's has acknowledged that it sees significant growth potential in its e-commerce business and has been improving both its online and mobile shopping experience which has been working. What I do not understand is the placement of the new e-commerce facility.
Nearly 50% of Tilly's stores are located outside of California and Arizona, both of which could be serviced through its 126,000 square foot distribution facility already located in Irvine, California as well as make use of other facilities in Irvine currently being underutilized (Figure 7).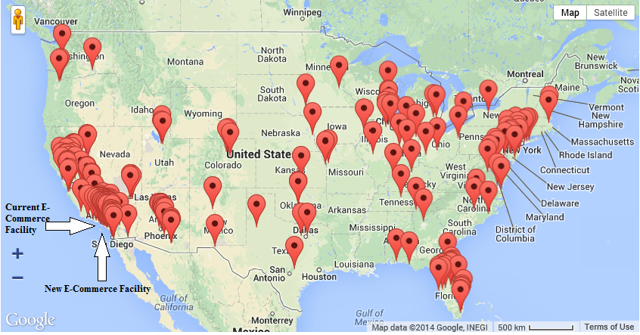 Source: Google Maps
The other 50% of Tilly's stores are roughly located in the Midwest, Florida and many East Coast states. So why build an e-commerce facility just a few miles down the road from your current facility and thousands of miles from nearly 50% of your existing and growing consumer base?
While I'm no logistics and shipping expert, a new facility more centrally located could serve as both an e-commerce distribution center and fulfillment center for store fronts not located in California and Arizona. This would reduce costs associated with shipping products to both online consumers and stores located around the country. There are also other not so noticeable benefits. This would give sales associates the ability to provide a better in-store shopping experience by being able to more easily pull products, sizes, colors, etc that may not be located at that specific site and have it quickly and cheaply shipped to either that store location or directly to the consumers home. Essentially this allows for a more efficient, cost effective integration of inventory amongst its stores, which from what I understand Tilly's is having a difficult time managing.
Investment Strategy
Tilly's currently trades around $8.50 which is down ~50% from its high of $17.35 and down ~45% from its IPO price of $15.50. At these levels some investors might be hot to pull the trigger on TLYS as a safe bet for recovery. However, even after reading this article, if you are still adamant about investing in TLYS, understand the risks associated with it. Buy in incrementally, averaging out your cost bases because I believe we have not seen the bottom for this stock. This will be a longer term investment (more than 12 months). Anticipate another poor quarterly report from Tilly's and a stock price in the low 8's, mid to high 7's as we continue to see tough times in the teen retail environment as this heavy promotional activity persists and comps continue to decrease.
Summary
We are entering a different teen retail environment. There is heavy promotional activity amongst teen retailers that is showing no signs of going away. Consumers are also becoming more tech savvy and engaging in more online shopping. Tilly's model of "build them and they will come" strategy will not sustain in this environment. Tilly's has already said they will build 18 new stores this year (6 of which already opened) which represent a 9% increase from last year's store count. I believe for TLYS to maintain profitability it will have to slow this growth even further before the cannibalization of in-store sales reaches unsustainable levels. Tilly's focus should instead be on generating higher sales growth through improving its store level productivity (e.g. comps, sales per square foot, consumer shopping experience), move to using more proprietary brands that build brand loyalty and most importantly continue to grow and focus on its e-commerce business.
Disclosure: I have no positions in any stocks mentioned, and no plans to initiate any positions within the next 72 hours. I wrote this article myself, and it expresses my own opinions. I am not receiving compensation for it (other than from Seeking Alpha). I have no business relationship with any company whose stock is mentioned in this article.