Sometimes you are hot, sometime you are neutral, and sometimes much of what you are just turns cold.
Last Friday, Rovi (NASDAQ:ROVI) broke support intraday and looked in trouble. I've been selling off many of our other positions the past week and a half as they have been running non stop, but this was a name that had not had that big run so it had been still a large position. Then Friday, due to the chart I cut the position down by 55% to reduce risk. It rallied later in the day but only right back to the support/resistance level.
This morning the company announced a golden goose in the current market - a partnership with Apple (NASDAQ:AAPL) which sent the stock into the stratosphere. (Click to enlarge)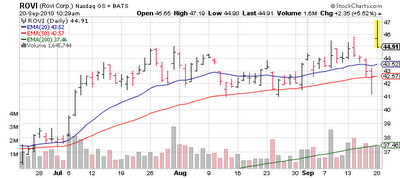 It has since given back much of that gain in the ensuing hour but it still smarts... you can't do much about these out of the blue announcements either bearish or bullish, but sometimes the market just has your number.
Rovi shares are trading sharply higher this morning after the company

disclosed

in an SEC filing that it has signed "a multi-year agreement" to license intellectual property to Apple. Terms of license "are confidential," Rovi said.
Known as Macrovision Solutions until last year, Rovi provides software for discovery and management of entertainment content, as well as copy-protection technology for media companies.
Frankly this announcement does not say much, but in 1999 all you had to do was announce your company was starting a website and the stock would surge 14% immediately. Now you need to announce your company is (a) part of the cloud or (b) partnering with Apple and you get the same surge.
Disclosure: Long Rovi in fund; no personal position