As I'm sure you already know, Apple (NASDAQ:AAPL) recently purchased Beats Electronics for $3 billion. I am going to analyze the two parts of the business: the hardware part and the music streaming part. Based on this analysis I am going to provide evidence as to why the acquisition was a mistake. Finally, I am going to show why the success of iTunes radio makes this acquisition even more of a mistake. I am not recommending selling Apple based on this research because this is a small part of Apple's business. Just because an article doesn't make a recommendation on a company's stock doesn't mean that it doesn't have value as informational source. HTC actually tried a similar integration with Beats by having its technology used in its phones and bundling the HTC One with Beats earbuds. This occurred three years ago and the venture was not successful.
According to Beats, the company had a 64% market share in the premium headphones market, in the fall of 2013. The premium headphones category consists of ones that cost over $100. This is a huge success considering the fact that the company released its flagship studio headphones in 2008. The Beats headphones are largely considered a fashion statement with the colorful design, iconic "b" logo, and the high price tag. The problem with fashion is that it is highly volatile. What is in style now may quickly go out of style. Teens are a huge demographic that Beats sells to and if you look at the past performance of some teen apparel companies such as Aeropostale (NYSE:ARO), the industry is extremely difficult to compete in.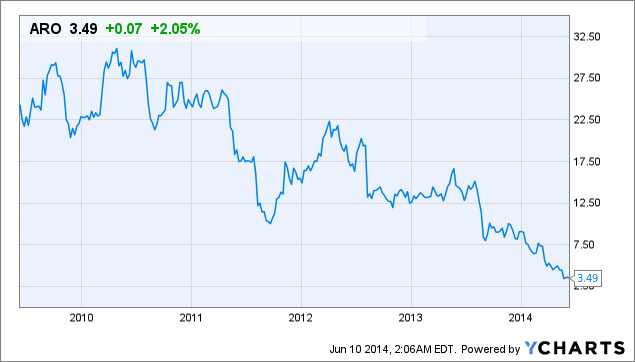 The key to making sure that Beats headphones stay in style would be for it to provide a great product, just as Apple does with its iPhones. This is unfortunately not the case. Any consumer that actually takes the time to read reviews of the product that he/she is spending hundreds of dollars on can find out that the headphones provide a heavy amount of bass and do not provide accurate sound for music with mid and high frequencies in it. I went on the head-fi website, which is a blog for audiophiles, and took a weighted average of all of the beats product ratings (87) and found that they have an average rating of 3 stars out of 5. This clearly is not an endorsement of the headphones. Audiophiles much prefer headphones from companies such as Sennheiser, Shure, and Audio Technica. These products such as the Audio-Technica ATH-M50S have great reviews (4.5 stars) and sell for much lower prices ($104.94).
An argument against this thesis that low quality headphone reviews from more serious listeners will hurt the company would be that "even with the low quality sound Beats have still managed to have great sales". My response to this statement would be the consumer reviews that show that the headphones are breaking. Sure it is possible that consumers will buy expensive headphones without researching what the experts are saying about the product, but if a consumer spends $200+ on a pair of headphones and they break, he/she will definitely not buy another pair. If you quickly peruse Amazon's website, you can read countless reviews of customers having the headphones break at the top. Here is an excerpt from one review: "Well, so my headphones DID break! I was taking them off normally in a gentle manner when I heard snap, and I instantly knew what happened. " The consumer went on to praise the Beats customer service for its application of the warranty. Even though the customer service may have been impressive to this consumer, it is still a problem that they broke in the first place. Excessive warranty claims can hurt a company's profitability. This quote came from a reviewer that gave the headphones a 5 star rating, so it is clear that the reviewer wasn't simply a rogue consumer that hated the company for an irrational reason.
In his letter to the company employees Tim Cook states, "They [Beats products] are among the most popular and highest-rated third-party products sold today in Apple's retail and online stores". While the sales may be great, if you look at the company's website, the most reviewed Beats product (51 reviews), the urBeats In-Ear Headphones have 2.5 stars. Many consumers complained about the high price point ($99.95) and low quality.
Now I will discuss the Beats Music part of Beats Electronics. Beats Music was actually only launched this January, so it is a relatively new business. The mobile app certainly had some bugs, but most of them have been fixed. The company has 111,000 subscribers as of May, which is a far cry from the 10 million that Spotify has. The 111,000 number is probably closer to about 300,000 because some of the subscriptions are family plans. The family plans are exclusive to AT&T (NYSE:T) and are $14.99 per month for up to 5 people making it a reasonable price to pay. The problem with this is that it is exclusive to AT&T. Beats Music is different from most music streaming services in that it doesn't offer a free service. It gives you a free 14 day trial and then charges you $9.99 per month which is a similar price to most services. The biggest problem for Beats Music is the high level of competition that is in the industry. Newcomers to the business are in an extremely tough position because consumers have already customized their playlists on their service. Using my personal music listening habits as an example, I have used Pandora (NYSE:P) for over 3 years and have crafted stations with thousands of likes and dislikes. I invested deeply in Pandora and it would be difficult for me to switch. The service is "sticky". The big selling point that Beats Radio advertises is the fact that it has personally curated playlists instead of radio stations that are created from algorithms choosing each song based on its characteristics. While this may be great for some consumers, this is already being done by Slacker Radio. The "My Vibe" feature allows users to play music for a specific task such as studying. 84% of the time users are listening to Slacker Radio they are listening to curated playlists. This further emphasizes the point that it is very difficult to innovate and differentiate in a crowded field of services. Another element where Beats Music can be viewed as lacking is its social capabilities. Because of the low number of subscribers that the company has, there are going to be fewer of your friends on the service to follow. In my personal experience, there were only 4 of my friends on Facebook using Beats Music, while I had 166 friends on Spotify. Following your friends' tastes in music is a key tactic in music discovery.
Much is made of the 800 million accounts that iTunes has, but this doesn't guarantee the success of the acquisition because of the fact that Google (GOOG,GOOGL) and Amazon (NASDAQ:AMZN) are also in the music business. Amazon has 20 million Prime members so the company also has access to a large number of accounts. Currently Google has a music offering for $9.99 and is in talks to buy Songza for $15 million. This will pose a huge threat to Beats Music. Amazon is also focusing on launching its own streaming business this summer. Amazon will deliver the service to Prime members, making the subscription even more of a good deal for consumers. The music will have a limited selection at first, but this will surely grow just as its movies collection has grown.
Apple already has created its own free music streaming service that has an 8% market share in the industry in America.
This chart shows the results of a survey on music streaming adoption in the United States.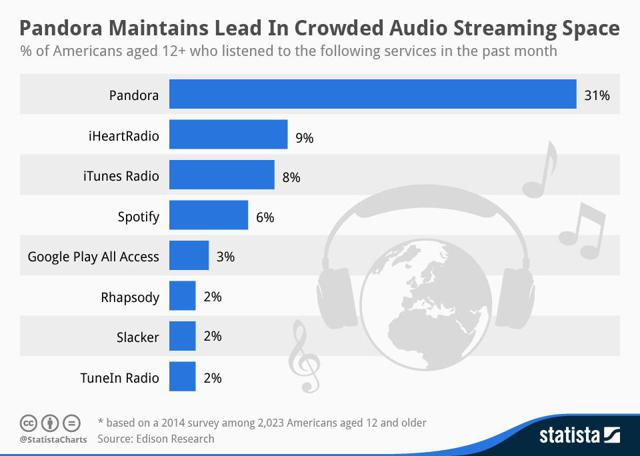 The question was whether the person listened to each music service in the last month, so this may not perfectly represent the time spent on each platform. A listener could have listened to iTunes Radio for a much lower amount of time than another service. Consumers can jump freely to iTunes Radio because it is free, this increases growth. Subscribers to Spotify may occasionally listen to iTunes Radio, but they would never listen to Beats Radio and pay for two subscriptions. It is important to differentiate within the category because Spotify, Slacker, Beats Music, Google Play All Access, and Rdio are on-demand collections of music, while the others such as Pandora, iHeartRadio, Songza, and iTunes Radio have radio style stations. The picture can be muddled by the fact that Spotify also has stations that users can create and Google may begin to offer streaming stations if it acquires a company that curates music. If you have ever listened to iTunes radio, you can clearly tell that stations don't play as relevant music as apps such as Pandora. This is why Apple bought Beats. Looking at the low subscriber count that Beats Music has and the price that Apple paid, it certainly looks as though the money could have been spent elsewhere. If Google actually buys Songza for anywhere near the $15 million price point they would be getting music curation and 5.5 million listeners. That certainly sounds like a better deal.
There are two main reasons why my analysis may be wrong. The first reason is wearable technology. Apple has been rumored to be making a smartwatch product that could possibly tell users about their health, such as their heart rate and other metrics. If the Beats acquisition helps them create a new category of wearable devices then I am completely wrong about the deal. Wearable technology needs the coolness factor that Beats provides because of the stigma that surrounds wearables, specifically the Google Glass product. The second reason why I may be wrong is if Tim Cook was right when he claimed that "Beats Music is the first subscription service done right". If the service can differentiate itself in the competitive landscape that is music streaming then the acquisition will be a success. If the value proposition that is given to consumers of AT&T with family plans is extended to other wireless service providers, the radio service can grow its subscriber base at a faster rate than it otherwise would.
Disclosure: I have no positions in any stocks mentioned, and no plans to initiate any positions within the next 72 hours. I wrote this article myself, and it expresses my own opinions. I am not receiving compensation for it (other than from Seeking Alpha). I have no business relationship with any company whose stock is mentioned in this article.