By Julian Murdoch
Cotton is one of those commodities that's easy to overlook, despite the fact that most of us live in the fabric. But with low US inventories and rising prices, the commodity's now starting to turn some heads. Cotton closed at 98.22 cents a pound on Friday — that's up 34 percent from July's recent bottom of 73 cents a pound. How much higher can it go?
Tight Inventories + Panic Buying = Short-Term Bump
The top three producers of cotton are China, India and the US; these countries produce two-thirds of the world's cotton. Of the three, the US is the largest exporter (which is a bit of a rarity in the commodities universe).
The USDA's current cotton supply/demand estimates predict 2010/2011 production will be up, compared with the two previous years. That might seem to suggest a supply glut, which would be bearish for prices. But comparatively, the past two years were low-production years for cotton.
In addition, estimates put market off-take (or domestic mill use and exports) to be up as well. In fact, the USDA expects consumption to outpace production so much that ending stocks are expected to drop to 2.7 million bales, the lowest number in the past 14 years.
What's more, exports appear more robust than usual this year. Of the 15.5 million bales estimated to be exported from the US, 7.3 million bales have already been contracted—just one month into the market year.
Globally, the picture looks similar. Although 2010/2011 consumption, at 120.5 million bales, was lower than last year's, it's still expected to outpace production (estimated at 116.95 million bales). That could result in global ending stocks dropping to 45.4 million bales. To put that in perspective, 45.4 million bales equals 38 percent of current annual demand.
So naturally, these predictions have made textile producers a little edgy. Roger Varner, president of Varner Bros. in Cleveland, Miss., told Bloomberg last week:
The higher the price goes, the more afraid the mills get and the more buying that they're doing. Nobody has any excess. Nobody has inventories. Everybody's waiting for the new crop to get some supplies and be able to continue to operate.
That fear has carried over to the futures market: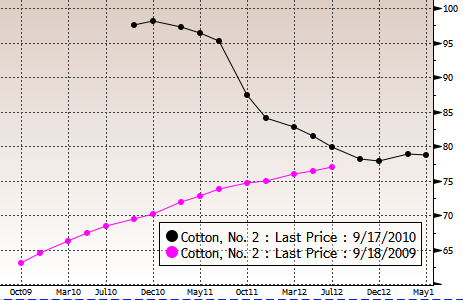 As you can see, today's cotton is a lot more expensive than traders thought it would be a year ago. But whereas 2009 cotton buyers saw a slow and steady increase in demand, today we see steep backwardation. That's a sign that the markets believe current prices are an anomaly, which will correct itself by this time next year, as suggested by the implied year-forward price of 87 cents.
Water Causes Global Pressures
So what's behind these high prices? The answer is water, as heavy rains have inundated China, the world's top producer and consumer of cotton, which have led analysts to expect a decrease in the production and quality of this year's crop.
Meanwhile, in India, rain has delayed the cotton harvest by several weeks, which has helped support short-term prices. Once harvest begins, however, we could see that support vanish: Analysts forecast India will produce almost 32 million bales of cotton for 2010, as opposed to the 29 million bales harvested in drought-ridden 2009. Of course, if the monsoon rains continue too long, yield and quality in India also will suffer.
Even in Pakistan — another major cotton producer — flooding along the Indus River has devastated the cotton crop, and the Pakistan Cotton Ginners Association now estimates the loss to be in the range of $875.5 million.
Some governments have already begun to take steps to preserve their domestic supplies, making noise over decreasing exports or easing import taxes. In fact, Brazil removed a 10 percent tariff on cotton imports until May 2011.
Investing in Cotton
Assuming you don't have your back 40 planted in cotton and have no plans to do so, what are your options to invest in cotton?
The pure cotton play comes in the form of the iPath Dow Jones-AIG Cotton Total Return Sub-Index ETN (NYSEARCA:BAL). A slightly wider take on the softs exists, one that includes sugar and coffee as well: the iPath Dow Jones-UBS Softs Total Return Sub-Index ETN (NYSEARCA:JJS). Both ETFs have had good years, but BAL is of course doing slightly better, given cotton's recent price rise: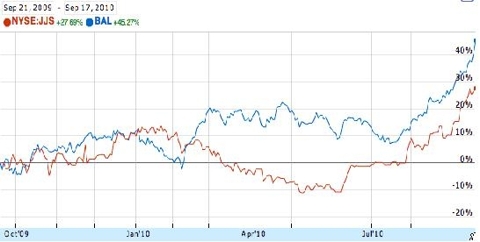 (Click to enlarge)
As of Aug. 31, 2010, 31 percent of JJS was in cotton. Coffee was much more heavily represented, at 42.26 percent and sugar made up the remaining 26.74 percent. While coffee's nice year-to-date run (it's up 34 percent) has helped support prices, sugar has had its ups and downs and is currently down almost 10 percent this year.
Disclosure: No positions