The last time I wrote about Amazon.com (NASDAQ:AMZN) I stated, "Due to the bearish technicals, no dividend, and expensive valuation based on earnings growth estimates, I will not be pulling the trigger here right now." After writing the article, I never added to my position and the stock has increased 13.59% versus the 4.03% gain the S&P 500 (NYSEARCA:SPY) posted. I thought it would go lower just a bit from where it was at and then jump based on the technicals provided in that review, but it just went up immediately. Amazon serves consumers through its retail websites and focuses on selection, price and convenience.
On April 24, 2014 the company reported first-quarter earnings of $0.23 per share, which missed the consensus of analysts' estimates by a penny. In the past year, the company's stock is up 18.29% and is losing to the S&P 500, which has gained 18.73% in the same time frame. Since initiating my position back on 04Dec13, I'm down 11.39%. With all this in mind, I'd like to take a moment to evaluate the stock on a fundamental, financial and technical basis to see if right now is a good time to purchase more of the stock for my growth portfolio.
Fundamentals
The company currently trades at a trailing 12-month P/E ratio of 511.72, which is expensively priced, but I mainly like to purchase a stock based on where the company is going in the future as opposed to what it has done in the past. On that note, the 1-year forward-looking P/E ratio of 100.37 is currently expensively priced for the future in terms of the right here, right now. The 1-year PEG ratio (2.56), which measures the ratio of the price you're currently paying for the trailing 12-month earnings on the stock while dividing it by the earnings growth of the company for a specified amount of time (I like looking at a 1-year horizon), tells me that the company is expensively priced based on a 1-year EPS growth rate of 199.91%. The company has great near-term future earnings growth potential with a projected EPS growth rate of 199.91%. In addition, the company has great long-term future earnings growth potential with a projected EPS growth rate of 46.56%. Below is a comparison table of the fundamental metrics for the company for when I wrote all articles pertaining to the company.
| | | | | | | | |
| --- | --- | --- | --- | --- | --- | --- | --- |
| Article Date | Price ($) | TTM P/E | Fwd P/E | EPS Next YR ($) | Target Price ($) | PEG | EPS next YR (%) |
| 12Dec13 | 382.19 | 1364.96 | 142.87 | 2.67 | 40 | 5.14 | 265.44 |
| 07Apr14 | 317.76 | 547.86 | 74.89 | 4.24 | 63 | 4.58 | 119.73 |
| 08May14 | 288.32 | 450.5 | 85.89 | 3.36 | 50 | 2.31 | 195.25 |
| 10Jun14 | 327.5 | 511.72 | 100.37 | 3.26 | 49 | 2.56 | 199.91 |
Financials
On a financial basis, the things I look for are the dividend payouts, return on assets, equity and investment. The company does not sport a dividend to speak of but is sporting return on assets, equity and investment values of 0.9%, 3.2% and 3.9%, respectively, which are all respectable values. In this particular instance, I will forgo the dividend aspect of the financials because the stock is in my growth portfolio, and in the growth portfolio a stock does not have to have a dividend. Below is a comparison table of the financial metrics for when I wrote all articles pertaining to the company.
| | | | | | |
| --- | --- | --- | --- | --- | --- |
| Article Date | Yield (%) | Payout TTM (%) | ROA (%) | ROE (%) | ROI (%) |
| 12Dec13 | 0 | 0 | 0.4 | 1.5 | 2.1 |
| 07Apr14 | 0 | 0 | 0.8 | 3.0 | 4.5 |
| 08May14 | 0 | 0 | 0.9 | 3.2 | 3.9 |
| 10Jun14 | 0 | 0 | 0.9 | 3.2 | 3.9 |
Technicals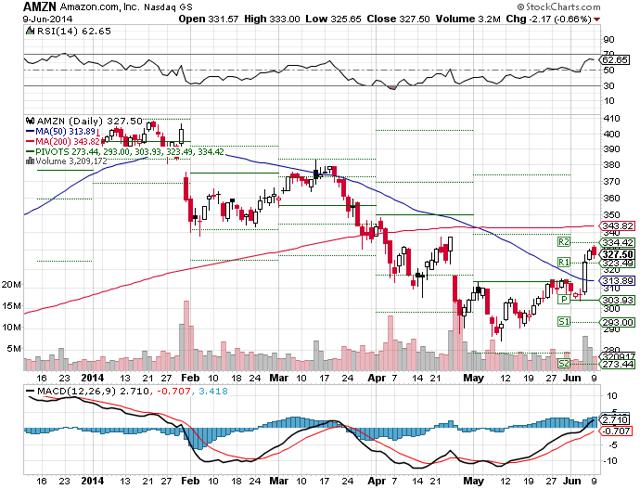 Looking first at the relative strength index chart [RSI] at the top, I see the stock near overbought territory with a current value of 62.65. I will look at the moving average convergence-divergence [MACD] chart next. I see that the black line is above the red line with the divergence bars increasing in height, indicating bullish momentum. As for the stock price itself ($327.5), I'm looking at $334.42 to act as resistance and $323.49 to act as support for a risk/reward ratio, which plays out to be -1.24% to 2.11%.
Recent News
The company announced that it will expand further in the online payments market. The service will allow its more than 240 million users to use credit card information at the company to pay for services like their phones, utilities, etc. Amazon will be making money by charging a transaction fee each time.
You may have heard recently that the company announced it will be holding a launch event on 18Jun14. The rumor mill is producing news that the company will showcase a line of smartphones, particularly a 3D display smartphone. I hate to be a bearer of bad news, but 3D phones have already been around. I don't believe the hardware itself will make any money for the company, but the way they'll be making money is by making it easier for users to purchase items directly from the website itself through its own device.
The company also reported that it will have Amazon Prime music streaming service launch in the June/July time frame. The service will provide access to songs which are at least six months old. The company has already hiked its price for the Prime service from $20 to $99 in the past couple of months and added a streaming deal with HBO since that time.
Conclusion
I should be kicking myself for not having picked up any stock the last time I reviewed it because I missed out on that 13% gain. The company continues to shell out money on products and services for the consumer and continues to grow revenues ridiculously, but earnings haven't been following. I think the company's model is great because revenue growth is certainly difficult to come by, whereas earnings growth can be made through share repurchases and cost cutting, which can all come at a later time. The company is trying to continue to grow revenues first. Fundamentally, the company is probably always going to be expensively priced based on next year's earnings estimate and on future earnings growth potential while sporting excellent near- and long-term earnings growth potential. Financially, it has no dividend to speak of and the financial metrics are decent. On a technical basis, the stock may experience some downward movement in the immediate future because I believe it's overbought. Due to the earnings estimates getting chopped down, no dividend, and expensive valuation based on earnings growth estimates, I will not be pulling the trigger here right now.
Disclaimer: This article is meant to serve as a journal for myself as to the rationale of why I bought/sold this stock when I look back on it in the future. These are only my personal opinions and you should do your own homework. Only you are responsible for what you trade and happy investing!
Disclosure: The author is long AMZN, SPY. The author wrote this article themselves, and it expresses their own opinions. The author is not receiving compensation for it (other than from Seeking Alpha). The author has no business relationship with any company whose stock is mentioned in this article.