Rick's Cabaret (NASDAQ:RICK) has been one of my favorite companies to follow for several years. Rarely do you find a company with such a rock solid business in the microcap space. However, Rick's management team has been extremely inconsistent. One minute the team is frequently buying wonderful businesses for 2-4x EBITDA. The next minute, management names one of its restaurant's after an established movie character; an action that was bound to end in legal action.
After surprising me with two solid capital allocation decisions in March, there have been some more positive events. In typical Rick's fashion, additional poor corporate governance and poor incentives offset these positive events.
The Positive: Q2 Earnings
One of the most evident improvements from Rick's over the past several quarters has been the investor relations messaging. CEO Eric Langan read a better script with a much more through explanation of performance and an in-depth look at the new privately held REIT. Langan came prepared to answer questions and did a wonderful job providing details on the ongoing business.
Speaking of the ongoing business, the Q2 earnings release was chock full of positive developments. Revenue grew 14.4% year-over-year to $32.9 million even though comps were weak at -1.1%. Excluding the Onyx Clubs, which have been relatively poor performers, same-store sales were up 3.8%. In addition to strong revenue growth, operating margins jumped 120 basis points to 22.7%. Free cash flow year-to-date is decent at roughly $3.4 million, though it is important to note that Rick's continues to invest heavily in expansion.
To me, operational performance is one of the least risky parts of Rick's Cabaret. Langan is a terrific operator, and the businesses themselves are relatively strong businesses structurally with strong barriers to entry (in many markets) and an Internet-proof product. Onyx clubs still are not performing that well, but in general; revenue and earnings should continue to be strong.
REIT Update
On top of strong Q2 earnings, Rick's management team finally provided an update on the logistics of the long-rumored privately held REIT. Admittedly, there's reason to be skeptical about this transaction. Prior to REIT hoopla, management consistently stated that owning the property was crucial to avoid getting handcuffed by the landlord. The clubs' locations often come with strict government-enforced covenants that keep them tied to a specific location. Real estate in the hands of other owners would imply higher rents as the landlord gains bargaining leverage.
However, management has maintained that it will have an ownership stake in the REIT's controlling entity. This REIT thus may not be able to capture maximal rental incomes, but it should provide Rick's Cabaret owners with tax-deductible rent expenses as well as an influx of cash. Langan described it well on the conference call, saying:
"So basically about a $40 million equity that we would like to basically cash out and bring that $40 million plus and $40 million to $50 million in cash into Rick's so that we can do expansions, pay off of high interest debt and look at our - and fund the stock buyback possibly."
Without even factoring in the possibility that the Rick's private REIT could pay for some capex and leasehold improvements, the transaction should provide the company with much greater financial flexibility.
Other Capital Allocation Matters
The board of directors authorized another $10 million in share repurchases. Considering the stock trades at less than 10x FY14 earnings, buybacks should be very value creative. The only issue I take with the buyback is that several deals are done with restricted stock and Directors are compensated with options, so a buyback will not be as accretive as it could be.
Additionally, the board is considering a dividend. I'm not crazy about this idea as long as there are great acquisition targets available, and the company remains saddled with high yielding debt. I'd much rather see the company engage in deleveraging transactions than provide a cash payout to shareholders-of which Langan would receive 15% of the cash.
In my view, deleveraging and eliminating a good amount of Rick's high yielding debt would create the most value for shareholders. Rick's has not been able to truly capitalize on the low interest rate environment thanks to its leveraged balance sheet and lower middle market credit status. I think a cleaner balance sheet will make the company more attractive to creditors. Plus, the cash savings from the interest reduction will help the company generate several hundreds of thousands of dollars in incremental cash flow depending on how much debt is reduced.
A Step Backward
Every time I take a look at Rick's, a new red flag seems to appear. A basic screening of the company would suggest incredibly high insider ownership. In reality, the "high" insider ownership is all CEO Eric Langan. At this point, he effectively controls 15% of the company.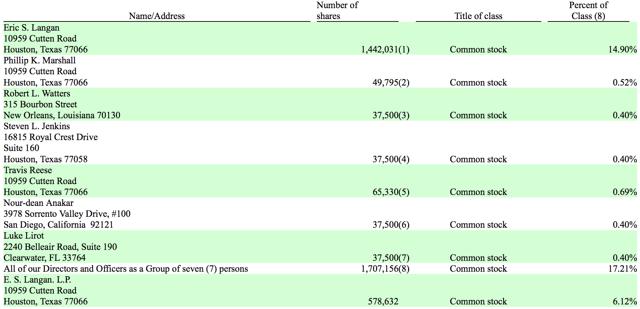 Source: 2013 Proxy
On the other hand, several other directors and insiders are dumping the stock. Year-to-date, insiders have sold 201,300 shares versus purchases of just 9,200 shares. Board members have repeatedly exercised option grants and sold immediately.
This is not appropriate corporate governance. Board members now have little incentive to act in the best interests of other shareholders, giving Langan nearly complete control over the company and its future. If the company embarks on an aggressive buyback that reduces shares outstanding by $10 million at an average price of $11, Langan will own (directly and beneficially) nearly 25% of the company. At this point, it becomes a risk for minority shareholders that Langan slowly uses the company's coffers to repurchase shares, increases his ownership percentage, and takes the company private for a song.
Final Thoughts
As much as I love the recent developments at the company, which are likely to include deleveraging, lower cash costs, and continued strong growth from new concepts and acquisitions, the true lack of corporate governance makes Rick's Cabaret an increasingly risky proposition. While I continue to believe shares have an intrinsic value closer to $15, I fear that the lack of incentives between the board and minority shareholders will eventually result in an underpriced buyout offer.
Disclosure: The author has no positions in any stocks mentioned, and no plans to initiate any positions within the next 72 hours. The author wrote this article themselves, and it expresses their own opinions. The author is not receiving compensation for it (other than from Seeking Alpha). The author has no business relationship with any company whose stock is mentioned in this article.