We have spent a lot of time discussing the M&A market in recent months, an area we predicted would see an uptick in attention at the end of 2013, due to our belief that we are seeing a change in executives' view on the economy. In the recent past, we have seen many management teams happily accept takeover offers that delivered a windfall for shareholders and for executives via exit pay packages. In that last few months, however, we have seen an increase in the number of companies declining takeover offers in order to either go it alone or choose whom they sell to, as was the case with Time Warner Cable (TWC).
This indicates to us that corporate executives are becoming more bullish on the economy, and believe that if they can hold on for a little longer, they can dramatically increase shareholder value as earnings increase and the market assigns higher multiples to their shares. If this is the case, then investors might be in for a continued bull market over the next 18-24 months.
Chart of the Day:
Below we have included a five-year chart of the volatility index to draw attention to the fact that we are at a five-year low on volatility, as measured by the underlying contracts within that index. This is interesting, and is one of the data points which has us looking over our shoulder for a possible correction.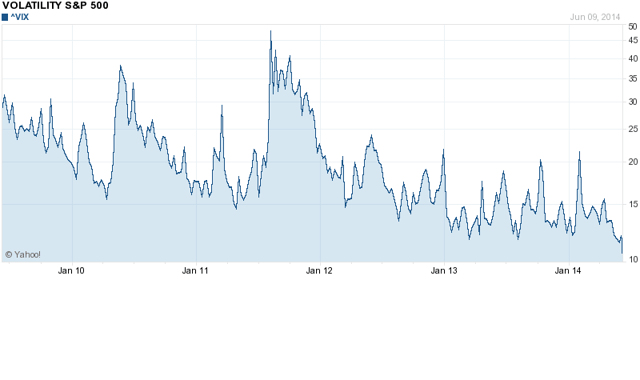 Source: Yahoo Finance
We have economic news today, and it is as follows:
Wholesale Inventories (10:00 a.m. EST): Est: 0.3% Act: 1.1%
JOLTS - Job Openings (10:00 a.m. EST): Est: N/A Act: 4.455 M
The Asian markets are mostly higher today:
All Ordinaries -- up 0.10%
Shanghai Composite -- up 1.08%
Nikkei 225 -- down 0.85%
NZSE 50 -- down 0.15%
Seoul Composite -- up 1.09%
In Europe, the markets are lower this morning:
CAC 40 -- down 0.02%
DAX -- up 0.04%
FTSE 100 -- down 0.25%
OSE -- down 0.09%
Another Pharma Disappointment For Investors?
We are not too far removed from investors being disappointed by AstraZeneca's (NYSE:AZN) decision to rebuff the takeover offer from Pfizer (NYSE:PFE) that would have enabled investors to pocket a rich premium, which is why we are not at all surprised by where the current battle between Valeant Pharmaceuticals (NYSE:VRX) and Allergan (NYSE:AGN) has taken Allergan's shares.
The market is discounting the probability of a takeover, and respecting the fact that Allergan's management team has plenty of firepower to fend off Valeant for an extended period of time or even force it to walk away. There is an awful lot of posturing taking place by both sides, especially with Allergan's board rejecting the latest Valeant offer, but with Bill Ackman involved and appearing very interested in getting a deal done, our thinking is that a deal will get done.
It is doubtful that another suitor would emerge for Allergan and play the role of the white knight, but Allergan could launch its own bid for another company and finance the deal. That would be the nuclear option, as it would not only anger Valeant, but also could start a shareholder revolt, because any deal that does not include a sale of the company would be destructive to shareholder value in the short-to-mid term.
If Allergan is successful in fending off the takeover offer from Valeant, investors should expect a pullback much like AstraZeneca shareholders saw.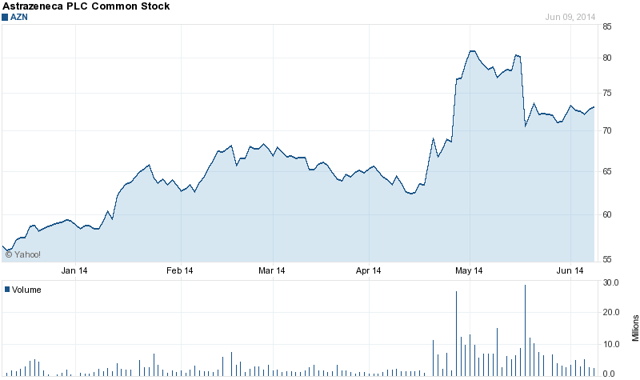 Source: Yahoo Finance
In closing, while turning down the offer would create a sell-off, we think it would mirror the one that took place at AstraZeneca, because investors would continue to bet that another suitor would emerge or that Valeant would return (assuming that Ackman kept his 10% stake.
Disclosure: The author has no positions in any stocks mentioned, and no plans to initiate any positions within the next 72 hours. The author wrote this article themselves, and it expresses their own opinions. The author is not receiving compensation for it (other than from Seeking Alpha). The author has no business relationship with any company whose stock is mentioned in this article.