PetSmart (NASDAQ:PETM) reported Q1 numbers on May 21st. Revenue missed expectations and the company lowered its full-year guidance. The report increased investor concern about growing competitive pressures and internet disintermediation. These fears have driven the stock down almost 20% YTD. The market has overreacted to the competitive pressures and PETM offers an attractive value at this level.
Company Description:
PetSmart is the largest specialty retailer of pet products and services in North America. PETM operates 1,340 retail locations in the United States, Puerto Rico and Canada. PETM offers pet related services in many of its stores. All stores offer professional grooming services and most stores offer dog training. Full-service veterinary hospitals are in 844 of PETM stores. PETM also operates 200 PetHotels, which provide boarding for dogs and cats.
Industry Dynamics:
PETM serves a large and growing market. An American Pet Products Association "APPA" survey showed approximately 68% of households in the United States own a pet. The APPA estimates $58.5 billion will be spent in the pet industry during 2014, a 244% increase from the $17 billion spent in 1994.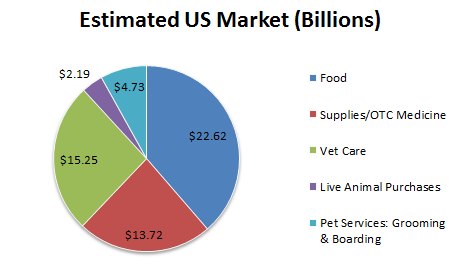 Source: American Pet Products Association
Based on 2013 Nielsen data, PETM has a 17% share of the pet product market. A majority of pet products are purchased from mass merchants and grocery stores. However, many natural pet food brands are not sold through these channels due to manufacturer restrictions. PETM has occupied this niche space and is a leading seller of natural pet food.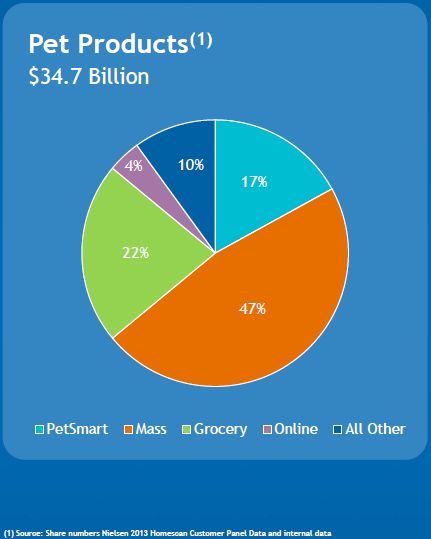 Source: PetSmart
Business Model Summary:
PETM operates in two reporting segments, Merchandise and Services.
Merchandise - Approximately 88.3% of FY 2013 sales were in the merchandise segment. PETM breaks down its merchandise sales into three key areas, Consumables, hard goods and Pets. Consumables sales include pet food, treats, and litter and represented 53.3% of FY 2013 sales. Hard goods include collars, leashes, healthcare supplies, grooming and beauty aids, toys, apparel, pet beds and pet carriers. Hard goods represented 32.8% of FY 2013 sales. Pet sales include fish, small birds, reptiles and other small pets. PETM doesn't sell dogs or cats but does provide space for pet adoptions. Pet sales represented 1.5% of FY 2013 sales.
Services - Services include professional grooming and boarding for dogs and cats. Services also include high quality training and day camps for dogs. Services represented approximately 11.1% of FY 2013 sales.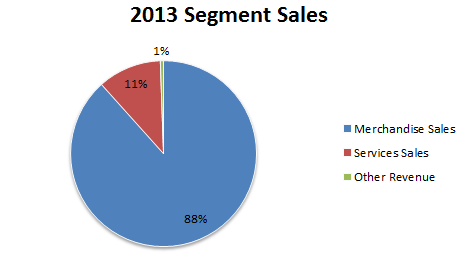 Source: PetSmart
Investment Rationale:
Service Offerings - PETM offers services including grooming, boarding, training and veterinary services in their stores. PETM also offers space for pet adoptions. These services allow PETM to build a relationship with its customers, building customer loyalty. Veterinary services are a key differentiator for PETM. Full-service veterinary hospitals are in 844 stores - 837 of these veterinary hospitals are operated by MMI Holdings doing business as "Banfield, The Pet Hospital." PETM has a 21% investment in MMI holdings. PETM Service offerings would be very difficult for online retailers to replicate. Service offerings are a key differentiator for PETM compared to its online competition. Services also drive store visits, which could lead to additional sales. If customers are in a PETM store already, they are likely to purchase other products in the store instead of purchasing from a competitor online.
Humanization of Pets - As seen in the graph below, pets are now seen as part of the family. This has allowed pet product sales to be resilient during difficult economic times. The trend of pet humanization has caused people to spend more on their pets, driving sales for pet product retailers like PETM. Pet owners are able to bring their pets to PETM stores. This caters to owners who feel their pet is part of the family and is not likely to be replicated by grocers or mass merchants.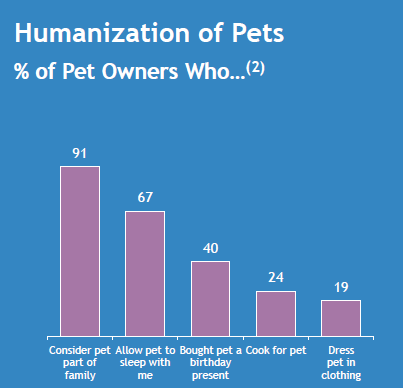 Source: PetSmart
Channel Exclusive and Proprietary Products - PETM emphasizes natural, science, and therapeutic dog and cat foods. Many of these foods are not available in grocery stores or mass retailers, reducing the potential for competition. PETM also has proprietary foods and hard good products. Proprietary products offer higher margins and give PETM an increased level of quality control. PETM also has well-trained staff which can explain the benefits of higher quality pet food and help customers identify the best products for their pets. The knowledgeable service is another factor online competitors will have difficulty replicating.
Omni-Channel Capabilities - In order to counter online competition, management has emphasized PETM's omni-channel capabilities. PETM has a large brick and mortar presence and has been working to improve and integrate its website. PETM now has the ability to identify if products are available at local stores. PETM is rolling out an order online pickup in-store function, which has been successful in test stores. Finally, PETM has stepped up its online promotions including offering discounts and free online shipping. These initiatives should drive sales and allow PETM to maintain market share.
Management - PETM management has been effective and shareholder friendly. Returns on investments have been attractive with an ROA of 17.54% and ROE of 39.66% in the most recent year, according to Yahoo Finance. Management has also returned significant amounts of capital to shareholders in recent years. PETM repurchased $464 million of stock during FY 2013 and another $130 million during Q1 2014. PETM has $287.9 million remaining under its current share repurchase authorization. PETM also has a 1.3% dividend that has been growing at a double-digit clip the past couple of years. Management has identified and delivered on its value strategy, which has driven shareholder returns. Source: PetSmart
Valuation - There is a significant amount of pessimism priced into PETM shares. 17.8% of PETM shares are sold short. Valuation is attractive with an EV/EBITDA of 6.58 while the forward P/E ratio is 13.53x.
Risks:
Competition - There is fierce competition in the pet product market. Online competition and local pet supply stores have increased pressure on PETM in recent quarters. This has been reflected in negative same store sale trends.
Source: PetSmart
PETM management was slow to react to the increased competition but it outlined a plan on the Q1 call to address the issues it sees in the market. PETM has competitive advantages due to its service offerings. PETM also has some pricing power with its suppliers as the largest specialty pet retailer. These advantages should offer a small moat around its business.
Slowing Consumer - Many retail companies saw weak sales in Q1 driven by bad weather and poor consumer sentiment. PETM's focus on higher quality, higher priced pet food could have seen a drag due to a weakness in its customer base in recent quarters. If the economy picks up during the rest of the year some of these pressures could be relieved.
E-Commerce - Competition from online retailers has picked up as well. In particular, the launch of Amazon's (NASDAQ:AMZN) Wag.com has been a key area of concern for investors. However, pet food and many other pet products are bulky and relatively low value making shipping less economical. High shipping costs make it more difficult for online only retailers to compete in the pet care space.
Margin Compression - Management's focus on protecting market share and expanding its e-commerce capabilities could compress margins. The increase in promotional activity online and free shipping offers will need to be closely watched. Management should be able to offset some of these costs with improvements from other areas, and a focus on higher margin proprietary products and services.
Potential Catalysts:
Cash Return to Shareholders - Management has been actively returning cash to shareholders through dividends and buybacks. A new repurchase authorization or dividend increase could provide a catalyst for the stock.
Acquisition - The specialty pet care business is highly fragmented. There have been rumors that PETM could consider purchasing a competitor to create synergies and grow the business. PETM could also be a takeover target for private equity due to its ability to generate free cash flow.
Q2 Earnings Report - The upcoming earnings report will be a key data point for the stock. Same store sales and margins will be two key areas to watch in the next report. If these metrics vary from expectations, it could be a stock moving event.
Recent News:
Q1 2014 Earnings - PETM reported Q1 2014 earnings on May 21st. EPS of $1.04 beat expectations of $1.01 but revenues came in light at $1.73 billion vs. expectations of $1.77 billion. The big news was PETM lowered full year EPS guidance to $4.29-$4.39 below prior guidance of $4.42-$4.54 and analyst expectations of $4.45.
What to Watch:
Same Store Sales - As seen in the graph above, PETM's same store sales trajectory is troubling. This will be a key metric to watch. Management needs to stabilize same store sales trends for the stock to really take off.
Margins - Margins have been improving for PETM. However, the promotions in the online business could hurt margins. Management will have to protect margins for the thesis to play out.
Use of Cash - Management has been returning cash to shareholders through buybacks and dividends. There is a risk that management could make a poor acquisition. Also, if management begins to hoard cash it could indicate they are not confident in PETM's business outlook.
Store Unit Growth - Management's shareholder value strategy outlines 2%-3% square footage growth. This growth will drive company revenues and improve SG&A leverage. If store growth slows PETM EPS growth could be at risk.
Valuation:
P/E Ratio: PETM is trading with a trailing P/E of 14.36 and a forward P/E of 13.53. These are both well below historical averages for the stock. If PETM were able to return to 17x forward it would indicate a stock in the low $70s.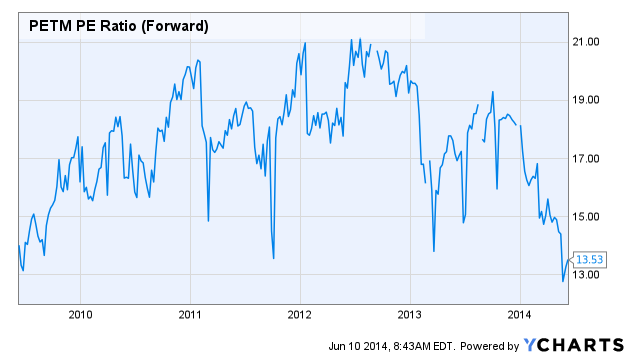 Conclusion:
PETM is a strong operator in the attractive pet care niche. The company's scale and service offerings provide an advantage in an increasingly competitive marketplace. Concerns about competition and slowing sales have driven valuations to attractive levels. Company management is focused on maintaining market share and re-accelerating revenue growth. Price declines from current levels are unlikely due to PETM's strong cash flows and low valuation. If management is able to reaccelerate growth there is significant upside to current valuations.
Disclosure: The author is long PETM. The author wrote this article themselves, and it expresses their own opinions. The author is not receiving compensation for it (other than from Seeking Alpha). The author has no business relationship with any company whose stock is mentioned in this article.