Investment Summary
Nordic American Tankers Limited (NYSE:NAT), which is engaged in acquiring and chartering double-hull tankers, is on the verge of overcoming difficult market conditions and growing at a robust pace. For the first quarter of 2014, Nordic American reported a positive net income for the first time in four years. This investment thesis discusses the positive developments in the company and industry, which makes the stock a good buy at current levels.
Company And Asset Overview
Nordic American was incorporated in Bermuda in 1995 and is engaged in acquiring and chartering double-hull tankers with the company having 20 Suezmax tankers as of March 2014. In June 2014, the company announced the acquisition of two more tankers with the vessels expected to be delivered by August 2014. As of reporting date, the company's operating vessels were employed in the spot markets.
From an asset quality perspective, it is important to mention in the overview that since the beginning of 2012, 15 of the company's vessels have undergone technical quality checks. With relatively weak markets in 2012 and 2013, the idle time was utilized to ramp up quality. Going forward, drydocking costs and off-hire will be significantly reduced with a corresponding increase in the number of revenue days. The company expects no drydocking for 2014.
Strong 1Q14 Results And Positive Industry Trend
Stellar results for the first quarter of 2014 are the first indication of a turnaround for Nordic American. As mentioned earlier, Nordic American reported a positive net income for the first time in four years.
The net voyage revenue for 1Q14 was $45 million as compared to $17.3 million for 1Q13. An increase of 161% in the top-line was primarily due to higher spot rate of $26,300 per day per vessel for 1Q14 as compared to $12,466 for 1Q13. On the EBITDA front, Nordic American reported a positive EBITDA of $26 million in 1Q14 as compared to a negative EBITDA of $6.3 million in 1Q13.
The important point to mention here is that Nordic American has a homogeneous fleet of 20 operating Suezmax vessels, which helps reduce the company's operating cost. Currently, the company's cash-breakeven level is $12,000 per day per vessel. Therefore, the current day rate of $26,300 per day per vessel provides a significant cash earnings cushion.
Further, as the chart below shows, the first quarter of 2014 is a likely turnaround point in the Suezmax spot rates. Should dayrates sustain at these levels or trend higher, Nordic American will be well positioned to report a strong turnaround in FY2014 as compared to FY2013.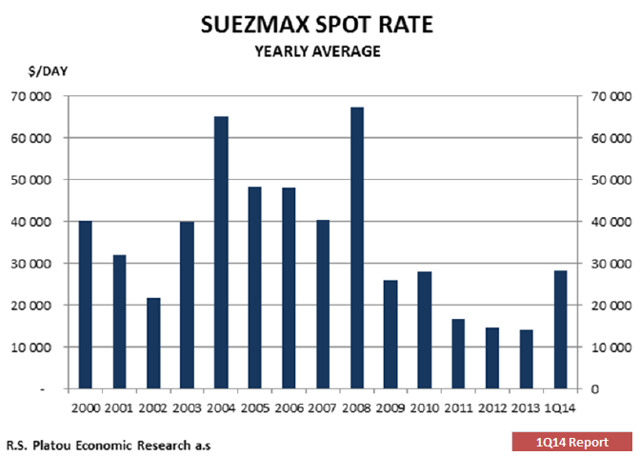 I am of the opinion that the strong industry trend is likely to sustain given the current vessel supply trend. With weak spot rates over the last three years, the order book for new fleet has declined to 7% of the existing Suezmax fleet as compared to an order book of 50% of the Suezmax fleet as of 2009. In other words, only 30 new vessels are scheduled for delivery from now to late 2016.
The average day rates according to Platou underscore my point on a sustained recovery. While the first quarter is seasonally strong, the tanker rates for single voyages have sustained at $22,000 per day per vessel in YTD2014 as compared to $12,500 per day per vessel in YTD2013.
Strong Financial Flexibility After Public Offering
In the first week of April 2014, Nordic American announced a public offering of 12,000,000 shares at $8.62 per share. The company also granted the underwriters a 30-day option to purchase up to an additional 1,800,000 common shares. The issue resulted in net proceeds of $113.6 million and the company intends to use the proceeds to acquire more vessels in a strong market.
As mentioned above, the company already announced the acquisition of two more tankers for a total consideration of $73 million. This acquisition will provide greater earnings momentum after August 2014. I will discuss the revenue projections in details later in the thesis. The important point here is that the company has sufficient financial flexibility at the right time.
Excluding the outflow for the acquisition of two Suezmax vessels, Nordic American currently has a cash position of $120 million and a undrawn revolving credit facility of $305 million. In addition, the company reported a strong operating cash flow of $23.8 million for the first quarter of 2014. The financial resources are therefore ample and Nordic American is likely to increase its fleet size significantly over the next few years.
Value Unlocking From Nordic American Offshore IPO
Among the potential upside triggers for Nordic American is the IPO for Nordic American Offshore. Nordic American Offshore Ltd. was established on October 17, 2013. In November 2013, the company issued an aggregate of 16,666,666 common shares in a Norwegian private placement for net proceeds of $243.5 million. In this share offering, Nordic American Tankers acquired 4,333,566 common shares, representing an ownership interest of approximately 26.0%.
Nordic American Offshore currently has a fleet of six platform supply vessels with another two vessels scheduled for delivery in January 2014. The company intends to use approximately $81 million of the net proceeds of this offering towards the purchase of two new vessels.
There are two important points to note here from Nordic American's perspective:
First, Nordic American Offshore is already a dividend paying company and has announced a dividend of $0.45 per share for the first quarter of 2014. Considering a 26% stake for Nordic American Tankers, NAT can expect an annual dividend inflow of nearly $8 million. Further, NAT has the option to purchase 764,705 shares of Nordic American Offshore during the IPO. If this option is exercised, Nordic American Tankers will hold 5,098,271 shares of Nordic American Offshore and this will increase the annual dividend payout to $9.2 million.
Second, Nordic American Offshore has a current fleet of six PSV's, which are on firm contract with Apache North Sea Limited, BG International Limited and Statoil Petroleum AS. The average contract duration is over two years with rates between approximately $25,000 and $29,000 per day per vessel. In addition, two new vessels will be operational from January 2015 and Nordic American Offshore has the option to order three more PSV vessels. The key point here is that Nordic American Offshore is likely to grow at a robust pace. It is therefore likely that the IPO listing will be strong and the stock should trend higher. In other words, the value of the company's stake with Nordic American is likely to increase and this should help Nordic American shares trend higher and also increase the company's financial flexibility.
Revenue And EBITDA Outlook For 2014 and 2015
For the first quarter of 2014, the average day rate was $26,300. For my estimates, I have kept the day rate for the second and third quarter at $22,000, which is the existing day rate according to Platou. For the fourth quarter of 2014, the estimate assumes a relatively higher day rate of $24,000 as day rates are seasonally higher in 4Q and 1Q.
Considering these day rates and an EBITDA margin of 58% (as per 1Q14) the revenue and EBITDA estimates are as below. I must mention here that the two Suezmax scheduled for delivery in August 2014 are considered to commence operations only in the fourth quarter of 2014.

With these assumptions, revenue for 2014 is likely to be $166 million, which implies a 136% revenue growth over FY2013. Further, EBITDA for the year is expected to be $70 million as compared to a negative EBITDA of $14 million for FY2013. Nordic American is therefore set to have a strong year.
For 2015, there is no change in the number of vessels in operation. This is likely to change as the company has funds for further Suezmax acquisition. However, the estimates are conservative and should give a good base case scenario. The day rates for 1Q15 and 4Q15 have been assumed at $25,000 per vessel per day and the day rate for 2Q15 and 3Q15 has been assumed at $23,000 per vessel per day. This is only a marginal increase as compared to 2014E. I do believe that the actual dayrates will be higher.

Considering these metrics, revenue and EBITDA for 2015 comes to $182 million and $105 million respectively. While the growth is not significant as compared to 2014E, the key point is revenue stability. Further, as mentioned earlier, the estimates are very conservative as it assumes no vessel addition between August 2014 and December 2015. In all likelihood, the company will continue to acquire vessels and target relatively higher growth.
Price Movement And Valuation
With expectations of good results for the first quarter of 2014, Nordic American surged from levels of $7.88 on December 11, 2013 to $12.54 by January 2014. The stock has however pulled back and currently trades at $8.57.
I wanted to mention this before discussing the valuation as the key point here is the reason for the pullback. The decline is certainly not because of any worsening of fundamentals in the industry or the company.
The primary reason for the pullback is the subsequent public offering (discussed above) at $8.62 per share. The stock is currently trading near the public offering level, which resulted in significant equity dilution. Also worth mentioning is that Nordic American has paid a total dividend of $0.35 per share between December 2013 and May 2014.
Coming to valuation, Nordic American is currently trading at a forward (2014E) EV/EBITDA of 8.06. While the company has raised $113.6 million in the IPO offering, I have considered only $40 million of incremental impact on the cash position for calculation of EV as the company has a cash outflow of $73 million for two new vessels. The table below gives the company's forward valuation along with the forward valuation (2014E) of its close peer, Teekay Tankers (NYSE:TNK).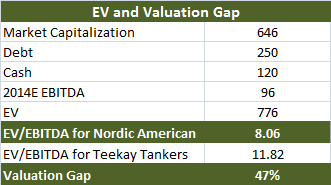 Considering the valuation multiples, Nordic American has a potential upside of 47% from current levels of $8.57. This makes the stock a strong buy and hold. I must mention that any further vessel acquisition (very likely), will make valuations more attractive.
Risk Factors
One of the key risk factors for Nordic American is its strategy to employ all vessels in the spot markets. This strategy works immensely in the company's favor when the industry fundamentals are robust. However, any sharp decline in day rates can significantly impact revenue. Long-term charters usually shield the company from earnings volatility and this is absent for Nordic American.
In order to ascertain the downside risk, I have considered a stress test scenario where the day rates are expected to decline to $18,000 per day per vessel from 2Q14-4Q14. A 32% decline in day rate as compared to 1Q14 is unlikely, but it is good for stress test to check for the downside risk.

In the given scenario, revenue for 2014E is likely to fall to $141 million and the EBITDA can decline to $82 million from a base case scenario of $96 million.
The EV/EBITDA (2014E) multiple comes to 9.5 in a stress scenario from 8.06 in the base case scenario. The positive point is that the valuation gap still exists as compared to its closest peer. In the base case scenario, the potential upside was 47%. However, in the stress case scenario, the upside is capped to 24%. Nordic American is therefore available at an attractive valuation with limited downside risk. The attractiveness in the valuation comes from the fact that the Suezmax industry was depressed for nearly three years and so was the stock price.
Conclusion
Nordic American is in a revival mode after struggling for over three years from depressed Suezmax day rates. The company has reported robust 1Q14 results and the strong momentum is likely to sustain for the remainder of 2014. On the growth front, Nordic American will benefit from the addition of two new Suezmax vessels. Further, the secondary public offering also comes at a right time and gives Nordic American sufficient financial flexibility to expand its fleet in a favourable market. In addition, the public offering of Nordic American Offshore provides a value unlocking opportunity and also increases the company's financial flexibility.
Finally, a quarterly dividend of $0.23 implies an annual dividend payout of $0.92 and this translates into a healthy dividend yield of 10.7% considering the current stock price of $8.57. With all these positives, Nordic American is a strong buy at current levels.
Disclosure: The author has no positions in any stocks mentioned, and no plans to initiate any positions within the next 72 hours. The author wrote this article themselves, and it expresses their own opinions. The author is not receiving compensation for it (other than from Seeking Alpha). The author has no business relationship with any company whose stock is mentioned in this article.