RadioShack (NYSE:RSH) has been one of the retailers hit the hardest with the proliferation of e-commerce. Sales have been dwindling and on Tuesday RSH reported its 9th consecutive quarter with a loss. Last month, I wrote an article opining that a revamp in product assortment and store rehauls may provide a glimmer of hope for this underperforming retailer. My article was called the ultimate contrarian play because I warned that a turnaround was a long shot. With the quarterly results out this morning, it is clear that their turnaround plan is beginning to resemble a pipe dream and less of an attainable goal.
Quarterly Results
This morning RadioShack fell short of analyst targets across the board. RadioShack reported $0.97 loss per share on sales of $737 million while Wall Street consensus was a $0.52 loss per share and $767 million in net sales. Year-over-year, sales fell 13% and comparable-store sales dropped 14%.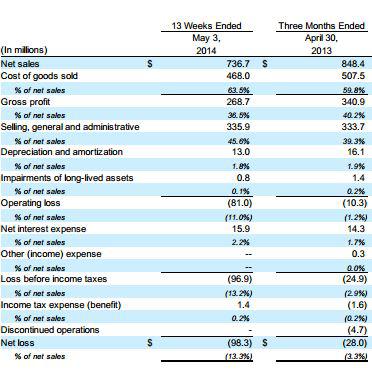 Source: Quarterly Release
The balance sheet is deteriorating as well with cash standing at $61 million, which is down from $180 million at the end of 2013. Coupled with a worse cash position, their liabilities slightly rose from an increase in accounts payable and accrued expenses. On the contrary, liquidity is not of immediate concern because as of the quarterly release, RSH still possessed $361.9 million available under their 2018 credit facility. If losses aren't stanched, however, this liquidity source will dry up as well as there are many clauses to protect the creditor.
Another concerning figure is the mounting interest expense. In the quarter, this resulted in payments of $15.9 million up from $14.3 million in the previous quarter. This increase represented 2.2% of net sales compared to 1.7% of sales last quarter.
One of the bull arguments for RadioShack that was being touted was its cash position. Prior to this quarter's release, RSH was trading right around the cash value on its balance sheet. If they were able to mitigate the losses, then an investment would have proven prudent. Unfortunately, there are no signs of losses slowing down.
During the quarter, losses from operations were a staggering $98.3 million, which resulted in a reduced cash position of $61 million. This means that RSH has $0.61 per share in cash, which is substantially below its trading level.
It is worth mentioning that when factoring in current assets compared to shares outstanding it has $10.60 per share. However, that number is being propped up by inventory, which is certainly not liquid. When that figure is taken out of the equation, RSH has $2.79 per share of current assets. That number should also be taken with a grain of salt as accounts receivable is a significant portion and the company may have trouble collecting the entire amount that it is due. Moreover, in the event of a bankruptcy these assets will first be given to creditors, so it is unlikely that common stock holders will reap any value.
Turnaround Plan Execution
A cornerstone of the turnaround plan was to drive growth in the mobility segment. Nevertheless, sales in this segment dropped 19% Q/Q. The company cites the decrease as being driven by a decrease in postpaid wireless business. It further goes on to blame intense wireless carrier promotional activities to incentivize customers to switch networks for the decline. RadioShack's targeted plan is being squashed by much larger competitors.
Another integral aspect of the turnaround plan was to close underperforming stores at a rapid rate. Consequently, the company's credit terms had a stipulation, which allowed creditors to dictate the pace of closures. Management clearly is not aware of its own contracts and their plan was subsequently shot down by creditors.
In March 2014, we announced we would seek consent from our lenders under the 2018 Credit Agreement and 2018 Term Loan to pursue a program to close up to 1,100 stores. In May 2014, we announced that the terms on which the lenders were then willing to provide this consent were not acceptable to us. We may continue to have discussions with our lenders regarding the possible closure of a substantial number of stores, although there can be no assurance that we will be able to obtain lender consent on acceptable terms. In the interim, we are continuing with a plan to close fewer stores and pursuing other cost reduction measures permitted under the existing terms of the 2018 Credit Agreement and 2018 Term Loan.

Source: Quarterly Release
Final Thoughts
My previous call for RSH being a contrarian play was bold and ultimately incorrect. The turnaround plan is not working and losses will continue to mount as creditors have nixed their store closure plan. It will be tough for this retailer to stave off bankruptcy for much longer.
Disclosure: The author has no positions in any stocks mentioned, and no plans to initiate any positions within the next 72 hours. The author wrote this article themselves, and it expresses their own opinions. The author is not receiving compensation for it (other than from Seeking Alpha). The author has no business relationship with any company whose stock is mentioned in this article.