Shares of Chevron Corporation (NYSE:CVX) are currently trading at the same price they were trading for at the beginning of this year. The stock dropped to a 52-week low of $109.27 in February, but has since bounced back to $125.02.
Chevron recently increased its dividend by 7%, to $1.07, giving the company a dividend yield of 3.42%. The company has been paying steady, increasing dividends since 1988, making it a dividend aristocrat.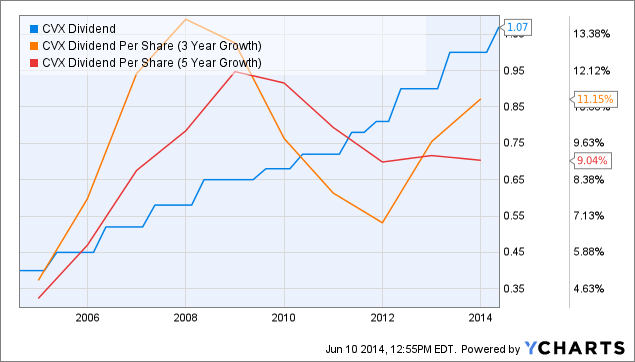 CVX Dividend data by YCharts
As can be seen from the graph above, Chevron has increased its dividends at quite a high pace, more than doubling them since 2007. Chevron's payout ratio [TTM] stands at 39.09%, which is quite close to its competitors Exxon Mobil (NYSE:XOM), which has a payout ratio of 35.12%, and ConocoPhillips (NYSE:COP), which has paid out 36.91% of its earnings over the past 12 months. ConocoPhillips' dividend yield is very close to Chevron's, at 3.39%. Shares in Exxon Mobil only yield 2.73% at current prices.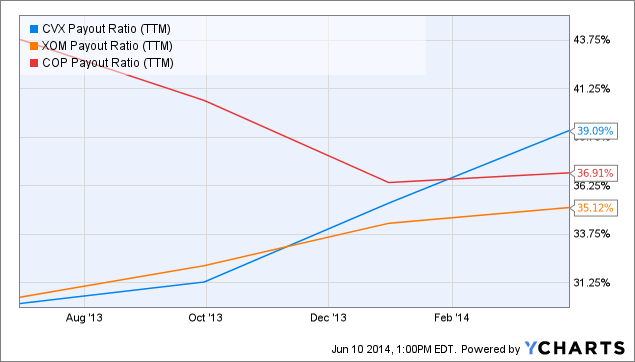 CVX Payout Ratio [TTM] data by YCharts
Chevron currently trades at a forward price to earnings ratio of 11.73, which is quite a bit cheaper than ConocoPhillips, which is trading at 12.93 times expected earnings, and Exxon Mobil, which has a forward P/E ratio of 13.01. It is also well below the industry average P/E of 13.6.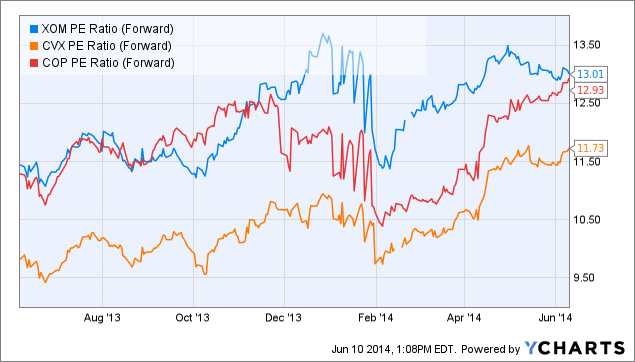 XOM PE Ratio (Forward) data by YCharts
Chevron buys back huge amounts of its own shares. Over the past 12 months, the company has repurchased $4.657 billion worth of its own stock. Stock buybacks are great news for shareholders, as the EPS grows when the number of shares goes down.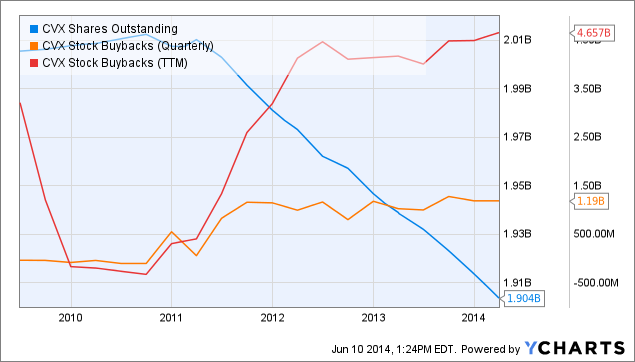 CVX Shares Outstanding data by YCharts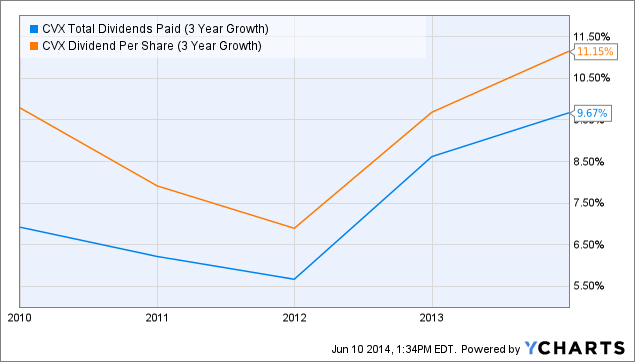 CVX Total Dividends Paid (3 Year Growth) data by YCharts
Share buybacks can help reduce the cost of dividend payments for companies. Chevron's 3-year dividend growth rate stands at 11.15%, but dividend costs have grown at a slower pace, due to the lower amount of shares outstanding.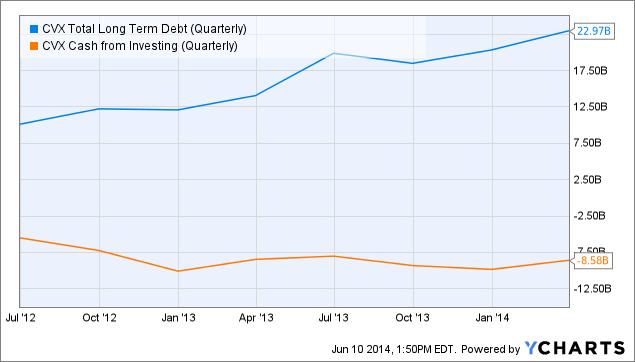 CVX Total Long Term Debt (Quarterly) data by YCharts
Like most companies in its sector, Chevron spends huge amounts of money on investments. This has led to the long-term debt going up at a high pace over the past two years. For a company the size of Chevron, I don't see the current level of long-term debt as a big problem, but I would recommend keeping an eye on it. Excessive levels of debt can put a real strain on a company's growth rate as interest payments limit free cash flows.
Chevron's short-term balance sheet health looks as good as perfect, with a current ratio of 1.40 and a quick ratio of 1.19. The company has $15.92 billion in cash and equivalents, which is equal to $8.38 per share, or 6.69% of Chevron's current market cap.
Disclaimer: I am not a registered investment advisor and do not provide specific investment advice. The information contained herein is for informational purposes only. Nothing in this article should be taken as a solicitation to purchase or sell securities. Before buying or selling any stock you should do your own research and reach your own conclusion. It is up to investors to make the correct decision after necessary research. Investing includes risks, including loss of principal.
Disclosure: The author has no positions in any stocks mentioned, and no plans to initiate any positions within the next 72 hours. The author wrote this article themselves, and it expresses their own opinions. The author is not receiving compensation for it (other than from Seeking Alpha). The author has no business relationship with any company whose stock is mentioned in this article.