Weibo (NASDAQ:WB) has failed to deliver excitement since going public. Its share price remains in a tight range for more than a month now. The Q1 report failed to spark a rally as revenue guidance was below Wall Street consensus and as user engagement fell sequentially. Weibo's long-term prospects remain intact, and I believe that there is potential for a 40% to 50% rally in the next couple of months. The move would also unlock value for Sina (NASDAQ:SINA) shareholders, which has been one of my worst stock picks so far, but nonetheless, I believe that Sina's current valuation is a bargain for long-term focused shareholders, as Weibo's current value and Sina's net-cash have more value than Sina's current market cap.
Weibo's Q1 results - not so good, not so bad either
Weibo reported Q1 earnings in late May that were somewhat of a disappointment. Revenue was in-line while EPS was $0.02 ahead of estimates. However, Q2 guidance fell short of the consensus estimates and user engagement fell sequentially (measured as a percentage of the number of daily active users vs. the number of monthly active users, you can see the chart from Terracotta capital here). Those are the two negatives from the Q1 report. The soft guidance might be a consequence of management conservatism, but I am not sure about that at the moment, since we have no guidance history. User engagement did fall sequentially, but it seems that Q4 is seasonally the strongest quarter for user engagement, and engagement did in fact rise 100 basis points year-over-year.
On the plus side, Weibo's ad/marketing revenue rose 176% year-over-year to $51.9 million, while its value-added service revenue rose 120% to $15.7 million. The Alibaba (ABABA) partnership is helping the top-line growth, as Weibo promoted feeds and e-commerce adds. Monthly active users rose 14.7 million from Q4 to 129.1 million, while daily active users rose 5.2 million to 66.6 million. The year-over-year growth in monthly and daily active users was 34% and 37% respectively.
I believe that the Q1 numbers are encouraging for the most part, and that the company needs to work on user engagement. The growth prospects are outstanding and Weibo needs to deliver in order to keep its current valuation. Weibo's major stakeholders Sina and Alibaba are formidable allies, and they will certainly help Weibo's efforts to provide value for its customers, users and shareholders. A solid part of Weibo's 2013 revenue came from the Alibaba deal (about 25%), and the two companies are working together and integrating Taobao with Weibo.
Valuation and price target
Weibo currently has a very high P/S ratio of 17, but this is a reflection of its strong growth prospects. A company that is delivering triple digit revenue growth deserves a much higher multiple than low-growth or no-growth companies. If Weibo can double its revenue in two consecutive years, the P/S ratio would come down to slightly above 4. This is just an example in order to get a grasp on the potential long-term effects of exponential growth. According to current analyst estimates, Weibo's P/S ratio will contract to 7.9 in 2015. If the company continues to grow revenue north of 40% or 50% in the next couple of years (which is likely), the current valuation is compelling. And if we look at Twitter's (NYSE:TWTR) current P/S ratio, which is 24 at the moment, and Twitter's growth prospects, I believe that Weibo is a better pick right now, and that Weibo has at least 40% upside to catch up to Twitter's current valuation. My price target is $27, based on a 2014 P/S ratio of 17, which means that Weibo has to keep its current valuation in the nine to twelve months in order to get there. This is at the same time roughly equivalent to the P/S ratio gap between Twitter and Weibo.
Implications for Sina's share price
I have been bullish on Sina in the past, mainly because of Weibo and its growth prospects. Now that Weibo is public, we can get a better sense of Sina's value. If we assume that Sina's 57% stake in Weibo is worth $2.2 billion at Weibo's current price, and if we look at Sina's net cash balance of $1 billion, we get $3.2 billion for Sina's net cash and Weibo. Given that Sina's current market cap is $3 billion, we get Sina's business for free. And if Weibo's share price gets to my $27 price target, the value of Sina's stake in Weibo would be higher than Sina's market cap. Therefore, Weibo will continue to be a determining factor for Sina's share price, but the market seems to be discounting a very bleak future for both companies, which is certainly not the case.
Conclusion
I like Weibo at these levels, and the stock needs to get above $20.50, which is the top of its five-week consolidation. The $27 price target translates into roughly 45% upside from the current price, and Weibo could go up even more if it catches up to Twitter in terms of their respective P/S ratios. Weibo's value has direct implications on Sina's share price, and a rally could unlock value for Sina's shareholders, as Sina is currently valued less than its Weibo's stake plus the net cash balance.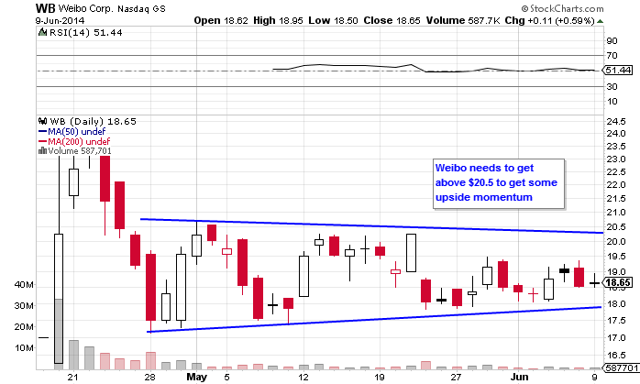 Source: Stockcharts.com
Disclosure: The author is long WB. The author wrote this article themselves, and it expresses their own opinions. The author is not receiving compensation for it (other than from Seeking Alpha). The author has no business relationship with any company whose stock is mentioned in this article.