Annie's, Inc. (BNNY) is currently facing a lot of headwinds. The company recently reported lower-than-expected sales and EPS for its fiscal fourth quarter, due in part to rising input costs. Management provided fiscal 2015 EPS guidance well below consensus, prompting a flurry of negative estimate revisions from analysts. The company disclosed that it had identified a material weakness in its internal control over financial reporting. And its auditor, PricewaterhouseCoopers, recently resigned.
And despite all of these negatives, shares still trade at a lofty 34x forward earnings.
Annie's is a natural and organic packaged food company that offers over 145 products and is present in over 35,000 retail locations across the United States and Canada.
Fourth Quarter Results
Annie's reported its fiscal 2014 fourth quarter results on May 29. Earnings per share came in at 29 cents, well below the Zacks Consensus Estimate of 35 cents. It was an increase of 7% over the same quarter last year.
Adjusted net sales rose 16% to $59.8 million, but this was also below the consensus of $61.0 million. Sales growth was driven in large part by the "Snacks" segment, which saw top-line growth of 26% thanks to strength in fruit snacks, cookies, and crackers.
Higher-than-expected input costs, particularly for organic wheat, hurt gross margins. Adjusted gross profit as a percentage of net sales fell 410 basis points to 34.6% in Q1.
Estimates Falling
Looking ahead to fiscal 2015, management expects net sales growth of 18-20%. However, it only expects adjusted EPS growth of 2-10% as it projects earnings in the range of $0.88 to $0.95 per share.
This prompted a flurry of negative estimates revisions, driving Annie's to a Zacks Rank #5 (Strong Sell).
The Zacks Consensus Estimate for 2015 is now $0.90, down from $1.14 before the Q4 report. The 2016 consensus is currently $1.16, down from $1.37 over the same period.
You can see the sharp drop in estimates in the company's "Price & Consensus" chart: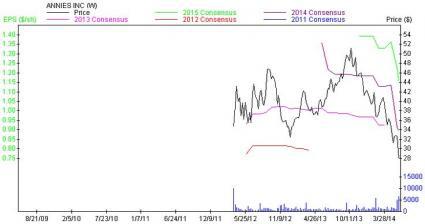 Auditor Resigns
On June 1, Annie's disclosed that its auditor, PricewaterhouseCoopers, was resigning. This follows the 10-K disclosure that Annie's had "identified a material weakness in its internal control over financial reporting."
The material weakness "related to an insufficient complement of finance and accounting resources, including employee turnover, within the organization."
Premium Valuation
Shares of Annie's have been pummelled in recent months, falling more than -40% from its 52-week high in October. Despite this, shares of Annie's still do not look cheap.
The stock trades at a lofty 34x the 2015 Zacks Consensus Estimate and 26x the 2016 consensus. Although shares have taken a beating recently, it looks like investors still have very high growth expectations for the company.
The Bottom Line
Given all of the headwinds for Annie's, the stock does not look like a bargain at current levels. Investors should consider looking elsewhere for opportunities.
Todd Bunton, CFA is the Growth & Income Stock Strategist for Zacks Investment Research and Editor of the Income Plus Investor service.
ANNIES INC (NYSE:BNNY): Free Stock Analysis Report (email registration required)