China's biggest online direct sales company and the second largest e-commerce company after Alibaba (ABABA), Jingdong, commonly known as JD.com (NASDAQ:JD), recently debuted on Nasdaq in a $1.78 billion IPO.
This was the third largest IPO in the U.S for the year and also the biggest IPO for any Chinese company trading on Nasdaq.
The Business
JD.com's business model is similar to that of Amazon (NASDAQ:AMZN). The Chinese company manages its own inventory and sells its products, as well as third party products, directly to customers.
The company offers a large variety of products, from books to sports merchandise, but it gets nearly 80% of its revenues by selling electronic products. Not surprisingly, the best selling items displayed on its website are smartphones and tablets.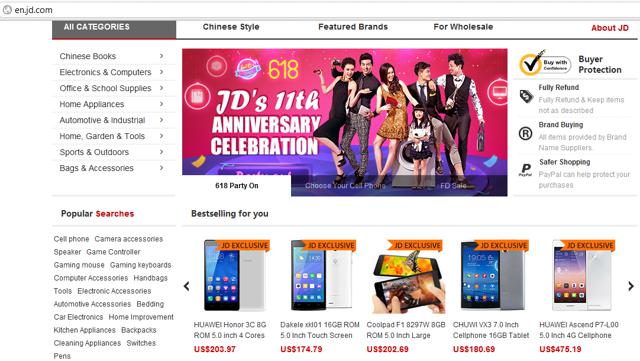 The company also earns less than 3.5% of revenues by providing services to third-party sellers for the goods it has sold.
Over the years, JD.com has significantly enhanced its product offerings. The company had 1.5 million stock keeping units by the end of 2011, and increased to over 40 million by March 2014.
During this period, the company's gross merchandise volume has grown from $5.2 billion in 2011 to $20.7 billion in 2013.
The company has grown its number of active customer accounts from 12.5 million in 2011 to 35.8 million in 2013.
Like Amazon, JD.com has been investing heavily in its infrastructure for its long-term growth. To reduce its reliance on third-party contractors, JD.com has been developing its own warehousing and logistics infrastructure.
The company now operates 86 warehouses in 36 cities, has more than 1,600 delivery stations and 200 pick-up stations in 295 cities in China. According to most recent count, the company currently has 24,412 delivery personnel, 11,145 warehouse staff and 5,832 customer service personnel.
In short, no other e-commerce company in China has a bigger fulfillment infrastructure than JD.com.
Management and Structure
JD.com is headed by its founder Richard Qiangdong Liu, who owns 556 million shares, or more than 40% of the company, but has 83.7% voting power.
Asia's largest internet company Tencent Holdings (OTCPK:TCEHY) is also a major shareholder in JD.com with a 15% stake.
Saudi Arabia based Kingdom Holding Company, owned by famed billionaire Prince Alwaleed bin Talal, owns 2.5% of JD.com.
JD.com, like many other Chinese Internet companies, has a variable interest entity, or VIE, structure. The VIE structure was designed in the late 90s to bypass the Chinese restrictions over foreign investment in certain industries. This means while foreign investors will have an interest in the revenue and earnings of the company, they have no claims to ownership over its assets.
The Chinese technology behemoth and JD.com's biggest e-commerce rival Alibaba also has a VIE structure for its Chinese assets. In Alibaba's case, the company, which is getting listed in the United States, will not own Alibaba's core Chinese assets such as Alibaba.com and Taobao Marketplace. These lucrative Chinese assets, which are responsible for the bulk of Alibaba's profits, will be owned primarily by the company's co-founder and executive chairman Jack Ma and co-founder Simon Xie.
Alibaba's shareholders in the U.S. will be investing in Alibaba Group Holding Limited, which has contractual rights over Alibaba China's income, but no economic interest.
Tencent's advantage
Unlike Alibaba, mobile is one of JD.com's strength. The company has been offering mobile applications but its partnership with Tencent will solidify its position.
Tencent runs WeChat, China's leading social media and messaging app which boasts of 396 million monthly active users. WeChat is becoming much bigger than a simple messaging app. Its payment system is becoming increasingly popular, while several new features ranging from a wealth management system to a taxi booking service are also responsible for its robust growth.
The two companies have formed a strategic alliance. With JD.com's strength as the second biggest player in the e-commerce space and Tencent's WeChat as well as its e-commerce assets, the two companies will ramp up competition against Alibaba. According to some reports, JD.com will get high-level access on one of WeChat's pages. JD.com will create a new "Shopping" channel on the page
Alibaba alone commands around 50% of China's online business-to-consumer (B2C) market and is gearing up for its highly anticipated IPO in the U.S. Alibaba will now face increasing competition from the new alliance as JD.com and Tencent have emerged as new players that have nearly 25% of the B2C market.
By the end of last year, JD.com was the second largest B2C e-commerce company in China with a market share of 17.5%, in terms of transaction volume.
Growing Market
China offers enormous opportunities for growth for companies operating in the online B2C space. The expanding Internet population and a growing middle-class are fueling the growth of this industry which is on track to become the world's largest online retail market, ahead of the U.S., in the near future.
Top and Bottom Line
Over the years, JD.com has grown its revenues from $3.3 billion in 2011 to $11.4 billion in 2013.
Due to higher operating costs, the company has not reported any profits, albeit its net losses shrunk from $206 million in 2011 to just $8 million in 2013.
JD.com has been operating for a decade but is still a loss-making business, which isn't encouraging. Although the losses have come down significantly, due to its continued focus on building its infrastructure, JD.com's management has said that it might incur additional net losses in the future.
On the profitability front, JD.com's gross profit margins have improved from 5.5% in 2011 to 9.9% in 2013. The company is focused on selling electronics, which explains its low margins. On the other hand, Alibaba and Amazon's gross margins have been over 70% and 27%, respectively.
On its balance sheet, JD.com has nearly doubled its cash reserves from 2011 to $2.04 billion by the end of 2013. The company currently has $1.49 cash per share. In these terms, JD.com is behind its rivals Amazon and Alibaba that have considerably higher cash per share.
On a positive note, JD.com does not have any long-term debt, unlike Amazon and Alibaba.
| | | |
| --- | --- | --- |
| | Cash Per share | Long Term Debt Per Share |
| JD.com** | $1.49 | $0.00 |
| Amazon* | $18.83 | $6.84 |
| Alibaba** | $3.63 | $2.24 |
* Source: Google Finance **Source: Company SEC filing
Conclusion
JD.com's logistics infrastructure is one of its biggest strengths. While its rivals, including Alibaba, rely on merchants and other companies to deliver the products, JD.com delivers most of its orders using its own infrastructure. Moreover, its partnership with Tencent will drive its growth in mobile.
However, JD.com runs a loss-making business. The company is focused on selling electronic products and therefore, might continue operating on low-margins. The company has fewer cash per share than either Amazon or Alibaba, but unlike its two bigger rivals, it does not have any long-term debt.
So far, JD.com's American Depository Receipts have risen by 36.7%, currently around $28.40.
Perhaps investors who are looking for exposure toward China's online retail market should rather consider Jumei International (NYSE:JMEI), which recently debuted on NYSE.
Jumei is a small four-year old company, valued at over $4.3 billion, which dominates China's online beauty products niche. The company has delivered better growth than JD.com in terms of revenues, profits and cash reserves and it has no long-term debt. The company is a market leader in a profitable niche and operates with a gross profit margin of over 40%.
Notes:
Alibaba SEC Filing
JD.com SEC Filing
If you are interested in reading more about the VIE structure, then I would suggest this research report published by O 'Melveny & Myers, available from the website of Stanford University's Freeman Spogli Institute.
Additional Disclosure: This article was written by Sarfaraz A. Khan, with valuable contribution from Ali E., research assistant at Half Bridge Business Review. Neither Sarfaraz A. Khan, nor Ali E. have any positions in the stock(s) mentioned in this article.
Disclosure: The author has no positions in any stocks mentioned, and no plans to initiate any positions within the next 72 hours. The author wrote this article themselves, and it expresses their own opinions. The author is not receiving compensation for it (other than from Seeking Alpha). The author has no business relationship with any company whose stock is mentioned in this article.
Editor's Note: This article discusses one or more securities that do not trade on a major U.S. exchange. Please be aware of the risks associated with these stocks.