Singapore's Financial Center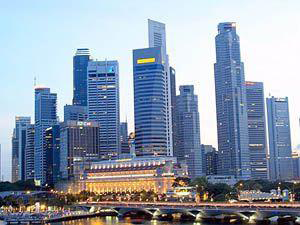 Source: U.S. Department of State
Last week the trade promotion agency reported that Singapore's exports climbed 31.2% in August (on a yearly basis). And then Singapore (Asia's second smallest country) recently ranked number 5 on Forbes list of best countries for business. But the big news is that it might end up ranking first for economic growth by the end of this year. GDP expanded 17.9% in the first half of this year, and projections of 13 to 15% for full year growth would beat both China and India (the government has increased its GDP forecast three times this year).
And where will this growth come from? Manufacturing is projected to climb 28.7% in 2010, and exports are estimated to pick up 19.5%. Private consumption is on track to gain 5.8%... and the jobless rate is expected to fall to 2.2%. And another very telling number: the country has nearly doubled the rate at which it grants citizenship and residence to foreigners over the last five years to allow companies to expand (and to counter falling birth rates).
But the news isn't all good. Based on purchasing manufacturers indices, companies are slowing purchases in anticipation of lower demand going forward. And of course, lower export demand could hamper growth. And yes, exports are up, but last month's spike was helped by a 64.7% jump in pharmaceutical exports (an industry which tends to be volatile). And there is lingering concern about a bubble forming in the property market: according to the Urban Redevelopment Authority, 14,688 homes were sold last year…almost touching the 2007 record of 14,811. And in the first half of this year, property sales totaled 8,400.
But the government is trying to calm speculation in the property market: last month regulators enforced a stamp duty on property sold within three years of purchase, and the loan to property value ratio on second mortgages is now set at 70% (as opposed to 80% previously). And economists expect building to be less robust than originally estimated: projections for construction growth were reduced to 10% for this year.
Still, the Singapore government is confident about the outlook for growth: the Prime Minister recently said that the country will spend S$60 billion to double its railway system. And investors are confident, too. Bond sales have been ramping up: this year issuers have raised $14.1 billion, topping 2001's record $13.2 billion notes, according to Bloomberg.
The bottom line: Singapore is a good opportunity for investors seeking overseas exposure. Take a look at iShares MSCI Singapore Index (NYSEARCA:EWS): this ETF's top holdings are in financial services (economists expect growth in this sector of 10.6% this year), consumer goods and telecommunication.
Disclosure: No positions