Co-authored with Dr. Kyle Holloway (Pharm.D)
First and foremost, congratulations to the Idenix (NASDAQ:IDIX) team and shareholders, it has been a long, treacherous road the past few years, with many disappointments along the way. With the pleasantries out of the way, the discussion herein will focus on the implications of Merck's (NYSE:MRK) $3.85B acquisition of IDIX (at a 3.4X premium to Friday's close) on Gilead (NASDAQ:GILD).
It is apparent to us that MRK's decision to risk $3.85B of shareholder capital for IDIX "Nuc" assets, including IDX21437 (Phase I/II) and IDX21459 (Phase I study ongoing) was driven by its revelation that MK-5172+MK-8742 regimens will require a "Nuc" for optimal activity in genotypes 2/3. Furthermore, it is an admission by MRK that its MK-5172+MK-8742 combo is not competitive, relative to Gilead's 3rd and 4th-wave regimens with GS-9451, GS-9669, GS-9620, and GS-9857, all of which carry $0 in value in analysts' models, despite 3 of these assets being ahead in the development process than IDIX.
Phase I data showed antiviral activity of mean maximum 4.2-4.3 log10 IU/mL reductions for patients infected with HCV genotype 1, 2, or 3 receiving 300 mg once-daily in a seven-day proof-of-concept portion of a Phase I/II clinical trial, Phase 2 combo to begin mid-2014 with samatasvir will be critical for establishing the initial safety profile for IDIX 21437 over an 8-12 week dosing period, an area where every other HCV Nuc has failed in development.
Using this transaction as a basis for valuing GILD's HCV pipeline would indicate a range of $6-$12B not priced into the stock, given the knee-jerk reaction of GILD's sell-off yesterday. Buy this dip, currently trading ~12x our 2014E, and only 9x 2015E.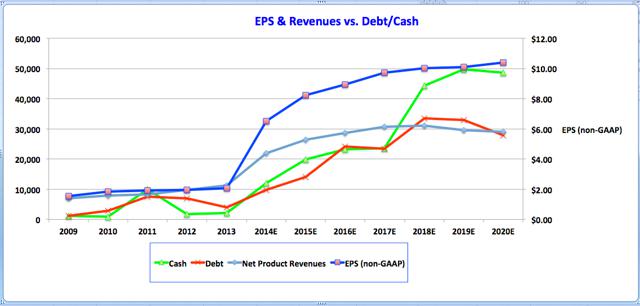 Note, GILD trades at a ~25% discount to MRK shares on 2014E, and 30% on 2015E (see charts below, courtesy of Mark Schoenebaum, ISI Group).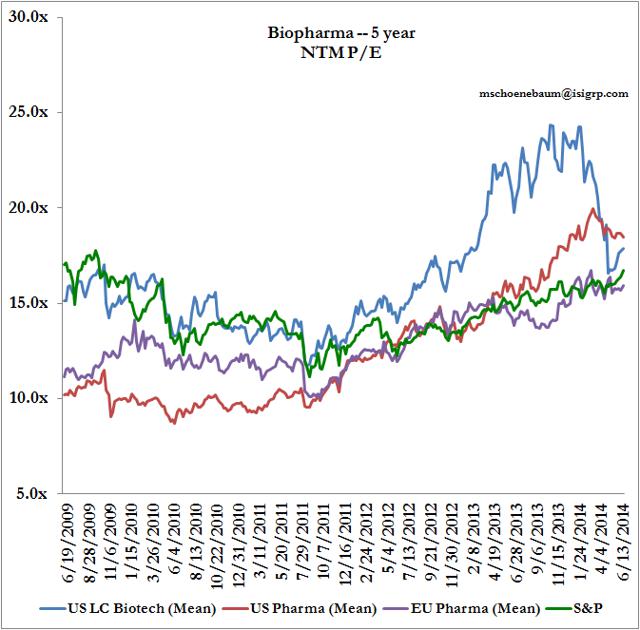 Confirmation of this notion that the MRK combo is inferior to GILD's 3rd/4th wave comes from the fact that MRK has initiated several clinical trials in combination with Sovaldi (see snapshot of clinical trial below).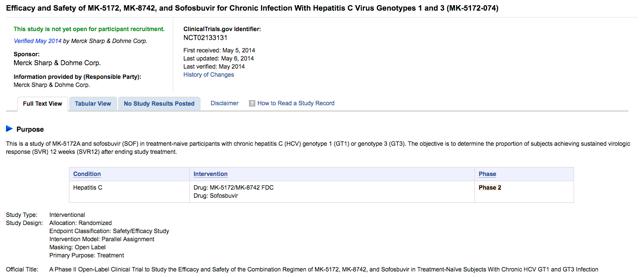 It is unclear if the IDIX combo will become its primary development strategy, or if it's simply a contingency strategy, given that there is only limited evidence of true pan-genotypic activity in genotypes 1-6; recall, IDIX21437's Phase I trial was only 7 days of dosing in 44 treatment-naive patients with genotypes 1-3. While the efficacy was good, we caution that the data is extremely immature and far from being considered robust. While many have noted that there has been no observed pattern of adverse events or laboratory abnormalities, we underscore that only 7 days of dosing data have been seen, far too short to observe many types of toxicity or drug interactions. Yet, analysts conclude, "because MRK paid this exuberant price, somehow MRK knows something they don't, which in effect reduces the risk of failure." We fail to share this flawed logic and conclusion.
To be sure, there are synergies between Merck and Idenix HCV assets, but that said, there is immense development, clinical, and regulatory risk that remains to be nullified with clinical data. Thus, the price paid by MRK emphatically makes GILD's less risky, with more data available that is true pan-genotypic.
Remarkably, analysts believe MRK's purchase of IDIX somehow validates its "Nuc", and analysts have mistakenly concluded that this somehow miraculously reduces the clinical development risk of IDIX21437 and increases its probability of success. Many analysts who have ascribed additional value to MRK's HCV pipeline are failing to apply a fraction of the same generosity to GILD's GS-9451, GS-9669, GS-9620, and GS-9857, all of which carry $0 in models currently, yet GILD is clearly the most competent antiviral company, not MRK. Yet, they give MRK's Phase I/II assets the benefit of the doubt? This is a monumental error, GILD's data sets for Phase I/II assets are already well-characterized for GS-9451 and GS-9669, and we recommend staying ahead of the sell side and taking advantage of weakness in GILD's shares ahead of the Sovaldi/Ledipasvir launch in October 2014, 2Q14 earnings, and the AASLD conference in November, which we expect will be the event when analysts will begin modeling GS-9451 and GS-9669 into their estimates.
MRK's track record in business development in the past has been far from exemplary, with many acquisitions failing to realize their touted potential. While a new business development team was put in place last year, we question why analysts accredit MRK such credibility with such a poor track record of generating returns on shareholder capital. The fundamental takeaway is that MRK only purchased IDIX after the realization that its internal combination regimen required Sovaldi for true pan-genotypic activity, or at least something similar to Sovaldi (IDIX21437). The point we are highlighting is that the market is increasingly valuing these names incongruently, fully ignoring the value of the Phase I/II assets of GILD, the world's top antiviral innovator, while ascribing exorbitant value to the mediocre, more risky Phase I/II assets of MRK/IDIX.
This most certainly creates opportunity, of course, long and short. The Pharma sector is rapidly nearing a fundamental short opportunity as they sell assets and frivolously spend the proceeds; we anticipate this trend to continue throughout 2014, but we also expect history to repeat itself in 2015-2016 with disappointing late-stage clinical results. We reckon that the next 12-18 months will reveal how wise the "wise men" were in large Pharma, but given the fact that MRK and its peers currently trade at a rare premium to large Biotech, the risks are largely skewed to the downside from here, especially given their propensity to spend in an undisciplined manner.
Disclosure: The author is long GILD, ABBV. The author wrote this article themselves, and it expresses their own opinions. The author is not receiving compensation for it (other than from Seeking Alpha). The author has no business relationship with any company whose stock is mentioned in this article.