Gold and gold mining stocks could outperform if inflation picks up along with the economic recovery. Inflation is "moving higher" now, according to James Bullard, President of the Federal Reserve Bank of St. Louis, according to Marketwatch. Just last month, Bullard indicated that inflation was calm.
Gold could shine in the years ahead as a safe-haven asset. Gold is a real, tangible asset that tends to perform well in inflationary times.
Ways to invest
As the price of gold has declined recently, production costs have weighed on the performance of mining companies. Share prices of gold mining stocks have been pummeled by the market.
SPDR Gold Shares (NYSEARCA:GLD) ETF is an alternative to owning gold mining stocks. SPDR Gold Shares owns actual gold bullion in the form of London Good Delivery bars in a vault protected by HSBC Bank in London. Investors in the SPDR Gold Shares ETF own an undivided interest in a trust designed to track the price of physical gold bullion almost perfectly.
While most mining companies are weighed down by high production costs, there are two low-cost producers that stand out: Yamana Gold (NYSE:AUY) and Eldorado Gold (NYSE:EGO). Yamana is based in Canada, but the company has mines throughout the Americas, including Mexico, Argentina, Brazil, and Chile. Eldorado, also based in Canada, possesses mining assets with long production lives in China, Greece, Romania, Brazil, and Turkey.
Hedging your bets
As the economy has improved, and the stock market has moved higher, investors are beginning to forget about risk. Inflation risk, in particular, is high due to the Federal Reserve's unprecedented monetary stimulus policies.
Bullard's statement about inflation could be an early warning signal for investors to begin paying more attention. Gold mining companies are countercyclical stocks that work well as a hedge against uncertainty.
The following graph shows the performance of the SPDR S&P 500 (NYSEARCA:SPY) ETF compared to SPDR Gold Shares, Yamana, and Eldorado for the past two years: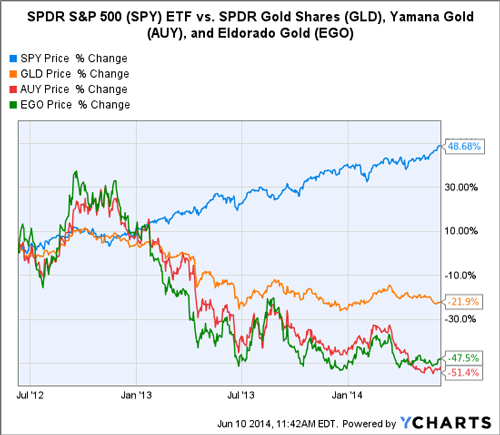 At current prices, Yamana and Eldorado look attractive. Due to low-cost production, Yamana and Eldorado can create positive cash flow from mining operations to fund growth projects. This is the key competitive advantage for both of these mining stocks.
Yamana is trading near its 52-week low. The company has a dividend yield of 3.14%. Eldorado has a dividend yield of 0.94%, and it is also trading near its 52-week low.
Conclusion
Gold tends to perform well in times of great economic and political difficulty, including inflationary times. As the economy expands, and the stock market goes up, the Federal Reserve appears to be getting more concerned about rising price levels in the economy. Allocating a small amount of your portfolio to Yamana, Eldorado, or the SPDR Gold Trust ETF could help to diversify your portfolio against future inflation risk.
Disclosure: The author has no positions in any stocks mentioned, and no plans to initiate any positions within the next 72 hours. The author wrote this article themselves, and it expresses their own opinions. The author is not receiving compensation for it (other than from Seeking Alpha). The author has no business relationship with any company whose stock is mentioned in this article.